Guangzhou - Although Li Xiuyun was unaware of a recent article entitled "A country in a hurry - why can't Chinese people slow down", which was published in the Guangzhou-based New Weekly magazine two weeks ago, she would probably have agreed with every word of the story if she read it.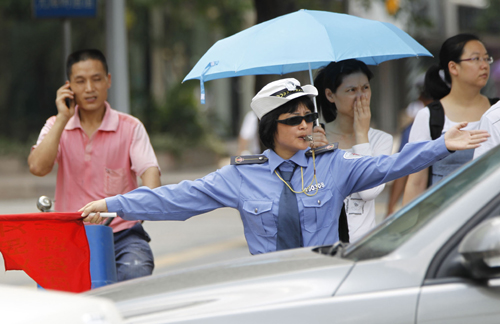 Li Xiuyun directs traffic on a street in Guangzhou on July 8, when the temperature exceeded 40 C. [China Daily]
Li, a 40-year-old resident of Guangzhou, is among the first batch of 3,000 traffic management assistants who were trained to ensure order on the bustling streets of Guangdong's provincial capital in 2005.
"People are always in a hurry and tend to ignore traffic signals, risking not just their own lives but the lives of other people as well," Li said.
The New Weekly article, which has become an Internet sensation, talks about how impatient the Chinese have become over time and blames society for creating a scenario where missed opportunities are seen as unredeemable failures.
As a traffic management assistant - who is at work at least six hours a day come rain, hail or storm - Li's primary responsibility is to remind cyclists and pedestrians to obey traffic signals and steer them away from danger.
It may sound like quite an easy job, but it is not.
Traffic management assistants are only given the power to warn violators, and most of the warnings fall on deaf ears, because the assistants are not actual police officers.
Li said that when she initially started her job, being insulted and sometimes even threatened on the streets of Guangzhou was part of a normal day at work.
"Once a person even threatened to beat me with a rod if I didn't stop bothering him about traffic rules," Li recalled.
"Initially, I was afraid. But I've grown accustomed to it," said Li, whose face was reddened by the mid-summer heat.
In the course of her day, she frequently has to shout orders to ensure pedestrians and cyclists wait behind the stop line until their signal turns green. "It's not easy to do," especially when the temperature is soaring past 36 C and the ground temperature is over 50 C, said Li.
"In the afternoon, around 2 to 3 pm, people step on the road and their rubber soles melt," she said. "On a day like this, my throat feels like it's burning."
Despite the hardship, Li seldom takes refuge under a huge parasol nearby or the streetside banyan trees even in the hottest hours of the day, as those are also the hours when pedestrians and cyclists are at their most impatient and can easily overreact.
"I also avoid using my whistle because pedestrians tend to become less patient in hot weather and might find the sound of the whistle annoying," she said.
From her five years of experience on the streets, Li understands that "being nice is the key".
"I usually refer to pedestrians and cyclists as liang zai (handsome guy) or Liang nu (pretty girl) before politely reminding them to obey traffic rules," Li said.
To her surprise, she has come to enjoy the job, even though it only pays 2,000 yuan ($294) a month.
Before becoming a traffic management assistant, Li worked as an operator at a paging center and a shop assistant.
"I could easily find other jobs if I quit," Li said. "But I like being a traffic management assistant because it gives me a sense of fulfillment. I like helping people, especially those new to the city, cross the road."
For the past two decades, Guangzhou has been one of China's manufacturing bases, with an influx of millions of migrant workers each year from the countryside, where traffic lights are non-existent.
"Sometimes it's like teaching little children to do the right things," Li said. "It takes patience, but it pays off in the end."
According to Li, when she became a traffic management assistant in 2005 there were many jaywalkers and the city's traffic was in a state of mess.
"Now, due to traffic management assistants like us, the city's traffic situation has improved a great deal."