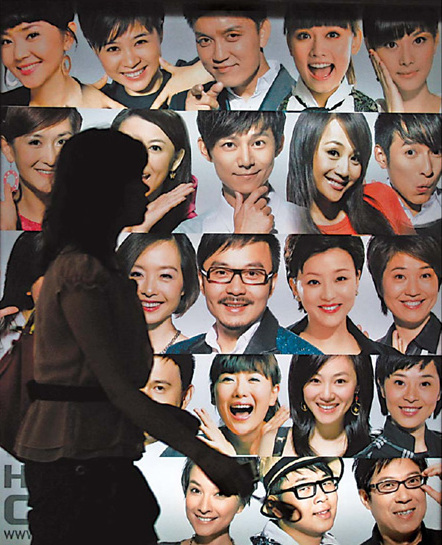 A staffer passes a promotion board posting hosts of different programs at Hunan TV. [China Daily]
Long Mei checks out the ratings report each week with the same anxiety of a student looking up her college entrance exam scores.
An elegant woman in her 30s, Long is the producer of Kuai Le Da Ben Ying, or the Happy Citadel, one of the country's most popular entertainment shows, which features hosts talking and playing games with guests - sometimes everyday people, sometimes stars. It airs every Saturday on Hunan TV, which has become one of the nation's most influential provincial TV stations. Millions of viewers all over China tune in every day to one of its nearly 30 TV shows. People outside the Chinese mainland, including Japan, Australia and the United States, also watch Hunan TV.
Long and her 20-plus team are, for the moment, satisfied with the all-important ratings.
"Some 30 out of the 50 episodes aired last year topped the national ratings list for TV programs. As for this year, just three episodes so far lost the No 1 position, and that was to the World Cup," Long said.
Since the show hit the airwaves in July 1997, it has become the trump card of Hunan TV. It covered the Saturday night golden time (7:30 to 10 pm) for a continuous 13 years and has never disappointed the station's top brass or the audience.
A straight-A report never lessens the self-imposed crisis in Long's and her team members' heads, however.
"The staffers are under high pressure. If a show doesn't meet the ratings requirement, it is taken off without argument," said Wang Xubo, vice director of the editor's office at Hunan TV.
Hunan TV represents a new era in television for China. After more than 30 years of rapid and sustainable development, China's television undertakings have made great progress. Statistics from the State Administration of Radio, Film and Television show that by the end of 2008, China had 277 city-level TV stations - 7.66 times the number in 1978. An overall 1,356 public television programs have been made by these TV stations - 32.9 times the number in 1980.
The national television coverage reaches 96.9 percent of China's population, an increase of 69.2 percent compared to 1982.
In 2006, China's overall output of broadcast and television broke through 100 billion yuan ($14.7 billion) for the first time and the output quickly increased to 158.3 billion yuan at the end of 2008.
China's radio and television stations have made progress mostly due to the reform of cultural administrative system, broadcast experts say.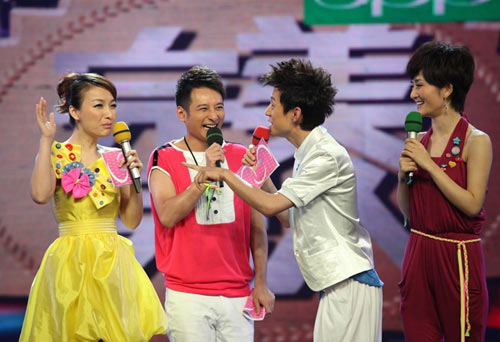 Hosts of the Happy Citadel (Kuai Le Da Ben Ying), one of the country's most popular entertainment shows. [China Daily] 
Two examples of that innovation were Hunan TV's hit contest shows Supergirls and Superboys, beginning in 2005. Similar shows sprang up like mushrooms among other provincial TV stations.
Then came the public athletic show Zhi Yong Da Chong Guan (Just Go) and a dating show Take Me Out, which both became models for subsequent copycat shows throughout China.
Hunan TV, however, with 2.3 billion yuan in revenue last year, remained way ahead of the other provincial-level operations in the national arena.
"Several programs from Hunan TV like the Happy Citadel (Kuai Le Da Ben Ying) opened a new window to China's TV industry in late 1990," said Yu Guoming, vice president of the School of Journalism at Renmin University of China. "The success of the programs not only made Hunan TV outstanding in comparison to its brother TV stations, but also injected some fresh blood into the industry and promoted industry reform," Yu said.
Hunan TV first brought the principle of being practical and realistic to China's TV programs and called for programs that must be adaptable to local conditions, but not purely copies, he said, adding that it also established an attractive performance-based bonus system to encourage innovation.
Secret of success
A competitive environment is one secret of how Hunan TV became so popular.
Another is an internal system that cultivates innovations from the top-down, Wang said.
In 2007, the station launched its seasonal-programming standard, in which a certain show holds a spot on TV for just a few months.
"It is a hard rule that the show should have something new if it wants to come back the next year," Wang said.
The system ensured the timely presentation of new shows and the canceling of the old ones.
"At many TV stations, it is not hard to generate new shows, but there are often obstacles to take off the old ones. There is just too much interest entanglement. We found seasonal programming to be efficient in cutting off the thread," he said.
Luo Qiangliang, producer of Zhi Yong Da Chong Guan, led the show into its fourth season this summer.
The show is recorded on a six-stage track, where participants either clear some or all stages to get prizes, or fall into the water, which marks a failure.
"Seasonal shows don't have celebrity or star host resources, yet we have steady high ratings," Luo said.
The life span of the show is heavily dependent on ratings.
"The good ones will be prolonged, and the unsatisfying ones will be shortened," he said.
A show named Tiao Zhan Mai Ke Feng (The Microphone Challenge), launched in 2008, was replaced by Bai Ke Quan Shuo (Talking Takes All) in November the next year.
"Each season, we have brand new stages, tracks, models, hosts and slogans," he said. "The difficulty is not to innovate, but to innovate efficiently."
Long Mei agrees.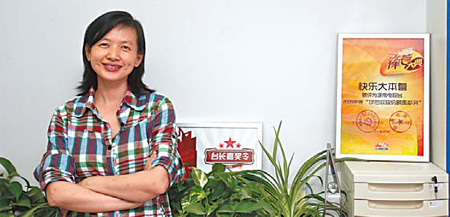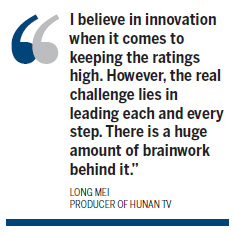 "I believe in innovation when it comes to keeping the ratings high. However, the real challenge lies in leading each and every step. There is a huge amount of brainwork behind it," she said.
In 1997, Happy Citadel was the first TV show on the Chinese mainland to focus on games. Celebrities were invited to play various games onstage.
"It was not easy at first. We had to go out and search for guests to come to the show. At the time, hardly anyone had ever heard about that style of show. We had to talk people into coming. Luckily by early 1998, the show had become quite hot. The audience found it scintillating, because it brought out the average-Joe side of the celebrities," Long said.
Tickets to the recording sessions are given out for free but soon the demands were never fulfilled. Nowadays, no seats ever remain empty.
More interestingly, the producers noticed that after the recording of the show, audience members would come onto the stage to try out the games themselves. Long's teams even received calls from several park directors, asking if they could purchase the same props used on the show, for use in their recreational parks.
"That's when we started thinking about opening up the stage to ordinary people," she said.
The show's producers took to the streets to find interesting everyday people, even knocking on doors. The show's format was revised in 2006, when the show turned from the game-guest style to a people-oriented format.
"Now it's a stage for everybody, as long as you have a 'shining point.' The show is designed based on the guests' personalities and stories, with the same format for either a celebrity or a person in the street," Long said.
The new format turned out to be another success. The directors no longer need to convince people to come on the show; instead, they get calls from people asking for a space in the already-tight schedule.
To make the show more interactive, Happy Citadel was also the first in the nation to pull off a brand-new hosting form. They call it the Happy Family, in which a group of five people with different styles co-host the show.
"We eliminated the idea of one main host with a few assistant hosts. The Happy Family style enabled each host to find his or her best spot on the stage. They're free to make impromptu gestures and remarks. The show turned out more relaxed and fun," she said.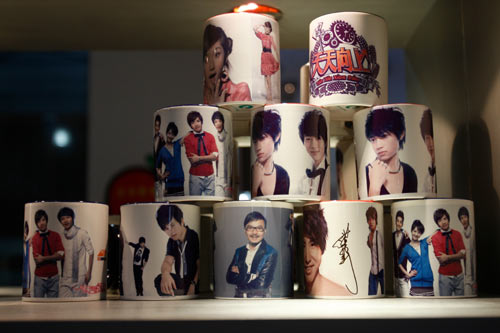 Mugs with snapshots of popular hosts are on sale in Changsha, capital of Hunan province. [China Daily] 
Long and her team are still looking for new elements to add to the show. That requires her mind and eyes to be open 24-7, she said.
The station manages to keep a simple administration. Most TV stations in China have adopted a center-based method, meaning several channels report to a central administrative office. But Hunan TV got rid of the so-called centers and let each of its channels work on their own, according to Wang.
"Everything is about the programs. At Hunan TV, the producer of a show reports directly to the station controller," he said, citing as an example Long Mei, who has total freedom and full autonomy in Happy Citadel's personnel, finances and physical resources. Long, similarly, grants the most possible freedoms to her directors when making an episode.
"This way, a person no longer needs to waste time and energy asking for instructions and permissions from the higher ups, or running around within a tremendous and stubborn administrative system to go through the typically-tedious formalities," he said.
Luo found both convenience and pressure in the producer-centered system.
"The more decision-making authority one has, the more space you have for generating new ideas. This way, you don't need to blindly follow the orders of some leaders who may not know that much about the show. Nobody knows a show better than the producer," he said.
That also means, however, that a producer bears the responsibilities of ratings, innovation, brand consistency and team survival, he added.
Successful localization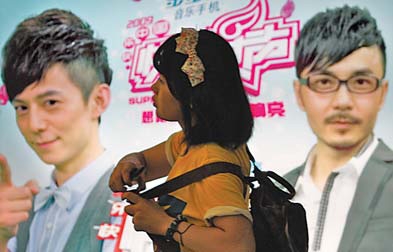 A Hunan TV employee walks past a poster of two famous hosts of the TV station. [China Daily]
In daily work, the station's staffers get ideas from every possible source to make the Hunan TV shows stand out, including modeling overseas creations and cooperating with foreign companies to purchase copyrights.
But simply modeling is not enough. Only successful localization will ensure a high rating among the Chinese audiences, Wang said.
"For example, one large-scale TV station imported a very popular series from the US, but the rating was surprisingly poor. What the audience wants is something that relates to their lives and culture," Wang said.
Hunan TV producers are used to their shows being copied.
"There is no copyright protection for TV programs yet. Once a hot show comes out somewhere in the country, other operators will follow, until the originals suffocate to death," Luo said.
An interview request filed to the National Copyright Administration on TV program copyrights were declined in late June.
A staffer said on the phone that since China has no policies or law articles regulating TV program copyrights, administration officers could not agree to interviews on the issue.
In the past 10-plus years, Hunan TV had earned its fame with its leading entertainment shows. Now the station heads are planning to expand the focus to a larger range of programs.
"In the past, we cared more about the pop culture. In the future we would like to create more humanistic shows, with core values," Wang said. "The more influential the station gets, the more responsibilities we should take."
"So by keeping innovation, maintaining uniqueness and being close to the audience, the good programs will continue to go on stage," said Professor Yu Guoming.
He Na contributed to this story.
More cover stories