DALIAN, Liaoning - When two crude oil pipelines in Dalian's Xingang port exploded on July 16, triggering a fire and a subsequent spill that turned out to be the worst ever in China, Li Juan, a fisherwoman from a nearby village, was idly chatting with her fellow villagers, who also depend on fishing for a living.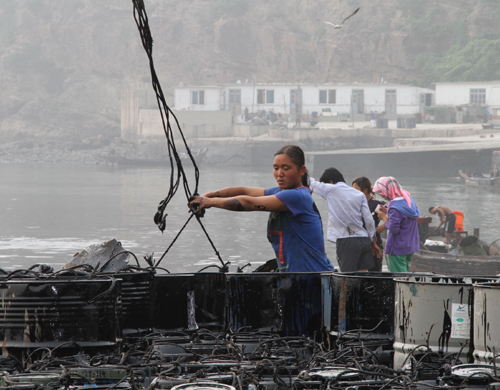 Li Juan, a fisherwoman, helps clean the oil spill near Dalian's Xingang port on Saturday. [China Daily] 
Had it not been for the blast, Li would have sat idle till September, when the fish moratorium got over.
However, the past week turned out to be the busiest this year for dozens of residents of the fishing village of Dayugou.
Related readings:


 Cleanup operation continues at oil-polluted area in Dalian


 1,000 fishing boats help clean up Dalian oil spill


 PetroChina closes oil wells at Liaohe field on flooding


 Port security under scrutiny after Dalian oil spill

Since July 19, the villagers have taken their own boats out to sea, right from 7 am to 5 pm, in an effort to clean up the oil spill.
"It's not fun," said the 23-year-old Li, as she moved oil barrels from her boat to a small dock in Dalian Development Area on Monday. "But I'm glad we've managed to clear the sea like it was before (the blast)."
Now, with even a patch of oil difficult to spot on the sea, Li was looking forward to a day of rest on Tuesday.
Over the past week, Li had been collecting oil in a small box, which is usually used for picking up trash. Other fishermen used spades, buckets, ladles, barrelheads, helmets and even their bare hands to scoop out the oil from the water.
"We have to be very careful because the oil makes the boats extremely slippery," Li said, wiping her oil-covered arms with a piece of oil absorbing sheet.
"Nobody wants to be covered in oil every day. It is really messy and uncomfortable," she added.
Drenched in crude oil, her trousers were sticking to her body and almost stuck to her water-proof shoes.
The first thing Li does on returning home is rush into the washroom and have several baths, first with a special detergent to remove the oil from her body, then with bath foam and clean water.
"My skin becomes itchy after every time I use the special detergent on my body. But there's no better way (to remove the oil)," she said, adding that she has to throw away her clothes, since the stubborn oil stains are impossible to remove.
Li has heard that she and her husband might get about 1,500 yuan ($220) for each day they joined in the cleanup, but she is not sure about the exact amount.
"Of course, we're doing this for money, but that's not the only reason," she said. "This is our home, and we depend on fishing for our bread and butter. We need to act to minimize the impact of the oil spill on our lives and livelihood."
A native of Anhui province who settled in the village of Dayugou with her husband three years ago, Li said she loves the free way of life of a fisherman and the fresh air, the white beach and the blue sea.
But when she first caught a glimpse of the sea on July 19, three days after the pipeline blast, she thought all the fish might die from the pollution.
"It was an appalling sight," she recalled. "Patches of thick oil were floating on the sea, and I couldn't spot the edge of it."
Li and almost every one else in Dayugou village didn't think twice before joining in the effort to clean up the spill, the worst ever in the country, that had contaminated a sea area of 50 square km.
Quite to her relief, Li hasn't seen many dead fish, thanks to the immediate cleanup effort that involved some 40 professional vessels and more than 1,000 fishing boats working at least 10 hours a day.
"We still have to wait and see till the start of September, when the three-month fishing off season ends," she said.
"If the fishing is no good, maybe we will have to leave the village and find other ways to make a living."