Beijing - Economic recovery has partly caused the country's air quality to fall in the first half of the year, the first such fall since 2005, figures from environmental authorities showed on Monday.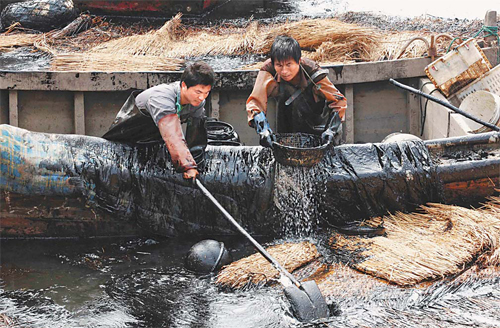 Two workers clean up an oil spill at a fishing port off Dalian, Liaoning province, where two oil pipelines exploded on July 16. Cleanup eff orts have successfully contained the spill from entering international waters, Dalian Vice-Mayor Dai Yulin said at a press conference on Monday. [Xinhua] 
Ninety-one percent of the days in the first six months recorded air quality reaching or exceeding the national standard of Grade II in 113 major cities, a drop of 0.3 percentage points compared with the same period last year, an environmental quality report released by the Ministry of Environmental Protection showed.
The amount of inhalable particles, a major air pollution index, was also 0.091 milligrams per cubic meter in these cities, rising from 0.002 milligrams per cubic meter over the same period last year, the ministry reported.
"It was the first time for these cities to record a fall in the number of days with good air quality and a rise in the concentration of inhalable particles since 2005," ministry spokesman Tao Detian said.
Related readings:


Pollution puts brakes on pedal power


Regions to jointly combat pollution


Month-long check targeting pollution


Pollution may help trigger cardiac arrest
That means the country is still facing "a grave situation in fighting pollution", he said.
The worsening urban air pollution was mainly caused by sandstorms that occurred frequently in spring, said Chai Fahe, vice-president of the Chinese Research Academy of Environmental Sciences.
"More construction and industrial projects that started this year due to economic recovery, as well as the rapid increase in automobiles, should also be blamed," he said.
"It's no surprise that the statistics are negative. I can't count on the environment improving significantly in a short time and I have to get used to it," Beijinger Li Zhixin said.
The ministry's report also warned that China is still faced with "severe challenges" in pollution control, as a nationwide sampling on water supply found that more than one-quarter of the country's surface water was contaminated.
The country's surface water is "suffering moderate pollution in general", it reported.
Environmental monitoring authorities found 26.4 percent of the country's surface water samples at levels IV and V, good for only industrial use and farm irrigation, the ministry reported.
China classifies water quality into six levels, ranging from level I, which is good for drinking, to level VI, which is too polluted for any purpose.
Levels I to III means the water can be used for drinking, swimming and fish farming.
The ministry did not provide details on how the water quality was tested. Last year, it sampled water quality in 409 monitoring stations set up along 200 rivers, including the Yangtze and Yellow rivers.
Last year, 24.2 percent of the samples were recorded at levels IV and V, slightly down from 26.5 percent in 2007.
Severe pollution has hit some of the country's major water systems, including the main stream of the Liaohe River in Northeast China, the tributary of the Yellow River and Haihe River in East China, as well as Taihu Lake in the Yangtze River Delta and Dianchi Lake in Yunnan province.
"The statistics suggest that more than half of the water in China now is below the national water quality standard of Grade I to Grade III, which means the supplies cannot be used as drinking water," said Ma Jun, director of the Institute of Public and Environmental Affairs, a nongovernmental group based in Beijing.
"The situation is mainly caused by the excessive amount of nitrogen in the water, with the current massive increase of animal waste coming from the livestock industry and the improper disposal of wastewater in urban areas into waterways," Ma said.
Water quality off the Bohai Sea and East China Sea is also suffering serious pollution, the ministry reported.
"As more oil and chemical enterprises set up their factories in coastal areas, it would seem convenient for them to drain off wastewater and the pollution will increase," Ma said.
"China needs to consider more its control of water pollution from the very start. Other areas, such as heavy metal pollution, also need to be monitored in future," Ma said.
The ministry's latest report said 189 cities out of the 443 cities monitored also suffered from acid rain in the first half of this year.
Guang'an of Sichuan province, Lishui of Jiangsu province, Nanhui district of Shanghai, Yingtan and Ruijin of Jiangxi province, Taizhou and Wenzhou of Zhejiang province and Xiamen of Fujian province were the eight cities most frequently hit by acid rain, it said.