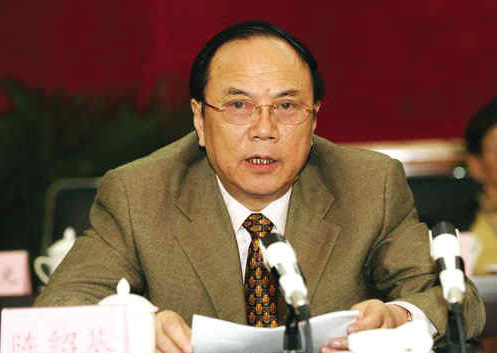 Chen Shaoji [file]
CHONGQING - Chen Shaoji, former top political advisor of south China's Guangdong Province, was sentenced to death with a two-year reprieve for accepting bribes, a court in southwestern Chongqing Municipality said Friday.
The Chongqing No.1 Intermediate People's Court delivered the verdict after a trial that started June 25.
Chen was accused of using his position as former provincial police chief and chairman of the Guangdong provincial committee of the Chinese People's Political Consultative Conference (CPPCC), among others, to benefit others in return for nearly 30 million yuan ($4.35 million) between 1992 and 2009.
Related readings:


 China mulls law to protect informants of corruption


 Anti-corruption master major set in China


 China urges crackdown on corruption


 Ex-official on trial for corruption
Prosecutors said the bribes were taken by Chen, his son, Chen Ziyi, and his mistress, Li Yong.
The court also ordered all his property to be confiscated.
It said the bribes Chen took were in total "enormous," and his offense "very serious," but considering Chen had confessed all his crimes and returned all money and goods gained illicitly, his death sentence was suspended.
Chen, 64, was expelled from the Communist Party of China (CPC) and dismissed from his office by the CPC's disciplinary watchdog last year.
He is one of the eight ministerial-level officials investigated for corruption last year. Others include former vice president of the supreme court, Huang Songyou, who was sentenced on January 19 to life imprisonment for taking bribes and embezzlement, and former vice president of the state-run China Development Bank, Wang Yi, who was delivered a suspended death sentence on April 15 for taking bribes.