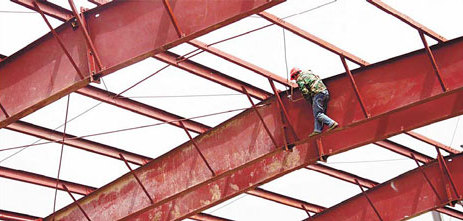 A worker at a construction site in Huaibei, Anhui province. [Photo / China Daily]
BEIJING - China plans to start implementing a property tax in two or three years on a trial basis, a source from the Ministry of Finance told China Daily on Thursday.
The National Business Daily had earlier reported that the property tax might be rolled out in several cities under a pilot program in 2012.
But the ministry source indicated that it was still not clear whether the trials would start in 2012 as the government had chalked out a three-year time frame for launching the program.
The property tax program would be tested in some cities before it is implemented on nationwide basis, the source said.
Earlier reports had indicated that Beijing, Shanghai, Chongqing and Guangzhou will be among the first batch of cities that will start collecting the tax. The Shanghai and Chongqing governments submitted applications in April this year to levy the property tax on a pilot basis.
Property tax is expected to boost the coffers of local governments and will also help curb realty speculation by increasing the holding costs.
In May this year, the State Council had approved the guidelines submitted by the National Development and Reform Commission for systematic reform of the economy. Prominent among the proposals was the clause to "gradually push the reform of the tax on the holding of properties".
Qin Hong, deputy research head of the Ministry of Housing and Rural & Urban Development, feels that the government should indicate a time line for levying the property tax to dispel doubts among citizens.
Nie Meisheng, president of the China Real Estate Chamber of Commerce, said fixing the criteria for such a tax might take a long time, as the government needs to assess the value of properties and employ millions of professional appraisers to carry out the exercise.
The government will come out with guidelines and ask the local governments to formulate detailed rules based on their specific markets, said Edmund Ho, managing director of DTZ North China, a property consultancy.
ANZ economist Liu Ligang feels that the government may decide to impose a tax of around 0.8 percent of the market value of the property for owners of multiple apartments, beginning with the second home. According to Liu, people with multiple homes account for over 20 percent of the nation's real estate market.
But some analysts indicate that the cost of implementing the tax may turn out to be higher than expectations.
Liu Shangxi, deputy director of the Research Institute for Fiscal Sciences under the Ministry of Finance, said the cost of imposing such a tax would be huge and policymakers will need to reconsider its necessity before taking any major steps.
The levying of the tax will have little impact on home prices and local governments may have to incur high costs for assessing houses and identifying the right people, he said.