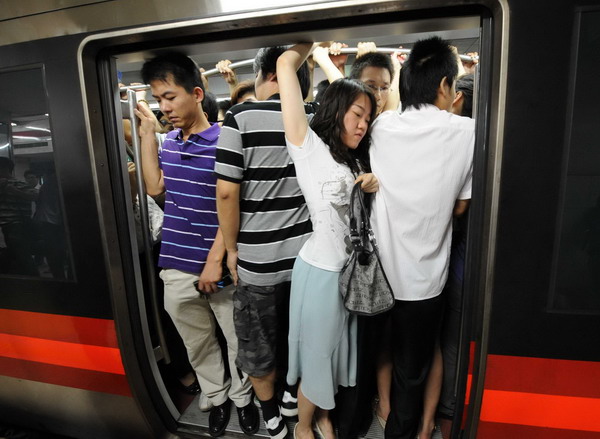 Commuters try hard to squeeze into a train at a stop on subway Line 1 in Beijing, July 14, 2010. [Photo / Xinhua] 
Beijing municipal people's congress revealed this week that the Chinese capital now has 19.72 million inhabitants, growing by over 3% in the past 2 years.
Previous estimates had predicted that the city's population would swell to that level a decade later than it has. According to the guidelines regarding Beijing's development between 2004 and 2020 set by the State Council, the number of permanent residents living in capital should have been capped below 18 million until the end of 2020.
However, a recently released report from the population investigation and research team within the people's congress shows that by the end of 2009, approximately 12.46 million people in the capital held a Beijing "hukou" (permanent residence). An additional 7.26 million inhabitants were migrant workers who had been living in the city for more than half a year and who are therefore also classified as permanent residents.
After analyzing the change in population between 2006 and 2009, the team found that Beijing's population had undergone rapid growth during the first four years of the 11th Five-Year Development Plan, mainly as a result of an explosion in the floating population.
Natural birth contributed 482,000 extra people during the past four years while the jump in the floating population accounted for 1.52 million additional inhabitants.
Related readings:


Beijing weighs what it takes to be world city


Beijing population exceed 19 million

Tax on vacant homes proposed


Beijing's demand for talent growing
The report points out that now the total size of the floating population in the capital could have exceeded 10 million people, if members of the army deployed in Beijing, unregistered migrant workers and people on short visits are also added to the mix.
The massive growth in Beijing's population, which is mainly comprised of young adults, plays an important role in the booming development of the city. Unfortunately, say critics, it unavoidably brings more pressure on the city's natural resources.
Wang Jian, a water specialist with Green SOS, an NGO based in Beijing, told METRO that the current water reserves in Beijing can only support about half of its residents, and not the nearly 20 million people who now live in the city.
The population explosion not only burdens the environment but also the whole infrastructure, public service system and the management of society, say experts.
Wu Shoulun, a retired professor from Beihang University who is also a member of the congress's research team, said in a media report that every aspect of people's daily life can be influenced by the huge population, as it leads to high-priced-apartments, chaos on public transportation and challenges for the education system. Maya Reid, a 25-year-old woman from Canada, has noticed the sharp rise in the capital's population since she arrived in Beijing four years ago.
"My home country has a population of 30 million. It's not like we can find a seat in subway every time but it has never been so packed and you can always find a place to breathe," said Reid who, commutes to work each day on Beijing's subway.
Figures show that around 32.3 percent of commercial apartments were sold to people who did not have Beijing permanent residency papers between 2005 and 2009. In 2008, 40 percent of students in compulsory education in Beijing were from the floating population. Both facts suggest the floating population is growing massively.
"It is time for the government to take into consideration proper population control," Wu told the Beijing Daily on Wednesday.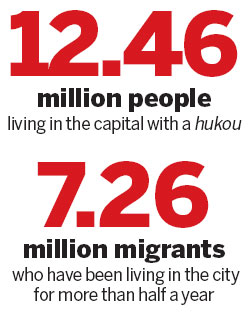 His team suggested that the government changes the current industry structure in Beijing, opening more hi-tech companies and attracting more high-end people to Beijing instead of laborers.
However, Mu Guangzong, a professor from the Institute of Population Research with Peking University, had a different point of view.
"I believe the market can help with the adjustment of population. High-end people will also need someone to help them with housekeeping and other stuff," Mu told METRO on Thursday.
"People who are useful for society will stay and those who are not may leave gradually."
Mu said the reason why Beijing attracts more people than any other cities is because the capital is a better place to live than many other cities.
"The root lies in the huge different living standards between big cities and small villages. And the difference is still increasing," he said.