BEIJING - Unlike most medical equipment inventors whose creations are meant to save lives, Yang Hui created a device that ends lives, albeit quickly and as painlessly as possible.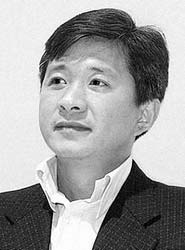 Yang Hui is the inventor of a high-speed lethal-injection pump to execute criminals. 
Yang, 39, is the inventor of a high-speed lethal-injection pump and the sole supplier of the device to local intermediate courts since 1998.
It's an invention he isn't very proud of, for ironically, he is against capital punishment.
"If there comes a day when capital punishment is abolished, it will be a step forward in terms of the protection of criminals' rights," he said.
Lethal injections were thrust back into the spotlight after the method was used to execute Wen Qiang, the former director of the municipal judicial bureau of Southwest China's Chongqing municipality, on July 7, following his conviction of taking bribes and protecting mafia-style gangs.
Beijing and Liaoning province in Northeast China also made headlines when they stopped using firing squads to execute death-row convicts.
Yang hasn't had any medical training. He majored in electronics engineering from the University of Electronic Science and Technology in Hangzhou, capital of East China's Zhejiang province.
In 1998, while he was running a medical-equipment company in Hangzhou, Yang, then 27, applied for a Chinese government program to invent the lethal injection device.
The year before, the code of criminal procedure was revised in China and lethal injection was written into the law as one of two means of capital punishment, along with firing squad. Criminals were not given notice of the way they would be executed.
In China's first use of the lethal injection, four drug dealers were executed in Kunming, Southwest China, in November 1997. The injections were administered with a simple syringe.
Yang took up the program partly because of what happened when he was 6 years old.
He had witnessed the execution of a friend's father in his hometown in South China's Guangxi Zhuang autonomous region. The 30-year-old farmer had been convicted of killing a man who had an affair with his wife.
The police forced the man to kneel on the ground and pumped a bullet into his head. The man tried to stand up, but was finally killed with another shot.
Yang said he remembers being very frightened. The last miserable smile from the farmer is an indelible memory stuck in Yang's head and encouraged him to create a more humane way of executing criminals.
When the invention program came up in 1998, Yang predicted a big market for injections that required more than 1,000 injection pumps, with more than 300 intermediate courts in the country eligible to implement capital punishment.
Yang and his team created the first high-speed injection pump in 2000 and it soon began to be used across China. A government policy does not allow the number of executions to be released.
Yang, however, believes his invention hasn't performed up to his expectations.
"Our goal was to be able to end life within 30 seconds absolutely painlessly," he said. "But the program did not get enough support later on, so the outcome was still far from our goal."
He also said frequent changes in local governments "have had a significant influence on the program's consistency".
"As a businessman, my creation did not provide me with many benefits," he said. "Actually, I have lost a lot of money in this line of work. We stopped producing new equipment four years ago because the more equipment we sold, the more money we lost in the business. We currently only provide maintenance service for the already sold injection pumps."
Though he refused to talk in detail about his invention and its repercussions, he mentioned that some local governments in less developed areas are not able to pay for his device, one of the downsides to his business.
"One set of lethal-injection equipment costs more than 200,000 yuan ($29,000), which is much higher than the cost of execution by shooting," said Xu Jiusheng, a professor at the China University of Political Science and Law.
There are also strong psychological consequences for administers of the injection. Judicial officers are reportedly under enormous pressure when they lethally inject convicts. Some have complained that they felt dizzy from the vapors from the contents of the injection, especially sodium cyanide.
Xu said all prefecture-level cities in China are equipped with the lethal injection system.
"Lethal injection protects criminals' dignity, even in their last moments," he said, adding that the means should be considered as the first option of execution even if it is not written into the law, Xu said.