Ruan Najin's eyes light up every time the topic of conversation turns to marriage and children. Now 23, she plans to have both in just a few years.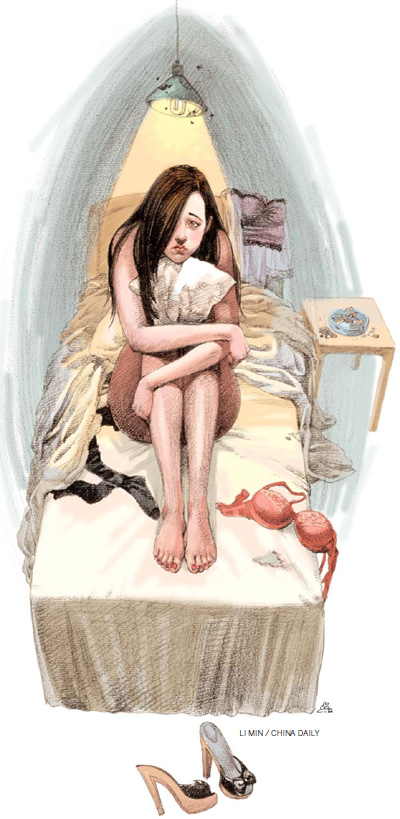 Yet, after seven years as a prostitute in Southwest China, her exuberant hope also helps hide a real fear that all her dreams will be destroyed by AIDS.
"Girls like us usually go home for husbands at the age of 25 or 26," said Ruan, who comes from Vietnam but would only give her Chinese name.
"I plan to stay here two or three more years to save money and then go back to find an honest man.
"My biggest concern, though, is AIDS. I haven't had a hospital checkup yet as I'm too scared."
According to HIV/AIDS Asia Regional Program (HAARP), Ruan is among at least 700 prostitutes working in Hekou, a town in Yunnan province on the banks of Honghe River, which marks the border between China and Vietnam.
Funded by the Australian government, HAARP has been operating in China and across Southeast Asia for more than two years as part of efforts to raise awareness of the dangers of HIV among sex workers and their clients and drug users.
Its project workers are now based inA 19 counties in Yunnan and 12 in Guangxi Zhuang autonomous region.
"Each prostitute (in Hekou) has sex 40 times a week with clients on average and 10.5 percent of them don't use condoms," said Duo Lin, manager of HAARP's Yunnan division, who explained that the majority in Hekou claim to come from Vietnam.
"Our surveys show 7.5 percent of the Vietnamese prostitutes are carrying the HIV virus," he said. "The average age is 21."
Ruan, who arrived in Hekou when she was just 16, said she chose the job to make money to support her younger sister and brother back home in Ho Chi Minh City.
"I have no choice," she said in broken Mandarin as she sat in her small room off Vietnam Street, a neighborhood popular with ethnic Vietnamese. Behind a curtain to her right was a small, dark room where she entertains clients. "I know there is a health risk to being a prostitute but I need the money."
Although she insists men wear condoms, Ruan admitted she usually agrees to unprotected sex in return for extra cash.
Figures released by the Ministry of Health show China had 319,877 reported cases of HIV and AIDS as of last October, with 49,845 having already died of AIDS-related disease since 1985.
HAARP, which also operates in Myanmar, Vietnam, Cambodia, Laos and the Philippines, holds regular events to raise awareness about HIV and AIDS, and distributes healthy living literature and free condoms.
Program clinics, such as the one on Hekou's Vietnam Street, also offer free blood screening services to sex workers and drug users.
"We believe the spread of AIDS could be prevented if the government provided free, anonymous physical exams to these people, too," said Duo. "When they come to our centers, they don't need to admit they are prostitutes and our staff don't pass on their details to anyone."