Beijing - After more than 700 flooding deaths and some of the season's worst downpours yet to come, senior officials are warning that the flood reinforcements of thousands of aging reservoirs in the country are strained to their limit.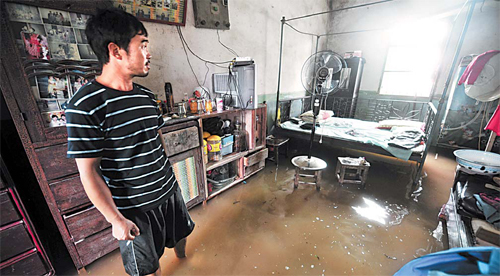 A villager stands in his fl ooded house in Xintan township of Honghu city, Central China's Hubei province on Wednesday. The water level in the township's Shatao Lake has risen to a record high of 25.9 meters due to days of torrential rain. [Xinhua]
Liu Ning, vice-minister of water resources, said on Wednesday that flood control work has exposed manifold problems including the existence of precariously swollen reservoirs, along with dams linked to six small-sized reservoirs that have already collapsed.
So far this year, flooding has claimed 701 lives, left 347 missing and created 142.2 billion yuan ($21 billion) in damage. It is, he said, the worst flood devastation across the board that China has seen in a decade.
In all, Liu added, 27 provinces, municipalities and regions were stricken by flooding from heavy rains since June, while 25 rivers across the country have seen flooding over record-high water levels.
Related readings:


Death toll soars to 273 in July floods

Worst floods in a decade leave 701 dead in China


China Combats Floods


Yangtze River flow set to exceed level of 1998 floods

On June 13, a reservoir in Xinjiang collapsed owing to continuous torrents forcing the evacuation of more than 200 families while, on July 3, a reservoir in Hechi, Guangxi, collapsed, forcing the relocation of nearly 8,000 people.
So far this year, said Liu, floodwaters have breached six small reservoirs, although timely evacuations prevented any casualties from these incidents.
"The central government is planning to reinforce all the small reservoirs, with a special safety official in charge, and enough money for maintenance," said Zhou Xuewen, head of the planning department with the Ministry of Water Resources.
China has constructed more than 86,000 reservoirs from large to small size, including 81,000 small-sized reservoirs, many of which were completed between 1958 and 1976.
"We have reinforced about 9,200 reservoirs, but most small-sized reservoirs need maintenance and reinforcement," Zhou said.
Chen Lei, minister of water resources, said in July that the reinforcement of outdated reservoirs will be essential in the coming years to maximize both flood control and drought relief. In the coming three years, he added, more than 5,400 small-sized reservoirs will be reinforced, at a total cost of upwards of 24.3 billion yuan.
It is money well spent, according to officials. Recent flooding, particularly in the Yangtze River Basin, has overwhelmed reservoirs, swamped towns and cities, and broken off hillsides, spawning massive landslides that have inundated communities with mud and debris.
The Three Gorges Dam was dealing with its highest water levels ever when a flood crest passed over the dam on Tuesday morning.
Rainstorms also caused a 20-meter-long breach of the riverbank at Tieling County's Aji section of the Shengli River, a branch of the Liaohe River, to burst in Northeast China's Liaoning province early on Wednesday, requiring the evacuation of more than 3,000 local residents.
Liu Ning said more destruction and evacuations are on the way. The annual rainy season, he noted, will continue at least through August, as more downpours were expected, not least since the East Asian typhoon season is now underway.
Meteorologists, he added, are pessimistic, predicting heavy rains could spread to Northern China, possibly causing flooding along major rivers such as the Huai, Yellow and Songhua rivers.
His warning came as southern China braced for its second powerful storm in less than a week.
Tropical storm Chanthu is currently expected to make landfall in Guangdong and Hainan provinces on Thursday, and may pick up force while over the South China Sea. The government is currently advising people to stay indoors, the Xinhua news agency has reported.
Typhoon Conson also skirted the resort island of Hainan last week, killing two people, before heading south into Vietnam.
Officials from the State Council and the Cabinet during their executive meeting presided over by Premier Wen Jiabao on Wednesday urged local governments to step up their anti-flooding efforts.
"The situation is grave," the State Council concluded, citing high water levels at the Yangtze River, the country's longest, as well as the Huaihe River and in Taihu Lake.