FARNBOROUGH, England - Yu Zhigang is special, and not just among some 1,400 exhibitors at this year's Farnborough International Airshow, under way in England's southern coastal county of Hampshire.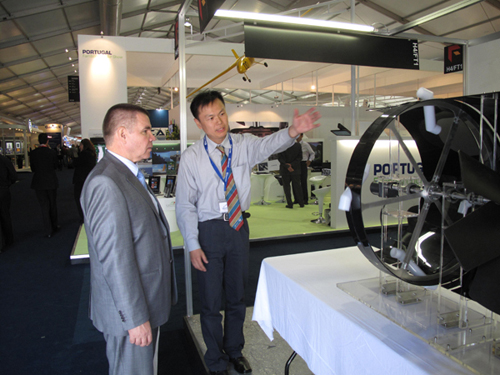 Yu Zhigang (right), China's only individual aircraft engine maker, introduces to a visitor his selfdesigned engine at this year's Farnborough International Airshow in Hampshire, England. [China Daily] 
He is, arguably, China's only individual aircraft engine maker.
Unlike other Chinese exhibitors, most of whom are participating in groups from major State-owned firms, Yu is at the air show by himself, representing his own Beijing-based firm - Yu Engine.
"There's only one person in my company. That's me," the 47-year-old Beijinger said.
It's not cheap to exhibit in Farnborough, which is hosting one of the world's biggest air shows. While most other Chinese firms have spent big money to rent centrally located, well-decorated stands, Yu's small stall - probably the shabbiest of all - lies in the far corner of the exhibition hall.
He rented the stall for about 4,000 pounds ($6,110) for the weeklong show. The stall has no decorations, souvenirs or banners advertising his company. Inside is a laptop, with a monitor displaying a five-page PDF introduction of his product, a few papers and a sample engine - his own creation.
"I'm quite confident about my product, though a fully-functional version of it may not roll out until the end of the year. I think my product has overcome a key problem that all existing plane engines face," Yu said, adding that his aircraft engine - named Ramjet Motor Fan - has no compressor or turbine, both deemed key parts of a plane's engine.
"Compared to the existing turbo fan engine, the Ramjet Motor Fan would not only be lighter, but more effective and powerful," reads the PDF introduction on Yu's laptop monitor.
While most visitors wouldn't even stop to glance at Yu's sample - which is too unattractive compared to the other products the world's leading air firms are exhibiting - some did drop by. Most of those who spent some time at his stand were from the United States, Israel, and Russia, or key engine producers. Some even stopped to chat with Yu about his unique invention.
A visitor from Russia commented: "(Yu is) a crazy person with crazy ideas. But sometimes big inventions derive from crazy minds."
Some even left him their contact cards after carefully observing his engine sample, and told him: "If you have a problem, we may have solutions."
Yu became visibly excited each time his invention was appreciated, but repeatedly denied being "a crazy guy".
"I'm just an ordinary man living a childhood dream - making my own aircraft engines," he said.
After graduating from a university in East China's Fujian province more than two decades ago, Yu obtained his master's degree in information technology (IT) in Australia.
On returning to China, he landed decent job as an IT consultant at a foreign company in Beijing. But his dream never left his mind. He spent all his free time reading aviation magazines and books.
At the age of 41, Yu decided to quit his job and realize his dream. It meant Yu, who has a son, would no longer be the breadwinner of his family for a while.
Yu invested hundreds of thousands of yuan from his life savings to buy parts required to make an engine. He also leased the apartment he bought several years ago for money to keep his family of three afloat. Yu and his family now live with his parents in a smaller flat.
Yu thought what he had invested into his dream was "a natural choice for an idealist, who does not aim to make too much money".
But like every scientific experiment, his endeavor, too, faced a lot of setbacks over the past years. "You come up with an assumption or hypothesis (on how to make an engine), but you finally realize you were wrong all along."
Yu said each failure was his saddest moment, but the idea of giving up never crossed his mind. Eventually, he thought of making the Ramjet Motor Fan about three years ago. And this time, he was sure he hit bulls-eye.
"I believe it's a successful invention, which has resolved a key problem all existing engines face," he said.
With the help of a like-minded friend - "also a middle-aged Chinese idealist" - he packed the sample, which is as big as a small fridge, and brought it to England for the air show.
Even though he hopes someone will discover the value of his invention and put it into practice, he knows the Ramjet Motor Fan engine might, at the end of the day, still prove a failure.
"I am OK with that," he said. "I'm just an ordinary guy, not a big shot. I'm strong enough to stand failures. And you must learn to live with uncertainties. You must enjoy them.
"When I am old, I can at least tell myself I tried to pursue my dream."