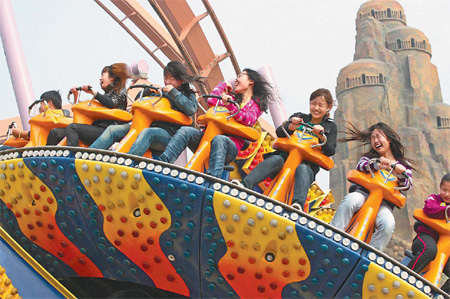 Tourists enjoy a thrilling ride at Happy Valley, an amusement park in Beijing. Experts say the quality supervision of parks in China is poor following an accident last month in the city of Shenzhen. [Photo / China Daily]
When Yang Bowen's parents asked their son where he wanted to celebrate his fourth birthday this month, it took him just seconds to decide: Happy Valley.
After hearing his friends talk about the fun rides at the amusement park in southeast Beijing, he could not wait to see what all the fuss was about.
Yang got his wish, although after the fatal accident two weeks ago at a park in Shenzhen, Guangdong province, his parents insisted the boy would be skipping the more dangerous rides.
"We won't be taking any of the risky rides," said his father, Yang Bin, as he led his son through the gates at Happy Valley. "Thankfully, he's still too small to be allowed on many of them."
Six people were killed and 10 others injured when one of the Overseas Chinese Town East's popular attractions, Space Journey, malfunctioned on malfunctioned on June 29. Horrific scenes of victims being pulled from the disaster broadcast across China sparked widespread concern over the level of safety at China's rapidly growing number of amusement parks.


Perhaps most shocking was the fact the accident happened just eight days after a maintenance inspection by park staff and three months after a visit by State officials.
With the summer break under way, heralding a peak time for visitors, State tourism and quality supervision officials are now testing rides nationwide for potential hazards.
The law already requires parks to carry out daily and monthly safety checks on each ride, with an annual inspection also conducted by the local government. However, experts claim that the quality of these checks is simply just not good enough.
"How can such an accident happen if the park checks the ride carefully every day?" asked Wang Xingbin, a retired professor once with Beijing International Studies University's school of tourism.
Fellow professor Han Yuling, who still works at the university, added that over the 20 years, she has noticed many accidents happen immediately after a facility has passed a quality test.
Officials at the General Administration of Quality Supervision, Inspection and Quarantine did not respond to China Daily's interview requests.
In addition to safety checks, industry regulations and standards set clear and strict controls on the design, manufacture, installation and operation of rides. Parks are also required to have emergency action plans in the event of an accident.
Yet, as several separate bureaus - quality supervision, tourism, culture and forestry - are responsible for different aspects of the management of attractions, experts argue the implementation is lacking.
Construction and safety standards are low nationwide, according to Xu Ting with the China Tourism Association, who told China Times that most parks are failing in their duty to protect young, elderly and disabled people.
"No safety, no tourism," said retired academic Wang, who warned the rising number of parks means increased pressure to improve safety. "Just a minor mistake can result in a tragedy."
Dangerous games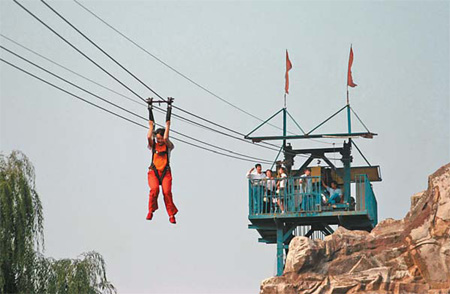 A tourist experiences the feeling of flying on a zip line at Beijing Shijingshan Amusement Park. [China Daily]
Taiwan businessman Mori Guo, 44, knows full well how cheers can quickly turn to tears at an amusement park.
In 1999, he joined colleagues and their families on a visit to Shanghai's Jinjiang Park to try its latest attraction - bungee jumping. As he suffers acrophobia (a fear of heights), Guo watched from the ground at his workmates stepped forward.
"One man named Li Xinxing jumped and eventually landed on the edge of the safety cushion (at the bottom)," he recalled. "But he didn't get up like the others. Park staff rushed over and discovered he was dead. We were horrified."
Accident investigators discovered that the buckles on Li's safety jacket had been loose, causing him to fall.
A verdict handed down by Shanghai No 1 Intermediate People's Court in 2000 said park employees did not properly check the equipment and slammed bosses for not having an emergency plan. The bungee jumping attraction was closed down.
"Li was a tall, handsome and mild-mannered 44-year-old man. He was married and had two children, the youngest of which was just 12 months at the time," said Guo, who has not visited an amusement park since the accident. "I don't know if I'll ever go back."
Tragedies like the one witnessed by Guo are not uncommon when it comes to adventure tourism or China's larger theme parks, according to professor Han. No official figure is available on the number of accidents that occur each year.
"High-risk activities are always blighted by quality problems but it just seems more acute in this country," argued Han, who said that although park bosses insist visitor safety is their top priority. "They don't stick to the principle strictly enough".
Safety awareness may have grown innumerably since the opening of China's maiden amusement park, helping to reduce the amount of accidents, but there is still much to do, she added.
Liu Deqian, deputy director of the China Academy of Social Sciences' tourism research center, said most provinces and cities have turned to such attractions to develop tourism and boost their economies.
More than 2,500 amusement parks have been built in the last two decades, said Xu with the China Tourism Association. However, only about 10 percent of them make money.
One of the biggest earners is Overseas Chinese Town Group, which owns the park in Shenzhen, as well as the Window of the World and Happy Valley parks in Beijing, Shanghai and Chengdu. According to chief executive Ren Kelei, the company now plans to expand its business with sites in Tianjin, Wuhan and Kunming.
Window of the World in Shenzhen alone received more than 3 million visitors last year, generating more than 270 million yuan ($40 million) in profit, said Su Ping, an analyst with China Merchants Securities, which studies the performance of listed companies.
"Amusement parks need to be alert to any loopholes in their management or practices of their personnel," said Wang, who has called for a complete overhaul of the government's supervision system.
Lao Yibo, deputy general manager of CITS Guangdong Co Ltd, a major Chinese travel agency, suggests grading entertainment facilities, including theme parks, by levels of safety and applying different inspections accordingly.
However, Han disagreed and added: "Safety is always of priority and parks can't avoid their responsibilities in telling people how dangerous the rides are."
Public protection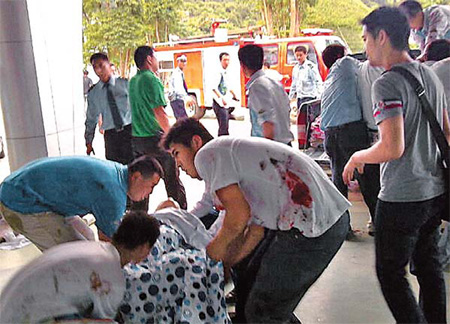 This photograph taken with a cell phone shows injured tourists helping rescue a seriously hurt woman in the June 29 accident in Shenzhen's Overseas Chinese Town East amusement park. [Photo / China Daily]
Initial results of probes into the accident at Overseas Chinese Town East suggest it was caused when one of Space Journey's cabins, which spin tourists to give them the feeling of being in space, broke free.
Police have detained 11 staff members, including operators, maintenance, managers and equipment suppliers. A report on how the cabin became dislodged is yet to be published.
Tourism expert Han said she doubts whether the daily or weekly safety checks were carried out seriously, "otherwise the ride wouldn't have passed the quality inspection".
Space Journey also does not have any mechanisms that protect the public in the event of a malfunction, said retired professor Wang.
"Cars have airbags to protect passengers in a crash and airplanes have life jackets," he said. "So why don't these rides have such equipment too?"
Huang Ling, a survivor from the Shenzhen tragedy, also told reporters at Southern Weekly that she felt the rescue operation was too slow and poorly organized. She complained that it took emergency workers 20 minutes to get to her.
The fact the accident happened at Overseas Chinese Town East, which is regarded as one of China's best-run amusement parks, means such problems could exist anywhere, said Wang.
However, Zhang Lin, deputy general manager of Beijing Shijingshan Amusement Park, said the Shenzhen incident was a "random fault" and urged the media not to "play it up".
"Our park has always put safety as a top concern," she insisted, explaining that every ride must have a manufacturing license, a quality certificate and an on-site inspection certificate.
"We have detailed rules for our operation and safety checks, which are carried out daily and weekly," she said. "Our operators are all trained and have the necessary licenses, while we also have warning signs for tourists in Chinese and English (to alert them to potential dangers)."
Despite news of the accident, Zhang said even more tourists are coming at the weekends.
"The industry is still surging," she said.