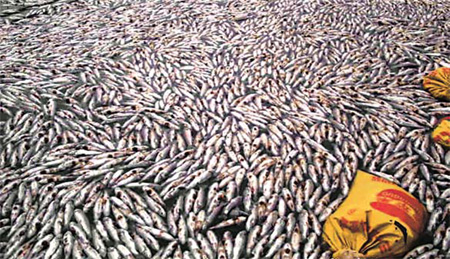 Water contaminated by toxic waste from a copper mine killed at least 1,890 tons of fish in Shanghang county of Fujian province. Provided to China Daily
Qiu Yonglu knew something was wrong when his fish refused to eat and kept circling their pool. Ten days later, they began dying.
On July 12, almost a month later, he finally discovered what had poisoned his fishery when environmental authorities in Fujian province confirmed that toxic waste from Zijinshan Copper Mine had leaked into the Tingjiang River.
By that time, Qiu and his neighboring farmers in Shanghang county lost at least 1,890 tons of fish.
Tingjiang River - dubbed the "Mother River of Hakkas", an ethnic group with a large population in Southeast China - flows through four Fujian counties and into Guangdong province. About 2 million people live along its shores. For many, the waterway is vital to their livelihood.

According to a statement issued by Zijin Mining Group, one of the country's largest mining companies and gold producers, the sewage released contained "copper iron but no extremely toxic substances".
"Although copper is not one of the top heavy-metal pollutants, like lead and mercury, excessive copper in the body can damage the liver and gallbladder, as well as the brain," said Wang Shengrui, a researcher with the State Environmental Protection Key Laboratory for Lake Pollution Control.
Copper, he explained, becomes attached to the body of fish and shellfish, which contaminates the food chain, and settles into the mud and sand on the riverbed.
The pollution is also irreversible. Unlike chemical compounds which can be decomposed or diluted, once heavy metals are released into water or on land, they are difficult to extract and will have a long-term negative impact on the area, he added.
For Qiu and his fellow farmers, the warning came too late.
"If we had been told earlier, we would have transferred the fish to safe ponds and saved a lot of money," complained the 38-year-old, who lost more than 50 tons of his fish because of the spill. He pointed to several empty bottles of fish medicine he said cost thousands of yuan.
Fishermen in Shanghang appealed to the authorities for help several days before the pollution announcement. After receiving no response, angry villagers blocked the gates of the county government building on June 23 with tons of dead fish.
Officials immediately vowed to launch a thorough investigation into the cause of the problem.
"But things turned worse on July 3 as large numbers of fish began to die," said Qiu. "The surface of the water was covered with layer upon layer of dead fish. We tried to clear them so we could save those alive underneath but they were already beyond salvaging."
The distraught farmer now plans to leave his native Huangxi village and return to his old job as a taxi driver in Xiamen, a city on the Fujian coast.
"Less than a month ago, I owned a 1,000-square-meter nursery with more than 100,000 jin (50 tons) of fish. I've lost them all," said Qiu, who has an 8-month-old son.
Qiu returned to his hometown in 2008 to open a fishery with the 110,000 ($16,000) he managed to save while driving a cab. Within two years, he had doubled the size of his farm and was making 200,000 yuan a year.
His goal had been to earn 1 million yuan in 2010, yet today the only reason he visits his fishery is to feed his dog and a handful of ducks.
"I used to live here for a month at a time without having to go ashore," he said wistfully. "During the day, there were trucks lining up to buy our fish. We (the whole village) used to sell 20 tons a day."
Drinking danger
Despite the damage the spill has done to livelihoods and aquatic life, though, it is unlikely to have an impact on the usage of drinking water in the area - as villagers already refuse to use water from the river.
"Everyone knows the water in Tingjiang River has not been drinkable since Zijinshan Copper Mine opened upstream (in 1993)," said Qiu.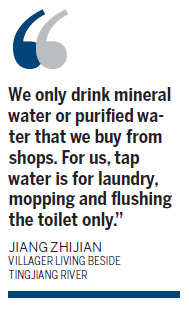 Although the river runs through four counties, only Shanghang still relies on it for tap water. Residents in other towns prefer to fetch supplies from natural mountain springs, sometimes even kilometers away.
Jiang Zhijian, who lives about 20 km upstream from Huangxi, said he and his family have not drunk from the taps in their kitchen for more than five years.
"We only drink mineral water or purified water that we buy from shops," said the 35-year-old. "For us, tap water is for laundry, mopping and flushing the toilet only."
Jiang's attitude is not unique, although not all of the 100,000 or so people who live in Shanghang can afford the 50 yuan it costs a month to buy bottled supplies.
"In some restaurants, dishes that are cooked without using tap water have become a selling point," said the villager. "But it's hard not to consume tap water as some point in our daily life.
"Of course, we understand the harm that can be caused to the body, but we know that the effects of heavy metal poisoning are long term so we have learned to get on with it," he added. "The dead fish thing has just brought attention to an issue we have been living with for years."
The pollution leak is not the first disaster Qiu has encountered since he opened his fishery, either.
Last September, a large number of fish also died, prompting the authorities to suggest the problem was caused by over-farming by fishermen, which was reducing the level of oxygen in the water. Farmers were ordered to reduce their stocks.
Jiang said residents also received a notice days before the June 7 gaokao, or national college entrance examination, warning them "not to allow students to eat fish".