Hudong Wiki, a pilot online Chinese-language encyclopedia, has seen a lot of traffic in recent days.
Following accusations aimed at Tang Jun, former Microsoft China president, that he fabricated his academic credentials, more than 100 Chinese "elites" have rushed to the website to revise their backgrounds and listed qualifications.
The rush was sparked by columnist Fang Zhouzi's much-publicized claim that the college that awarded Tang his PhD degree in electrical engineering, the Pacific Western University in California, is a fake school where students can buy degrees, otherwise known as a "diploma mill".
Pacific Western had two campuses, according to Fang: One in Hawaii, which closed in 2006 as part of the island state's six-year legal action against almost 70 unaccredited schools, and the other in California, which was renamed California Miramar University in 2007 and has never been qualified to award doctorates.
Both sell credentials at different prices, he said.
An online report by the United States government's accountability office shows that Tang's alma mater was sued for offering bachelor's degrees for $2,295, master's degrees for $2,395 and PhDs for $2,595.
Caixin website also reported recipients of these degrees are awarded diplomas without attending any classes and that a list published online shows some of the Chinese who graduated from Pacific Western. Names include a number of Chinese "elites" who received doctorates of business administration from the college, as well as several executives and lawyers.
Tang, who is featured on the Caixin list, was unavailable to comment when contacted by China Daily.
"Some people have an obsession with decorating their fancy offices with framed diplomas of Western universities. They don't care if it's fake," said Sang Peng, director of the Beijing Overseas Study Service Association and a former official with the capital's education commission.
He said vainglorious businessmen are the main customers for diploma mills.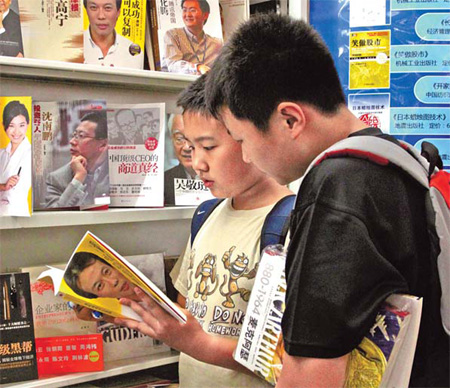 Two high school students read Tang Jun's book at the Xidan Bookstore in downtown Beijing after they learn about Tang's alleged fake academic credentials. [China Daily]
In 2000, when Sang was still with the commission, he was part of an operation to snare the organizers of a school hawking fake diplomas in the capital.
After paying more than 100,000 yuan ($14,700) and taking a few weekend "lectures", dozens of "students" were promised PhDs in business administration from a university in the US. (Sang could not remember the name of the school.)
"Both the organizers and the students knew the certificates would be fake," he said. "They just wanted to add PhD to their names, to go alongside their CEOs or CFOs. Some of them didn't even speak English."

Diploma mills are legally registered institutes but are not acknowledged by any countries' ministry of educations or professional diploma verification groups, added Sang. In the US, accredited universities do not accept academic credits of students from these mills and their diplomas cannot be used as proofs when seeking higher education.
To attract Chinese customers, diploma mills usually found agencies in China "but in most cases they don't even have an office", said Sang. "Just one Chinese worker hawks the diploma in business meetings or on the Internet."
He said such colleges usually use misleading words in their names, like "international," "ivy" or "Pacific." "They use people's ignorance of Western education to their advantage," said the association director.
More often than not, say experts, diploma mills are Web-based firms that promise potential customers that they can earn the credentials quickly. To look more convincing, they often copy the design of genuine universities' websites, and some even ask applicants to pass an easy test or produce a short essay.
However, the majority will also happily sell diplomas directly. At szbzxun.com, a website that sells fake diplomas, it clearly states that as long as customers pay 30 percent of the "study fees" and hand over their personal information and the names of the universities they want the diploma from, they can receive an e-diplomas in just two days.
If the customer is satisfied with the sample and pays the rest of the money, the diploma can be printed and mailed in roughly a week, it says on the website.
Huashang Daily, a Shaanxi-based newspaper, reported that as well as fake certificates, some companies also provide fake exam scores, letters of recommendation and diploma certificate verification.
An investigation by the US news channel CNN found that the University of St. Regis, a suspected diploma mill, sold fake diplomas to 9,600 students from 131 countries, generating about $7 million in profit for the organizers.
With the intense competition for jobs, not just in China but across the world, the need for top-class credentials has never been greater, a fact experts say has fueled a major increase in the number of diploma mills over the last decade.
"They don't need large scale publicity campaigns. The increasing demand allows owners to run them underground," said Sang.
The attention surrounding the "fake PhD" accusations against Tang, a man regarded as one of the most successful managers in China, also seems to have created even more opportunities.
Intense competition
Statistics from the Ministry of Education show 229,300 Chinese studied abroad last year, an increase of 49,500 on 2008.

Facing a bleak labor market, more graduates believe a foreign education background will help them land their dream job, like Wang Xuebing, 22, who graduated from Huaqiao University in Fujian province.
"I'm sure that with a foreign diploma I could be more competitive than my domestic peers," he said. "Besides, graduate study in Britain lasts less than a year sometimes, while ones at domestic universities last two.
"I don't want to waste my precious youth on (getting a diploma)," he added.
However, Wen Yueran, a professor at Renmin University of China's school of labor and human resources, warned that diplomas do not necessarily equal ability.
"Diplomas are just labels that suggest what you are capable of the job," he explained. "If Tang really fabricated his education background, he should admit it and apologize to the public. He doesn't need a certificate to prove his ability as he has already succeeded in business."
People are fastidious about certificates and background but do not have the patience to allow others to prove themselves, said Wen, adding: "People gamble with their reputation as they know in most cases they will win with little cost".
"The diploma mill is a win-win business, except for the people who save money and really want to learn something abroad," Sang said.
Liu Xuewu, a teacher at a vocational institute in Guangdong province, spent a large amount of money and two years of his life to get an MBA from a university in Macao six years ago. To his surprise, when he applied to become a professor last year, the evaluation board said his diploma is not acknowledged by China's Ministry of Education
"I never thought it was a diploma mill. I had no choice but to apply for a domestic graduate degree," Liu said.
Since the 2000 crackdown on diploma mills, Sang said he has not heard about any new plans to tackle the problem in Beijing.
He suggested students check the reliability of academic credentials by sending copies to the authentication center of the Ministry of Education, which also has a list of verified universities on its website.
"It doesn't include all the qualified schools but at least it gives people a reliable choice," Sang said.
More cover stories