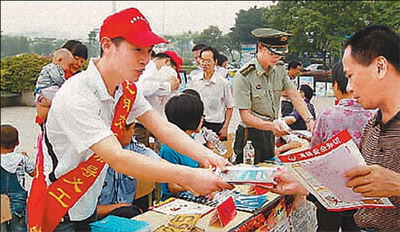 Wang Zuo (left), who was charged with killing a woman while driving a truck, is now a voluntary traffic police assistant in Ningbo, East China's Zhejiang province. [Provided to China Daily]
Shanghai - A pilot program that allows criminal suspects to avoid court by performing community service is being tested in Ningbo, East China's Zhejiang province.
The unique program, the first in China, has exempted 13 defendants from sentencing since May.
Related readings:


 60 suspects arrested for Shanghai Expo-related crimes


 POS sting nabs wealth of suspects and technology


 Emergency medical center set for corruption suspects
"If the criminal suspect doesn't behave well enough, we will extend the observation period," said Li Zhong, chief prosecutor of the Beilun district procuratorate in Ningbo. "But the period will still be within the time limit for proceeding with the case in court."
Under the program, a prosecutor agrees to grant amnesty if the defendant is able to complete certain voluntary work assigned by the procuratorate.
The defendants have special social workers observe them, and if the suspect fails to carry out the conditions properly the case will continue to prosecution in court.
However, the system can only be applied under strict conditions, Li said.
It only applies to first-time offenders charged with minor crimes, or offenders who committed unintentional crimes, or among special groups including juveniles, students, elderly people, disabled people and pregnant women.
The new system covers not only Ningbo permanent residents, but also migrants.
Wang Zuo, a criminal suspect who killed a woman three months ago when driving a truck, is now a voluntary traffic police assistant in Ningbo.
The procuratorate decided to defer the prosecution after he admitted his guilt voluntarily and made every endeavor to compensate the victim's family with over 600,000 yuan ($89,000) including 100,000 yuan for psychological damage.
"I'm glad to do the job because it's an opportunity to redeem my fault," Wang told Legal Weekly.
However, some legal experts have questioned the jurisdiction of the procuratorate in diverting suspects into the program, as prosecutors don't have the right to judge if a person is guilty. That is the responsibility of judges.
"There is no relevant law in China to support the system," said Yin Lin, a scholar with the law institute of the Shanghai Academy of Social Sciences. "It should be left to the court to judge if a criminal suspect should be sentenced, rather than the procuratorate."
In addition, she said, some people may bribe the procuratorate to get conditional prosecution, which would lead to corruption and complaints, she said.
However, Yin said, the cost for both the plaintiff and defendant is less if the case ends at the procuratorate.
"But the system needs to be improved," she said. "First of all, the system must be backed by law."
"We need a quantitative standard to judge the criminal suspect's voluntary work and there should be special social workers to supervise them."