Related readings:


Number of financial lawsuits up 13% in 2009


Judges told to resist meddling in public lawsuits


More IPR tribunals to be set up

Beijing KTV operators face lawsuits
BEIJING - With lawsuits soaring in recent years, due to significant social and economic changes, China's 190,000 judges are facing growing pressure, the Supreme People's Court (SPC) said.
The number of court cases increased by at least 25 percent from 2005 to 2009, but the total number of judges remained almost unchanged, according to the first-ever annual report of the SPC released on Tuesday.
"With social disputes increasing at such a high rate due to high-speed economic change, lawsuits have become a main channel for people to solve conflicts," Sun Jungong, the spokesman for the SPC, told China Daily.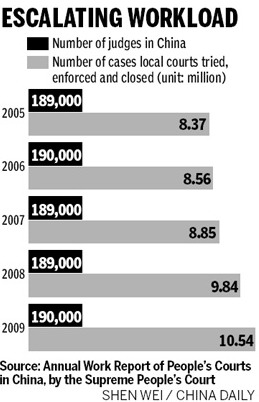 "Judges, especially those working at lower level courts where most cases are handled, are under great pressure", Sun said. "Some of them have to handle about 200 cases every year."
Noticeably, cases nationwide increased in 2008, when the economic crisis started, and 2009 is proving "an extremely arduous year to maintain national and social security".
Feng Xiaoqin, who has worked as a judge in Chongqing No 1 Intermediate People's Court since 2005, told China Daily the large increase in court cases have left judges "less time to think, read and study."
"That makes me feel uncertain. We have an allowed period of time to close each case. The need to be efficient and to fulfill my responsibilities are squeezing me," Sun said.
However, the SPC is making efforts to ease the situation. Selection of judges among outstanding lawyers and training to improve the ability of judges are in the pipeline.
Mediation is also being promoted for solving lawsuits as a means of reducing the number of cases coming to court.
The Ministry of Public Security in mid June started the fourth round of the nationwide "Strike-hard campaign" to crack down on crimes.
In the previous such campaign starting in 2001, a total of 729,958 criminal cases went to trial the same year - surging from just 558,000 a year earlier, according to the SPC report.
When asked about if the on-going seven months long police campaign would sent more to trial and stretch judicial resource, Sun responded, "our judges have been processing a great number of cases for a long time".