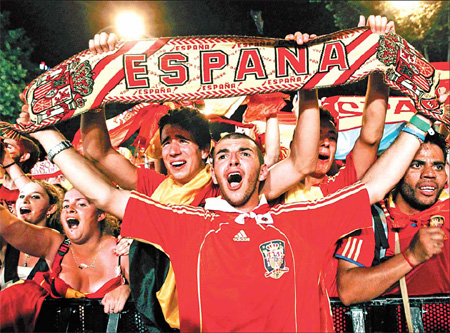 Spanish soccer fans celebrate in Madrid after their team won the 2010 World Cup final against the Netherlands on Sunday. Andrea Comas / Reuters
It may have rained all day but sunglasses were everywhere at the Spanish and Dutch pavilions at the Shanghai Expo on Monday.
After almost 24 hours of World Cup final preparations and celebrations - particularly for the Spanish, whose national team won the Netherlands' players 1-0 - weary workers donned the shades to try and hide their tired eyes from visitors to the Expo Garden.
"I only slept for two hours last night," said a worker standing outside the Spanish Pavilion. "That's why we've all got sunglasses on: To cover our bloodshot eyes."
Staff at both pavilions had already spent Sunday entertaining guests with gifts and games ahead of the much-anticipated showdown in South Africa. Jerseys and balloons in the colors of the Oranje and the La Furia Roja were handed out to all who passed by, while big-screen television sets showed rolling highlights of World Cup matches.
"We're not allowed to let tourists stay in the Expo Garden after closing time at midnight but there were still about 300 workers from different pavilions all gathered here to watch the match," said Yang Yue, a press officer for the Spanish Pavilion.
Yang said the pavilion hosted a cup final party from 10 pm on Sunday, where people could enjoy a selection of Dutch cheese and some traditional Spanish sangria punch.
Although the tournament has been a draining experience, in which matches past the quarterfinals kicked off at 2:30 am in China), the tournament has provided soccer fans with a month of nonstop excitement - and many businesses with a host of moneymaking opportunities.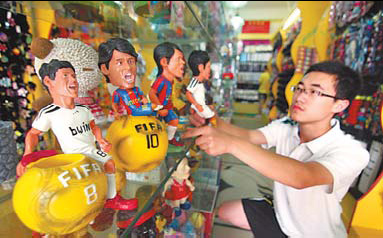 A shopper selects World Cup-related handicrafts at a store in Zhucheng, Shandong province, last month. Liang Zhijie / For China Daily
In particular, bars and restaurants across China are now totting up their takings after doing roaring trade during the finals.
"Our revenue increased by 20 to 30 percent since the start of the World Cup," said Martin Berasategui, who owns a Spanish restaurant in Xujiahui, a busy shopping area in downtown Shanghai. "And it was even better that our national team won."
To capitalize on his country's success (Spain, the reigning European Champions, had never won the World Cup before), Berasategui said Restaurant Martin will be giving free Champagne to diners on Monday.
The competition was good for souvenir sellers, too, including the official World Cup store inside the Expo Garden.
"We released a limited pack of 32 pins of the teams playing at the finals for 888 yuan ($130) five days before the Spain versus Holland game," said Zhang Hui, the store's assistant manager. "We sold 120 sets in the first hour."
Winning the game
Large businesses have also enjoyed boom times, such as Yingli Green Energy Group, which reportedly paid $80 million to have its logo displayed on pitch-side hoardings for eight minutes at all 64 World Cup matches.