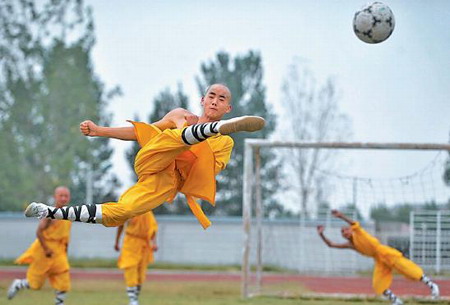 Students from Shaolin Tagou Martial Arts School practice soccer on Wednesday in Dengfeng, Henan province. They set up the team to explore a new way to integrate Chinese kungfu with soccer skills. [China Daily]
Beijing - A player stepped on the back of his teammate, who was seated on the field, to launch himself into the air and scissor kick the soccer ball into the goal.
Related readings:


 Shaolin Martial Arts Show


 Wudang Martial Arts


 Practise hard for martial arts


 Confucius opens path for martial arts display
It was not a scene from Stephen Chow's famous film Shaolin Soccer, but rather, an actual practice at the Tagou Martial Arts School in Zhengzhou, capital of Henan province.
The team's 17-year-old captain Li Lin started the team a few weeks ago, taking inspiration from Chow's movie and the World Cup.
"I wondered whether the skills we've learned could help us play," he said.
The team trained about four hours every weekend with coach Wang Xiaobo, a Tagou school physical education tutor.
"They came to ask if I would like to coach them," Wang told China Daily. "I'm happy to see the boys get exercise because of their own motivations."
Li, whose favorite player is Team England's former captain David Beckham, said, "We watch the World Cup on TV in our dorms and debate about the players."
Asked if their team had beaten others, Li said, "Of course!"
However, a Shaolin Temple source, who wished to remain anonymous, said monks are not permitted to watch games.
"They must cultivate themselves according to religious doctrine in the evenings and go to sleep early, although they could acquire information online," the source said.