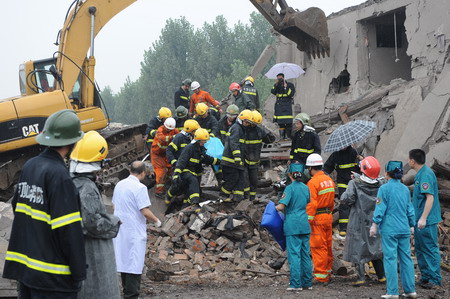 Rescue workers recover a victim's body on Thursday from the ruins of a building that was destroyed in an explosion at the Fenghuangling mining zone in Pingdingshan, Henan province. [Xinhua]
PINGDINGSHAN, Henan - In yet another mine tragedy in the country, at least six people were killed and 34 injured when a blast ripped through a building in the Fenghuangling mining zone in Henan province on Thursday morning, local authorities said.
Related readings:


 At least 4 killed, 35 hurt in C China mine blast


 Explosion at illegal coal mine kills 2, injures 16


 9 die from gas poisioning in C China coal mine


 10 missing in open-pit mine landslide in N China
Rescuers were still trying to ascertain whether any workers are trapped under the ruins of the building.
The explosion occurred at around 5:30 am in the zone situated in a suburb of the resource-rich Pingdingshan city, a statement released by the local government said.
Half of a two-story building on the surface collapsed, leaving four people buried and several injured. The explosion shattered the windows of nearby buildings, too.
The blast site is about 30 meters from the entrance of a coal shaft.
As of Thursday afternoon, rescuers had sent 34 injured, including two severely hurt who were hit by the debris of the damaged building, to a local hospital, the government said.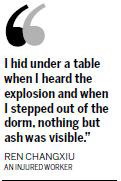 Cheng Guojie, a 30-year-old injured worker, told China Daily at the Pingdingshan No 2 People's Hospital that the sound of the explosion jolted him from his sleep before shattered glass pierced his legs and belly.
Ren Changxiu, Cheng's roommate, said he hid under a table when he heard the explosion and when he stepped out of the dorm, nothing but ash was visible.
The Pingdingshan hospital received 22 victims, one of whom succumbed to injuries after emergency treatment failed, while five were discharged after receiving medical aid. Among the 16 still hospitalized is a 3-year-old child, a doctor, who refused to be named, said.
Besides the Pingdingshan No 2 People's Hospital, victims were also admitted in two nearby hospitals.
The blast left a 10-meter-deep hole in the ground and blew the roof of a large warehouse.
Dozens of rescuers continue to search for survivors.
The reason for the explosion is still under investigation, the statement said.
Zhao Yufeng, a worker in a nearby factory that manufactures mining facilities, said she was sleeping when she heard a big bang and found the windows of the factory shattered to pieces.
The direct economic losses are estimated to be more than 3 million yuan ($441,700), she said.
According to Zhao, a gas leak might have caused the explosion.
The coal mine, with an annual output of 150,000 tons, was supposed to have suspended operations as it was being taken over by the State-run Zhongping Energy Chemical Group.