A worker carries building material on a construction site on Tuesday in Nanyang, Henan province, where the temperature reached 40 C. [China Daily]
With temperatures soaring up to 40 C in a number of Chinese cities, people across the country have been furiously looking for ways to stay cool. For many workers, though, there is little option but to sizzle under the sun.
Construction crews, street cleaners, delivery boys and kitchen staff are just some of those struggling in the face of trying conditions.
Yet, China Daily has discovered that few of these workers are even aware of a law that requires employers to pay staff extra in a heat wave.
Armed with a large bottle of water to stave off dehydration, Qu Guorong arrived to start his shift at a Beijing building site on Tuesday afternoon, when the temperature was 40 C.
"What can I do? The work needs to be finished on time," said the 54-year-old migrant worker, who helps build a luxury residential block in northeast Beijing where apartments are selling for 53,000 yuan ($7,800) per square meter.
When not at work, Qu sleeps in a room he shares with 15 other workers in a three-story portable block 500 meters away. A handful of 40-yuan electric fans on the ground floor are the only things offering respite from the extreme heat.
Inside, 29-year-old Zhang Haiguang was laid on his bunk bed looking visibly ill.
"I don't feel well so I've taken the day off," said the plumber from Hubei province. The decision means his wages will be docked 90 yuan, the amount he receives for each shift.
Beijing's meteorological center issued the year's first "orange alert" on Monday when the temperature hit 40.3 C - the highest temperature recorded in July since 1951.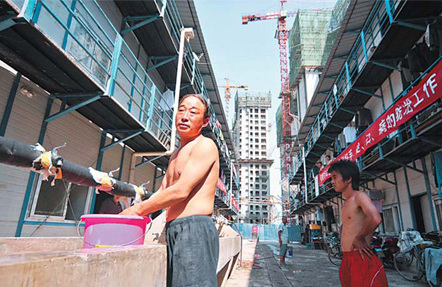 Qu Guorong, 54, keeps himself cool after work. [China Daily]
Although health and safety regulations require companies to give staff extra cash for working in very hot conditions, almost none of the workers interviewed for this story said they had received it.
A joint notice issued by the Ministry of Health, the Ministry of Human Resources and Social Securities and the All-China Federation of Trade Unions in 2007 stated allowances must be paid to workers who toil outdoors in temperatures above 35 C or in enclosed environments, such as offices and warehouses, in temperatures above 33 C.
How much employers pay is set by provincial governments due to the wide variations in China's regional weather patterns.
Beijing this month doubled the allowance set in 2007 to a minimum of 120 yuan for outdoor workers and 90 yuan for indoor workers, according to a statement from the capital's bureau of human resources and social security.
However, experts say firms are avoiding making the extra payments thanks to loopholes in the system and a general lack of enforcement.
Sun Qunyi, a researcher with the Ministry of Human Resources and Social Securities, said the regulation is mandatory but falls down because there is no punishment mechanism and enforcement is poor.
"Current regulations on labor usually stipulate only what employers should do, they don't set penalties," said Ye Hailin, a researcher from Chinese Academy of Social Sciences. "Local governments should find a way to ensure enterprises follow the regulations."
The country's only legal document on health and safety in the heat was published in 1960 and covers only traditional industries, such as agriculture, transport and mining. Modern industries, like the service sectors, are not included.
To escape working during the hottest part of the day, construction workers have adjusted their schedule to work early in the morning - some start at 4 am - and late at night. Officials with Beijing government said companies are not allowed to cut workers' pay due to the change, and possible reduction, in the working hours.
Staff on a building site in Qingdao, Shandong province, were also given free green bean soup, a traditional remedy for heat fatigue, and essential balms. The city government also ordered construction to stop if the temperature exceeds 37 C.
In the afternoon, many migrant workers head to air-conditioned subway stations.
Xu Dongyun, a 40-year-old carpenter from Hebei province, sat on the floor of Shaoyaoju station in Beijing reading a kung fu novel, while 20 meters away women played with their children on blankets. Others simply stood and watched the commercials on small television screens dotted around the station.
"I know it's hot outside but (loitering) is against the regulations," said Beijing Subway worker Wang Xifeng as she shooed several people out of the station. "They block the way for genuine passengers and it looks bad."
After quickly getting tired of seeing people disappear through exit A only to return through exit B, Wang gave up.
"It's OK as long as they don't smoke," she said with a tired sigh.


Right: Melted asphalt glues an ambulance and a taxi in the middle of a newly resurfaced road in Zhengzhou, capital of Henan province, where the temperature hit 38 C on Tuesday morning; Left: A driver of the No 1 bus, spends eight hours a day along the capital's Chang'an Avenue. [China Daily]
Cold comfort
While workers sweat it out on construction sites, 48-year-old Duan Chengling spends his days riding a tricycle usually piled high with plastic bottles, cardboard and used clothes.
He regularly cycles about 4 km to a recycling center in Xiaoying, near Beijing's North 4th Ring Road, earning about 80 yuan for each trip.
"In summer I can collect more drink bottles," said the Henan native, whose skin has been tanned a dark brown.
Duan has been collecting trash to recycle for the last six years but only works in the morning. As his apartment has no air-conditioning, he and his wife spend the afternoon under a bridge.
"It's much cooler there, so we stay until about midnight," he said with a broad smile. "I think the hottest days are yet to come, though."
For Ding Yi, cooling off under a bridge sounds like heaven compared to standing over a blazing hot stove for 10 hours a day.
"The temperature outside may be 40 C but in the kitchen it's at least 45," said the 20-year-old chef at Tian Zi He hotpot restaurant in Beijing. "Most restaurants don't have air conditioners in the kitchen unless they're in fancy hotels."
Ding shares the hot, smoky 10-square-meter kitchen with four other cooks. An old ceiling fan spins just a few feet above their heads but blows only hot air back at them. Sweat was streaming down the men's faces, while soaked uniforms clung uncomfortably to their backs.
"These days I can't stand to be in the kitchen," said Ding, who earns 3,000 yuan a month and has not received any extra pay due to the hot conditions. "It's like standing on an asphalt road on a blazing summer day with a pot of fire burning in front of you."
Another concern, he said, is the damage the heat wave has had on business.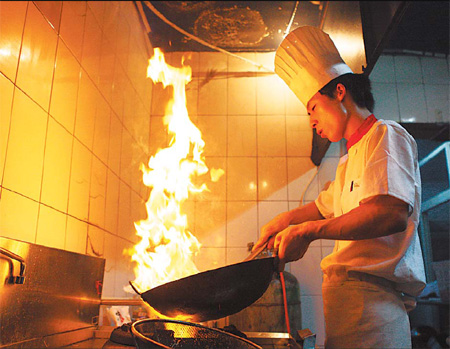 Ding Yi, 20, has to put up with the heat in his 10-square-meter kitchen in Beijing for 10 hours every day. [China Daily]
"Who wants to eat hot pot in such a hot weather?" mused the cook, who explained that his restaurant, which can seat up to 200 people, is receiving less than 30 customers a day.
The extreme weather conditions have wreaked havoc across the country for the last few weeks, causing fatal accidents and affecting wildlife.
On Sunday, a shuttle bus taking nightshift workers to a steel plant in Wuxi, Jiangsu province, caught fire in a tunnel at about 11 pm. Police said 24 people were killed and 19 others injured.
Although the blaze is still under investigation, several experts quoted by the local media say the tragedy was caused by spontaneous combustion.
Earlier that day, a van also burst into flames in Xingtai, Hebei province, while in Shenzhen, Guangdong province, police and firefighters attributed an explosion at a pharmaceutical plant on Monday to extreme temperatures. No casualties were reported in either incident.
The weather has also claimed the life of three red deer at a zoo in Changsha, capital of Hunan province. The animals - native to West China's Qinghai province - died of heat stroke and a lack of water, said zoo manager Zhang Qiang.
As many as 162 climate stations under the China Meteorological Administration reported extremely high temperatures between June 1 and July 4, with 34 stations reporting record highs, according to the administration's national climate center.
Officials in Hebei, where more than 10 high temperature warnings had been issued as of Tuesday, say the drought has severely affected crops, particularly corn.
In Tai'an, Shandong province, vendors say they have had to throw away thousands of kilograms of melons every day.
"It's simply too hot out there,"
said businessman Du Yuesheng. "There's nothing we can do other than sit and watch the truckload of melons rot."
The city of Zhengzhou, capital of China's most populous province, Henan, used an all-time high of 8.76 million cubic meters of water on June 30 - equal to the amount that would be used by 88 Water Cubes (the Olympic Aquatic Center in Beijing).
Power usage also soared in Beijing, Tianjin and most parts of Central China, said officials.