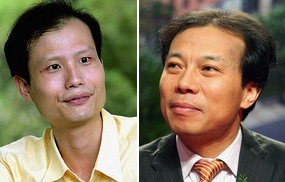 Fang Zhouzi(L), battles academic misconduct and pseudoscience, Tang Jun(R), former president of Mircrosoft China.[China Daily]
BEIJING - Fang Zhouzi, who accused former president of Microsoft China Tang Jun of fabricating his academic credentials in the United Sates, continued his attack on Wednesday by saying that Tang was "lying to the entire nation" when he tried to defend himself on Tuesday.
Tang, who held his silence for five days after Fang initially accused him of fabricating a doctoral degree from the California Institute of Technology (CIT), the ownership of two patents and entrepreneurship early in his career in the US, clarified the matter on Tuesday by saying that he had never claimed to have graduated from CIT and that he had received his doctorate from the California-based Pacific Western University.
Fang, who is known as a "science cop" for battling against pseudoscience and academic misconduct, said on his blog on Wednesday: "Tang was lying to everyone's face."
Fang stressed that the e-version of Tang's autobiography and online resumes all claim that Tang has a doctoral degree from CIT.
Tang said in an interview on Tuesday that the e-version of his book is a fake that must have been placed online by someone out to discredit him, whereas the published work does not make any claims regarding a PhD from CIT.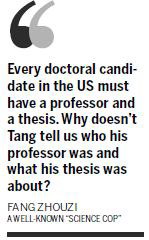 Fang argued that there are two versions of the book. The first and older version includes content on Tang having a PhD from CIT. But the new version deleted that material, which Fang attributed to doubts having surfaced early last year over the authenticity of Tang's academic credentials.
On his blog, Fang provided a scanned page of the older version of the book, which contains material that confirms his point.
Moreover, in response to Tang clarifying that he received his PhD from the California-based Pacific Western University (California), Fang said the university is a "fake and problematic university".
According to Fang, Pacific Western University had two campuses. The one in Hawaii was closed in 2006 following a lawsuit filed by the State of Hawaii, which has taken legal action against more than 66 unaccredited schools since 2000. The other, in California, was renamed the California Miramar University (CMU) in 2007 and is not qualified to provide doctoral degrees.
Fang claimed both campuses belong to one "fake university" that sold different credentials at different prices.
A report on the website of US Government Accountability Office shows that Tang's alma mater was sued for selling credentials at different prices: $2,295 for a bachelor's degree; $2,395 for a master's; and $2,595 for a doctorate.
In response to the furore, Caixin magazine reported on Wednesday that recipients of degrees from these institutions are awarded their diplomas without attending any classes.
The magazine also managed to obtain a list of some Chinese who graduated from Pacific Western University, which it published online.
The list shows that a number of the Chinese "elite" received Doctor of Business Administration (DBA) degrees from the same institution, including officials, enterprise executives, lawyers and judges.
Fang said on his blog: "Every doctoral candidate in the US must have a professor and a thesis. Why doesn't Tang tell us who his professor was and what his thesis was about?"
As for the two patents Tang claimed to "have invented and sold to others", Fang said no one can prove it.
Neither Tang nor his assistant were available for comment on Wednesday.
Fang, denying that he was exposing Tang so that he could become famous, told China National Radio on Wednesday he appreciated that Tang "at least responded to the accusation", while in most cases those confronted by him pretend not to know anything.
While netizens largely believe that Tang somehow cheated about his academic experience, they think his ability is more important than his credentials.
By Wednesday afternoon, about 63 percent of 7,848 respondents to an online survey on sohu.com said they consider a person's abilities to be of greater importance than their academic credentials, while only 2 percent thought the otherwise.