Beijing - Healthcare professionals and analysts are pushing for a centralized management of the sale and use of pesticides in the country, as part of efforts to reduce suicides in rural areas caused by consuming the easily accessible chemicals.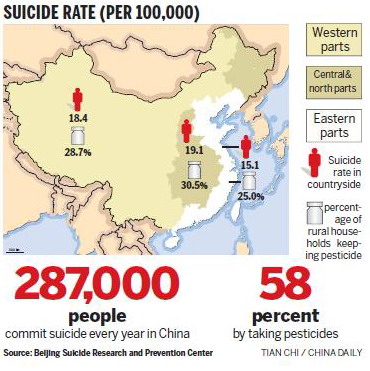 A pilot program is currently under way in a number of areas in Hunan and Zhejiang provinces to address pesticide abuse, Sun Shubao, secretary-general of China Crop Protection Industry Association, told China Daily.
Under the program, professional contingents organized by local villages will be in charge of the management and use of pesticides to keep the chemicals out of the reach of local farmers.
Local farmers will pay the professionals to spray pesticides on their crops.
"The government should popularize and enforce the method countrywide to alleviate the high suicide rate in rural areas because of the easy access to pesticides," Sun said.
About 287,000 people commit suicide every year in China, 58 percent of whom kill themselves by taking pesticide, statistics from the Beijing Suicide Research and Prevention Center showed.
Pesticide suicides account for 65 percent of the total number of suicides in rural areas, which have a population of nearly 800 million, the figures showed.
Nearly 74 percent of rural suicides between March 2007 and January 2008 were caused by taking pesticides, a latest study by the Fuyang Disease Control and Prevention Center in Anhui province showed.
"Pesticides are placed casually in many areas in many farmers' homes, such as under the bed and in yards," said Li Xianyun, director of the Beijing Suicide Research and Prevention Center. "The easy access makes it very convenient for them to use the pesticides for committing suicide."
While organizing professional groups to help farmers use pesticides can significantly reduce the opportunity for them to commit suicide, it cannot solve the problem, Li said.
"The fee for professional groups to spray pesticides is about 90 yuan ($13.27) a hectare. But most farmers are not willing to pay. They would rather do the work themselves," said Li Shilin, director of the agricultural technical center in Fengtai county, Anhui province.
More government subsidies should be given to farmers to promote the latest move, he said.
The country's current regulation on the management of pesticides issued in 1997 primarily focuses on the supervision of pesticide production. It does not address the sale and use of the chemicals, Sun said.
Many other countries implement strict control over the sale and use of pesticides, particularly for toxic ones, he said.
"Specific details, such as the buyer's name and the amount of pesticide purchased, should be recorded and any unused pesticide should be returned to the dealer," he said.
The number of registered pesticide products in China has increased from 9,747 in 1999 to 28,000 in 2009 and more than 2,600 companies are producing the chemicals, Ministry of Agriculture figures showed.
China is the world's largest pesticide producer and consumer, with pesticide production hitting 2.26 million tons in 2009, figures from the National Bureau of Statistics showed.
Still, many pesticide products on the market have similar formulas targeting plant diseases and pests, which can cause much wastage and difficulties in managing the industry, Sun said.
The market is also flooded with substandard products, he said.
Up to 71 of 521 products checked randomly in nine provinces and cities are substandard, statistics released by the Ministry of Agriculture in June showed.
"Many of these pesticides don't carry information on their ingredients," Sun said. "Some of them may cause highly toxic residues on crops and threaten food safety."