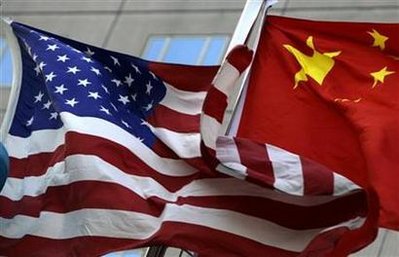 National flags of US and China wave in front of an international hotel in Beijing in this February 4, 2010 file photo. [Agencies]

BEIJING - China's foreign exchange agency said Wednesday the country's $2.45 trillion reserves are not a "nuclear weapon" to control other nations and its vast holdings of US Treasury debt "should not be politicized."
In a question-and-answer statement on its website, the State Administration of Foreign Exchange (SAFE) ruled out the  option of dumping its US Treasury securities holdings and called on Washington to be a responsible guardian of the dollar.
China is a responsible long-term investor and "doesn't seek the power to control recipients of its investment," SAFE said, in an apparent effort to allay concerns in the outside world that arise whenever Beijing shifts its holdings of US government debt.
"Any increase or decrease in our holdings of US Treasuries is a normal investment operation," it said in the statement.
The agency constantly adjusts its portfolio to maximize returns, and any changes to its US Treasury portfolio should be seen in that light and not interpreted politically.
China has the biggest overseas holdings of US Treasuries, having in April boosted its investment in the securities by $5 billion to $900.2 billion, according to US Treasury data released on June 15.
In response to a question on whether China's $2.45 trillion stockpile of foreign currency could be used as an "atomic weapon".
"Facts have proven that such worries and concerns were definitely unnecessary," the regulator said.
"We will actively deepen cooperation with countries that welcome our investment. If they have any doubts or worries, we will slow down the pace and enhance communication with an aim to achieve consensus."
Tepid on Gold
The agency acknowledged that financial markets were very concerned at one point that massive US government borrowing would drive the US currency lower.
But it said economic conditions elsewhere were also a factor in determining the dollar's trend. The euro zone, for instance, was struggling with high government debt levels.
"We must recognize that any depreciation of the dollar is relative to other countries, and other countries or regions also have this or that problem," SAFE said.
One of the prime concerns of Chinese Internet commentators is that a long-term decline in the dollar or euro will erode the value of SAFE's portfolio.
To that end, SAFE called on the United States and other major countries to take "responsible measures" to maintain the value of their currencies. This meant withdrawing monetary stimulus in a reasonable manner and relying less on deficit spending.
SAFE appeared lukewarm about gold as an investment.
"It cannot become a main channel for investing our foreign exchange reserves," the agency said, noting the size of the gold market was limited and prices were volatile.
Buying more gold would also not help much in diversifying China's reserves.
China has increased its gold holdings by more than 400 tonnes in the past few years to 1,054 tonnes. Even if it doubled that amount gold's share of SAFE's portfolio would increase by only one or two percentage points.