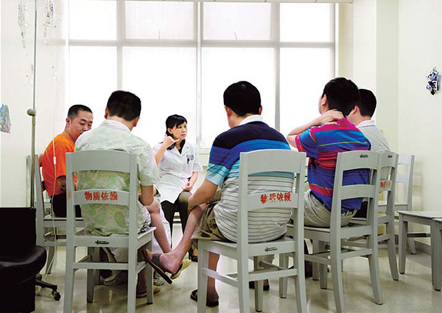 Cai Ying, center, a psychiatrist at West China Hospital in Chengdu, talks with alcoholics during a regular group therapy session as part of the hospital's Alcoholics Anonymous. The program is the first of its kind in Sichuan. [China Daily]
More victims benefit from healing hand of Alcoholics Anonymous, reports Huang Zhiling in Chengdu.
Every Thursday, Zhao Jun enjoys an early dinner before taking a one-hour bus ride to meet his friends. It may seem like a mundane routine, but it is one that is saving his life.
Zhao, 63, has been making the journey from his home in Chengdu, capital of Sichuan province, to West China Hospital for more than three years to attend Alcoholics Anonymous (AA).
Zhao says he was an alcoholic for more than four decades before he found salvation through the hospital's psychopharmacology and substance dependence ward.
"He used to drink a bottle of distilled spirit a day," said his wife, Luo Yi. "When he was drunk, he would curse people and throw things. I told him that we should lead a normal, happy life as our son had married but he turned a deaf ear to me," she said.
"He only agreed to go for treatment after I asked for a divorce."
Since its Chinese chapters opened in 2000, AA has expanded beyond its initial expatriate base to include bilingual and Chinese-speaking meetings.
Organizers say about 1,000 members attend meetings in five cities across China, including Beijing, Shanghai and Chengdu. In recent months, chapters have also launched online chat groups to expand their coverage.
Thursday night sessions in Chengdu, which started in October 2006, regularly attract about 15 to 20 members, organizers told China Daily.
Zhao is one of five former alcoholics who attend without fail.
When the retired primary school teacher finally agreed to seek help three years ago, he was initially treated with electronic acupuncture and put on a course of naltrexone, a drug often used to help alcoholics.
"Electronic acupuncture is aimed at helping addicts develop a conditioned reflex against drink and drugs, easing their cravings," said Kang Lin, an associate professor in psychiatry at West China Hospital, an affiliate of Sichuan University. "We also have group therapy sessions, where addicts sit together and talk about their experiences."
Although the medical treatment may have got Zhao to quit drinking, he says it was the harrowing stories he heard during the group sessions and at AA meetings that have kept him off it.
"I remember hearing how a guy was at a banquet with friends and downed a bottle of Jiannanchun (a famous liquor from Sichuan that dates back as early as 700 AD) and fell asleep on a sofa," said the pensioner. "When his friends came to get him after a game of mahjong, he was dead."
Another man, he said, drank 24 bottles of beer after a bet with a co-worker and then crashed his car, injuring several people.
"Group sessions and AA meetings have proved to be the best treatment for some addicts as members talk about the hazards of drinking and encourage each other to stop," said Kang.
Due to their reserved nature, Chinese members are often reluctant to share their stories publicly in the beginning, said Sheng Lixia, director of the Chinese Drug Dependence Treatment Center in Beijing.
"Chinese alcoholics consider having mental problems as a very big issue," he said. "They feel embarrassed to talk about it."
However, AA organizers say members soon start to open up once they become comfortable.
Wang, a recovering alcoholic who started drinking when he was 12 years old and lost his family because of his addiction, said his trepidation quickly changed after attending his first AA meeting at Peking University's No 6 Hospital.
"At the beginning, I doubted the treatments (would work)," said the restaurant owner, "but when I heard some members' stories I was very surprised to find there were people who had the same experience as I did."
Drinking danger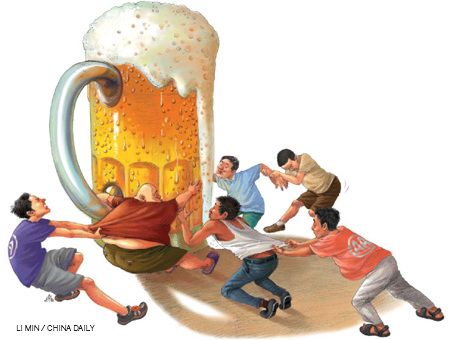 Alcohol abuse is certainly not new to China. The country has a tradition of entertaining guests with alcoholic drinks that stretches back thousands of years. However, experts say the country's consumption of booze has boomed in recent decades.
"There's no doubt that there are hundreds of thousands of people who need recovery (just) in Beijing," said an AA organizer named John who did not want to be identified. "I don't think there's any less prevalence in Chinese people than anywhere else in the world in terms of susceptibility to alcoholism."
Although there is no available official research on a national level, in 2004 the World Health Organization reported that 3.8 percent of China's adult population suffered with alcoholism - roughly 40 million people.
The report also stated there had been a 320-percent jump in alcohol usage between 1978 and 2000.
"Typically when you ask about alcoholism in China, people will say there's very little of it (and that) it's not a priority issue here," said Ian Newman, a researcher at the University of Nebraska who studies alcohol patterns in China and teaches alcohol education workshops at Beijing Medical University.
Experts attribute the growing trend to Chinese people having more disposable income and easy access to alcohol, as well as the influence of Western attitudes towards drinking.
"There's been a massive shift," said Beijing AA organizer John. "People are drinking more openly. There didn't used to be the money or the supply chain in place."
Newman blamed the changes on influences from Western cultures.
"Traditionally in China, alcohol has accompanied food, rather than drinking as an event on its own," he said, adding that the culture of "keeping face" had always encouraged people to behave when drinking. "Western marketing and access (to alcohol) has changed things."
The 60-bed psychopharmacology and substance dependence ward in Chengdu is on the top floor of the hospital's mental health unit, which is a 10-minute walk from its main buildings.
Patients here range from 20 to 80 years old and come from all walks of life, said Cao Binrong, the ward's head nurse.
Although there are a few "Internet addicts", most are alcoholics and drug addicts who work as salesmen or government workers (jobs that often involve entertaining guests with copious amounts of baijiu, a strong Chinese liquor).
Drug addicts - largely young people who have used for only a short time - can be treated as quickly as in one or two weeks, said Kang, but it can take more than a month to help alcoholics, many of whom have been drinking for decades. Chinese drinkers have traditionally not shared the Western interpretation of alcoholism as a disease, said addiction expert Sheng. As a result, drinkers are usually in pretty bad shape by the time they look for help.
However, the real challenge is how to prevent alcoholics from simply returning to their old ways after their treatment.
"The problem is that China encourages the liquor industry and liquor is easily available in shops. Even children can buy it," said Kang, who explained coordinated efforts are needed from hospitals, governments and communities.
He has called for a law requiring people to show their identity cards before they can buy booze.
For Zhao, the story he now shares at AA meetings is one of inspiration rather than tragedy.
But he is simply one of the lucky ones, according to Kang, who revealed that more than 70 percent of the alcoholics he treats restart drinking after being discharged from the ward.
Lu Chang and Kelly Dawson contributed to this story.