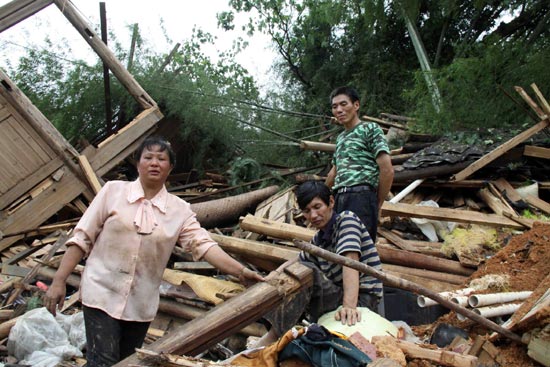 Residents of Fendang village in Nanping Fujian province, clear debris on June 26 after a landslide destroyed their homes. [China Daily]
Zou Guofu and his family had been sifting through the wreckage of their home for more than two weeks.
Any salvageable clothing or appliances were quickly added to the small pile of possessions, after a landslide triggered by heavy rain killed family members and destroyed their house in Fendang village in northern Fujian province.
"I just want to find a quilt, so that my granddaughter doesn't have to sleep in a huddle with her grandmother at night," said Zou, 57, as he looked at the 6-year-old girl play with a broken television set among the ruins.
It took just five seconds for his house to be wiped out by a raging torrent of debris on June 18, burying nine family members. Most escaped unharmed but Zou's mother and uncle were killed.
"We have two houses and we stayed in the one further from the mountains when the heavy rain hit. We thought it was safer," said Zou, Fendang's former Party secretary, who has several stitches above his right eye where he was hit by debris.
"Luckily, my son and daughter-in-law were away picking up their marriage certificate at the time, so they avoided the disaster," he said, before pointing at a mound of mud and adding: "That was their room. It was crushed by large falling rocks."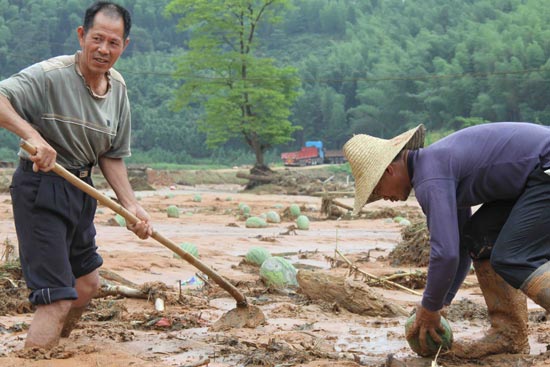 Farmers in Gengwei, a village in northern Fujian province, work on their mud-coated watermelon fields after severe landslides on June 18. [China Daily]
Zou and his surviving family members are now living nearby at his brother's farm, which was not damaged in the storms.
Torrential rains - the likes of which have "not been seen for 100 years", according to elderly residents - battered Fujian for almost a week in mid-June, sparking a series of mudslides.
About 4 million people were affected, which left 78 dead and 79 missing, according to figures released by the provincial authorities.
A total of 1 million people now need to be relocated, while the direct economic losses from the disasters could be as high as 14.4 billion yuan ($2.1 billion), show the official statistics.
Among the worst hit areas was Yanping, a district of Nanping city, where the village of Hongxing was completely destroyed.
Once home to 200 people, the village is now silent except for the sounds of the chickens, ducks and dogs scavenging for food. Its farmland has largely been washed away, while the trucks half-buried in the river stand as reminders of the devastation that occurred here just a few weeks ago.
After witnessing non-stop torrential rain for several days, cadres decided on June 18 to gather residents in an assembly hall on the only flat ground in the village in the belief it would keep them safe. They had no idea of the tragedy to come.
At about 1:30 pm, a violent landslide tore through the building.
"It was like a bomb blast," recalled 40-year-old Liu Jinnu, who had been standing outside at the time. "The entire hall disappeared in the blink of an eye. Everything was washed away."
A casualty report issued by the district government said 20 people were killed and eight others are still missing, although villagers say they are also presumed dead.
Liu, who lost four members of his family in the disaster, managed to escape before helping to pull out at least 10 people.
"My 13-year-old son also saved two people," he said, "but the water was so strong that we quickly ran out of stamina."
"The roads were blocked by rising water and landslides were happening all the time," added Zhang Jiazhong, 33, who was among the first to alert the authorities. "I thought we were all finished."
Rescue teams eventually began to arrive at 7 pm and took three hours to evacuate all the survivors, he said. About 110 have since taken refuge at the Mingcui Theater in Nanping, which city officials set up as a temporary shelter.
"The people here get free meals every day and donated clothes are also available," said Zhao Zhouping, a coordinator at the shelter. "Those who are staying with relatives get a 20-yuan allowance per day to cover living expenses."
As well as helping survivors, Zhao is responsible for arranging cremations for the dead and helping people who arrive in search of missing loved ones.
Severed supplies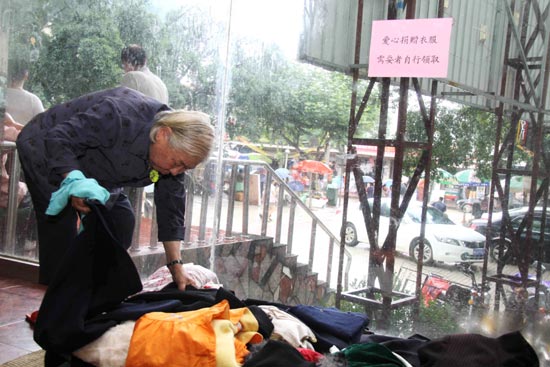 An elderly woman looks through a pile of donated clothes at a temporary storm relief shelter in Nanping, a city in northern Fujian province hit by heavy rainfall last month. Many people donated cash and clothing for the victims. [China Daily]
For those still trapped in villages cut off by the floods and mudslides, such as Gengwei, 12 km from Yanping, shortages in food, drinking water and manpower are starting to take their toll."We each got 2 jin (1 kg) of rice for free after the disaster," said Lu Jinmu, 29, one of 300 residents in Gengwei, "but that was just for those with registered residence. My wife and my eight-month-old son do not qualify for this allowance."
As fresh supplies are slow in arriving due to the roads being damaged, food is running out fast and some families have resorted to collecting rainwater from rooftops to drink.
"The entire village has been soaked," said 54-year-old villager Wang Wubin. "Much of the rice in our barns have already germinated, so people have to go to their relatives and neighbors to borrow rice. There is not much to share, though."
Watermelons caked in mud were lying beside the road, yet people refused to collect them as they knew they would have already gone bad.
Tobacco farms just a few kilometers away have also suffered.
"We used to sell our products to (buyers in) Shanghai for 9 yuan per kg but after it has been soaked (by the floods) we'll only get 8 jiao (10 jiao make 1 yuan)," said a worker on one farm. "We're facing an estimated loss of 20 million yuan."
Lost revenue for farmers, however, does not seem to be at the top of the town authorities' agenda, with officials still working on the major task of organizing the rescue.
"Out of the 19 villages within Wangtai town, 10 were affected by landslides and four are cut off," said Wu Huoheng, the town's Party secretary, who has worked tirelessly to help stranded residents since mid-June. "We have just 38 officials working for our government and they've all been sent to villages to help - but that's roughly only two in each village."
Although the people in those villagers are relatively safe, due to the blocked roads and severed communication links, Wu has been forced to issue orders through hand-delivered letters.
"The disaster areas are widely scattered," he said. "We're trying our best to cover all those affected but, given the current situation, we can only guarantee food and a roof to shelter them."
"I just hope villagers understand and use every means to help each other first," said the official, who added that 7,000 kg of food supplies from the Red Cross Society of China is on its way.
Cause and effects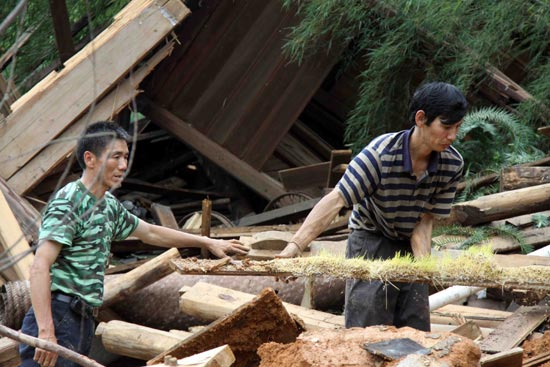 Villagers in Fendang village search through the rubble that was once their home. The house collapsed during a landslide in June and the men have since been salvaging for clothes and other necessities.  [China Daily]
While some busy themselves with cleaning up the mess left by the floods and landslides, others are examining the reasons why the disaster happened.
According to Chen Zheng, a member of the rescue command formed by the Fujian department of land resources, there were multiple factors involved.
"First, the torrential rains lasted for weeks and caused super saturation in the earth," he said, explaining that the rainfall experienced since mid-June accounted for more than 60 percent of the total amount this year.
"Second, most of the mountains in northern Fujian are covered by 1 or 2 meters of deep soil," he continued. "Although the province has a large reserve of forest, the trees were only planted in the 1960s and the roots are not deep enough to retain water. Heavy rain easily washes them away."

Another environmental expert, who did not want to be identified, also claimed that the deforestation driven by the country's over-developed wood-processing industry was also to be blamed.
"Broad-leaved forests were cut and quickly replanted with needle-leaved trees or bamboo, which both store far less water," the expert said.
When Chen arrived in Hongxing village on June 19, the day after the landslide, he saw that huge rocks had blocked a waterway and formed a damn lake, which he believes must have broke during the deluge.
"Given enough rainfall, such disasters could happen again," he warned. "The only way to solve this problem is to accelerate the pace of building new villages in safe areas.
"Villages like Hongxing are not worth rebuilding because the farmland is ruined and the cost of rehabilitating it would be tremendous. Relocation is a better choice," he said.
However, for officials like Wangtai's Wu who will be undertaking the relocation mission, the difficulties they face are all too obvious.
"Mountains and rivers are all we have here in northern Fujian," said Wu. "Where can we find a flat ground to build new towns? Even if we managed to build a town, what job opportunities can we provide to those who have been farmers for generations?"
According to the rescue command office, 153 million yuan has been committed to relocation, epidemic prevention and infrastructure renovation projects.
City officials have also pledged to pay families 100,000 yuan in compensation for every life lost and 10,000 yuan for each house destroyed.
Zou Guofu and his family had just received an advanced payment of 10,000 yuan for their losses.
"We're not going to protest for more compensation as the government is already doing their best for us," he said, before adding: "Sometimes I can't help but think that my mother and uncle died to save the rest of us."