More Chinese women are traveling to America to give birth
Beijing - Wang Rong, who is six-months pregnant, is about to leave Beijing for California so she can give birth to her baby in the United States and give the child its first gift - US citizenship.
The special delivery will cost Wang and her husband, both white-collar workers in the capital, 100,000 yuan ($15,000), but they say it is money well spent.
The expenditure will cover all costs, including services before departure, medical care in the US and a three-month stay there, thanks to the help of a Shanghai-based agency that specializes in taking mainland moms to North America.
"Given the quality of educational resources and employment prospects in China, where there is a huge population and harsh competition, I want my baby to win at the starting line by obtaining US citizenship," she said.
Related readings:


 Birth delivery method gives babies different bacteria


 Stressed-out office workers putting babies' health at risk


 Half of the babies born in rich world will live to 100
The cost to deliver a baby in the US is far higher than in Beijing, but still affordable for the couple, which makes nearly 250,000 yuan a year, she said.
The list of benefits runs long for babies born in the US, says Jiang Feng, the Chinese mainland partner of the agency, which originated in Taiwan.
Jiang said babies born in the US will, at the very least, be entitled to a place at an American public university, which is favored by many parents over domestic institutions, both for quality of teaching and cheaper tuition.
"The number of mainland customers has been skyrocketing since we opened the branch in late 2008, right after the US opened tourist visa applications to Chinese individuals," he told China Daily.
Most parents come from affluent families in cities such as Shanghai, Beijing, and Hangzhou. Some are motivated by the chance to get US citizenship for their babies, others want to evade China's family planning policy, which restricts most urban couples to one child, he said.
Usually, parents use tourist visas to travel to the US when the pregnancy is in the sixth or seventh month. Typically, they stay for between three and six months, then return with their new arrivals.
Jiang said the agency trains couples to obtain visas and tells them how to handle themselves during US customs interviews.
"I got my visa, as they instructed, and insisted that I wanted to go to the US to travel when I faced the US customs officer," said Wang.
In rare cases, the customs officers might only grant a short stay, such as for one month, according to Jiang.
"But don't worry. The agency is actually experienced in handling that," he said, adding that it has contracted local lawyers who can help people apply for an extended period of stay. He said the waiting period such legal action buys, which is about four or five months, gives mothers enough time to have their babies.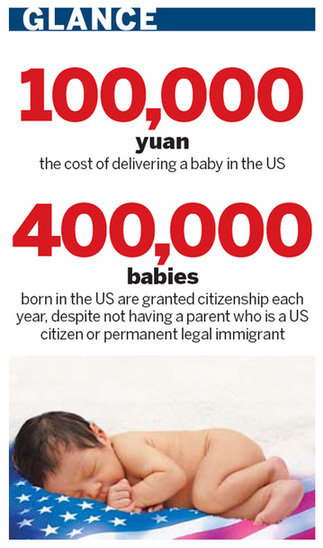 Jiang predicted that more and more mainland parents-to-be will want to have their babies in the US after they learn about the benefits, but he said his agency is already helping about 50 couples a month.
"The Chinese are good at working the rules and, as long as it's not against the law in either country, no one can stop them," said Professor Wu Cangping, from the population studies department at Renmin University of China.
While the practice is relatively rare among Chinese people, Wu said it is well established internationally.
Jiang said women from Taiwan have been traveling overseas to have their babies, especially to California, for more than 10 years.
The US remains the largest country among about 30 worldwide, including Argentina and Brazil, that grants automatic citizenship to all babies born there, regardless of parents' nationality and status.
Experts estimate at least 400,000 babies are born in the US each year and given citizenship, despite the fact that they do not have a parent who is a US citizen or a permanent legal immigrant.
Most children getting US citizenship in that way are born to international students, foreign travelers, temporary foreign workers and illegal immigrants.
Such babies with families that largely live on welfare are known as "anchor babies" and are seen as a burden on the US economy, reports said.
Critics in the US have called for a change in the 14th Amendment of the Constitution's definition of birthright citizenship, claiming it is an impediment to stabilizing the US population. They say it also hurts environmental sustainability and is a potential incentive for illegal immigrants.
Others disagree.
Lockwood Young, a veteran doctor in Hawaii, said he has delivered babies to mothers from South Korea, Japan, Hong Kong, Taiwan and the Chinese mainland.
"I like my foreign customers very much because they are usually very nice and, more importantly, they always pay cash so I don't have to deal with the insurance company," he told China Daily.
Jiang said he expects things to continue as they are for the foreseeable future.
"The fact that the US might end citizenship by birth is not my top concern because it would take years to amend the law in such a democratic country which highly respects legal procedures and doesn't allow for a change overnight," he said.
However, he said there is a chance that the Chinese government might end the practice with so many moms giving birth in the US.