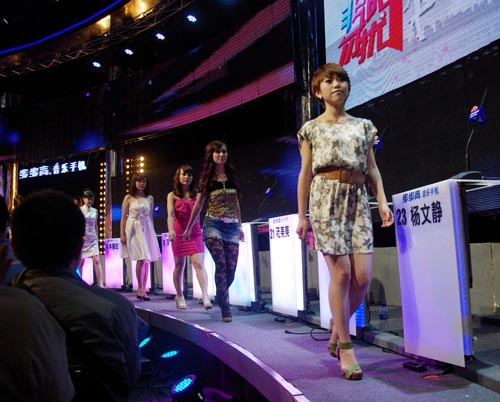 Female contestants appear on the popular dating show If You Are the One, produced by Jiangsu TV, in this late June file photo. [China Daily] 
 Fans of the popular dating show If You Are the One (Fei Cheng Wu Rao) will have noticed some big changes in the format when it aired last weekend.
Gone were the usual barbs from female contestants aimed at the men attempting to win their affection. There was also far less talk about people's wealth and family background.
Instead, the hosts highlighted the contestants' volunteer work and positive attitudes toward life and love. Producers at Jiangsu TV, which broadcasts the show by satellite, also introduced a counselor named Huang Han, a psychology professor at the provincial Party school, to give relationship advice.
Although a huge departure for a show known for its controversial and at times confrontational style, the changes came as little surprise following the notice last month from the State Administration of Radio, Film and Television (SARFT) that banned "fake participants, morally provoking hosts and comments that allude to sex" in television dating shows.
The new rules sent shockwaves through the industry. Producers at Zhejiang TV even opted to cancel their matchmaking show, Run For Love (Wei Ai Xiang Qian Chong), which aired for the last time on June 15.
Liu Yuan, marketing director of the editor's office at Jiangsu TV, refused to talk about the changes when contacted by China Daily and would not reveal any future plans for the show.
Some media analysts and viewers hailed the changes as a "positive step" in dealing with a growing trend of sensationalism on television, with channels cranking up the controversy in the chase for ratings and better advertising revenue.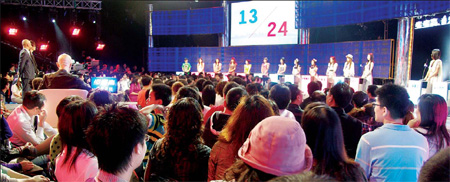 Jiangsu TV's popular dating show, If You Are the One, is filmed in front of an audience at the channel's studios in Nanjing. Producers have revamped the show's style following orders from China's radio, film and TV authorities. [China Daily]
"The (recent) episodes of If You Are the One prove that dating shows can be entertaining and mainstream at the same time," said Zheng Baowei, director of Renmin University of China's research center of journalism and social development.
However, the mood among the Chinese blogosphere seems to be largely one of disappointment, with some arguing that the move has resulted in the shows losing their allure.
"I didn't like the episodes (on Saturday and Sunday)," reads one of the many comments left by netizens on Baidu Post, a popular Internet forum. "The girls are not as stylish or good-looking as before, and the comments are not as sharp. It has become a little boring."
Since If You Are the One and Hunan TV's Take Me Out (Wo Men Yuehui Ba) hit the airwaves in January this year, they have raked in fans by the millions and swept the prime-time ratings.
According to Beijing-based CSM Media Research, the audience share for If You Are the One increased from about 1 percent in its first month to a peak of 4.2 percent in May. The average share for the first 22 episodes was 2.3 percent.
"For the average television program in China, getting just a 1-percent audience share is already pretty good," said professor Hu Zhifeng at Communication University of China.
With high ratings comes high advertising revenue and Jiangsu TV hiked the cost of 15-second commercial spots during the show by 50 percent in May to 115,500 yuan ($17,000).
The success, say analysts, was mainly due to a combination of highly attractive female contestants and the blunt, sometimes offensive comments they make.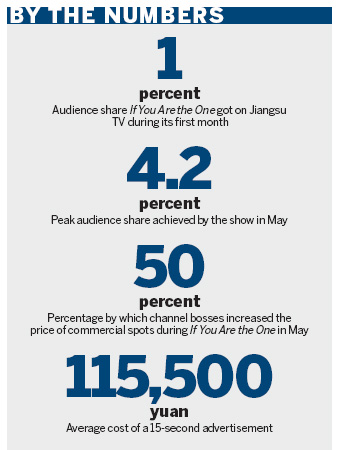 Qian Wei, 26, who works in the media, said she is an avid viewer of dating shows but used to prefer If You Are the One for its flashpoints. "The rules are almost the same (for all of the shows) but it is the conflicts that make it exciting," she said. "After all, such blunt confrontation between men and women is rare on television, and even in real life.
The format is simple. In every episode of If You Are the One, a panel of 24 women "looking for love" grills a man on his life and aspirations. If a woman likes him, they get to go on a date. Although slightly different, each matchmaking show follows the same theme.
However, as many questions before the SARFT ban were about a man's wealth and family background, contestants have been regularly dubbed "materialist gold diggers" by Chinese media commentators and netizens.
Ma Nuo, a 22-year-old Beijing model, was accused in the press of being "vicious" and "money-driven" after she said during one episode that she "would rather weep in a BMW" than take a romantic spin on the back of one contestant's bicycle.
Striking a balance
Of course, the controversy attracted only more viewers, leading to some raising concerns that television producers encourage, or even manufacture, such outlandish comments.
However, 25-year-old bachelor Wang Wenqing, who appeared on If You Are the One in June, rubbished the claims and insisted his experience was "very real".
Before filming his introductory video for the show, Wang said he went through at least five rounds of interviews with producers and hosts, either on the phone or face to face.
"I think they wanted to verify the information I provided and make sure I was expressing my honest views on love and marriage," he told China Daily, denying he was given any hints as to what answers they wanted to hear.
"Sometimes I asked for their opinions on issues but they told me there is no right or wrong answers, as long as I spoke my own mind," he said.
The Shanghai management consultant said he believes he was chosen as a contestant because he represents a certain group of people: Ambitious, hardworking young professionals who would rather keep a low profile than be in the spotlight. Similarly, said Wang, so-called material girls like Ma also represent a section of society.
"Although the number of these women is not few, I feel their attitudes and beliefs are amplified by the media," he said.
Wang Gang, one of the producers on If You Are the One, agreed and added: "Our aim is to show the conflicts and collisions caused by the different views of different people."
Amplified or not, media analysts argue the promotion of materialistic attitudes on television matchmaking contests has a negative impact on young people.
"It is OK for producers to recruit contestants with different personalities and views but they also need to take into account their shows' influence on society," said Hu at Communication University of China. "These shows need to strike a balance between commercial interests and social impact."
As the temptation to use sensationalism to attract viewers grows (a result of the changing tastes of the traditionally conservative Chinese audience), the media needs to shoulder more responsibility, argued Zheng at Renmin University of China.
"Media outlets should safeguard the core values of a society," he said, "not just blindly follow hot issues."
Dating show fan Qian, however, shrugged off any suggestion of viewers being affected by what the contestants think.
"You can't take that gold-digging mentality stuff too seriously," she added. "My beliefs about life and marriage will never change because of that."
Hot button issue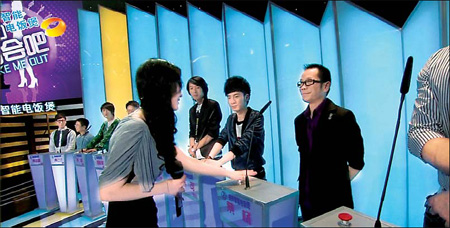 A female contestant switches off the lights of the men she is not interested in for an episode of Hunan TV's popular Take Me Out. [China Daily]
Fierce competition could also be a key factor fueling some of the outrageous on-screen behavior.
Although contestants see dating shows as a chance at instant fame (men only appear on If You Are the One for one episode but the women can be on the panel for weeks before they find a date), it is producers that are under the most pressure to attract all the attention they can get.
Along with domestic rivals, the fact that subtitled versions of popular Western dramas, reality shows and documentaries are available across the Internet and are particularly popular with young people means the battle for a share of the Chinese audience is intense.
As the amount of choice on television increases, the tastes among China's traditional viewing audience are also becoming more diverse, said Chai Lujing, a professor at the Communication University of China.
"That means programs must become more diverse, too," he said. "Our society has evolved into one that encourages diversified values and personalities. Young people are more outspoken and dare to express their private feelings in the public."
To stay ahead, television chiefs have been learning from successful shows in the West. For example, Happy Girls (formerly Super Girls), a talent contest on Hunan TV, is a copy of American Idol. But with the format also came the sensationalism.
"It is OK to imitate programs and methods (from the West) but we shouldn't copy everything, such as sensationalizing shows for the sake of ratings," said Zheng, who added that foreign audiences also criticize such practices.
Judges on Britain's Got Talent, the show that launched the career of singer Susan Boyle, were recently attacked in the press after it was revealed their comments are often scripted.
More cover stories