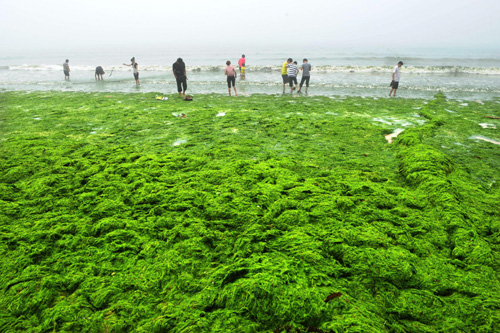 Tourists wade amid along the green algae-covered beach in Qingdao, East China's Shandong province, June 29, 2010. [Photo/Xinhua]
QINGDAO - The spread of green algae has quickened as the temperature rises in Qingdao City of east China's Shandong Province.
The area covered by green algae surged by 60 sq. km on Tuesday to 460 sq. km, according to the latest monitoring figure by the North China Sea Branch of the State Oceanic Administration released Wednesday.
The surge is three times as fast as the average increase over the past four days, which was from 380 to 400 sq. km.
"It's getting hotter and hotter in Qingdao these days, and the green algae grows faster and faster," said Wang Zhigang, a local resident who swims in the sea every day.
Sixteen to 20 degrees Celsius were the most favorable sea temperature range for growth of the algae, said Pang Shaojun, a researcher from the Institute of Oceanology under the Chinese Academy of Sciences.
The air temperature in Qingdao has risen by one degree Celsius per day on average over the past five days, reaching 27 degree Celsius Wednesday, according to the city's meteorological bureau.
"The sea temperature has risen to 20 degrees Celsius today, and the algae will keep growing if the temperature keeps rising," Pang said.
The weather report said there would be a heavy rain in Qingdao, which would lower the air temperature to 25 degrees Celsius in the next three days, which meant the sea temperature would remain in the best range for the continued spreading of the green algae.
Over 6,000 people, including cleaning workers and sea police, were deployed to clean the green algae as its continuing spread might affect the local fishery and tourism industries, said Ding Shugen from the Qingdao Committee of Municipal and Rural Construction.