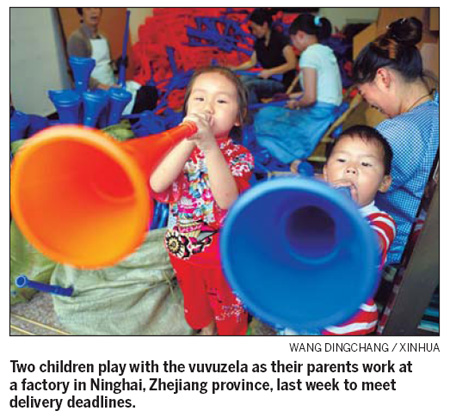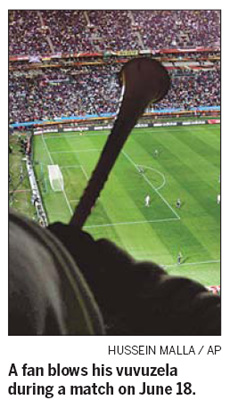 Plastic horns a hit in South Africa, but profits are thin for Chinese toy factories. Hu Yongqi reports from Shantou.
Soccer fanatic Huang Xile has been so busy with work recently he has seen almost none of the action at the FIFA World Cup. It is perhaps just a little ironic that his job is making vuvuzelas, the cacophonic horns that have proven so popular with fans in South Africa this year.
About 90 percent of all vuvuzelas at the matches have been made in China, with most produced at four factories in Shantou, Guangdong province, and one in Yiwu, Zhejiang province.
"All these horns will head to South Africa," said Huang, owner of the Fengxiang Litong Plastic Toy Factory in Shantou's Chenghai district, as he showed a new recruit how to work a plastic molding machine.
"I've had no spare time to watch this year's World Cup," he said. "It's not that I'm solely focused on the profits but I need to ship the products on time."
Although there is no official figure available on how many vuvuzelas have been exported by Chinese firms to Africa, staff with Chenghai Toy Association said the market is "conservatively estimated" to be worth about $20 million.
Huang's workshop has a registered capital of 300,000 yuan ($44,000) and hires 100 employees, but it makes about 2 million yuan in annual revenue.
"We've made about 1 million vuvuzelas for South Africa," said the boss, who began to expand his workforce - mainly migrants from Henan province - after receiving several large orders for the horns in January.
Originally used to drive away baboons on the African continent, the vuvuzela is a long, straight horn that blares a monotone note of up to 127 decibels.
Before the opening ceremony of the finals on June 11, pundits tipped the instrument to be one of the talking points of the tournament. And they were right. Love them or hate them, it has been impossible to enjoy a game this year without having to endure a never-ending chorus of vuvuzelas (the sound resembles a large swarm of bees).
While some supporters have complained the horns are too noisy, Chinese fans see the vuvuzela as a connection with a tournament their national team failed to qualify for.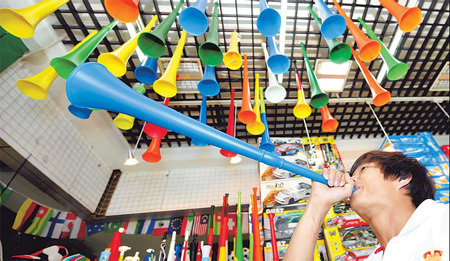 A vendor shows how to use a vuvuzela at a trade center in Yiwu, Zhejiang province. It is estimated that about 90 percent of all vuvuzelas being used at the ongoing FIFA World Cup were made at Chinese factories. [Xinhua]
A random poll of 296 Chinese people by China Daily reporters discovered that, although 75 percent did not like the horns, 61 percent said they were proud that the majority of them had been made in China.
However, despite the large volume of production in China, the vuvuzela market is still small potatoes to toy manufacturers.
Of the three factories contacted by China Daily in Chenghai, an area 20 km from Shantou's downtown, all were small- and medium-sized enterprises (SMEs), and managers said profit margins were extremely low.
Each plastic horn, which are 76 cm in length, costs just 2.8 yuan wholesale, bringing an individual profit of just 4 jiao (there are 10 jiao in 1 yuan).
"The low profit margin means I can't sell directly to customers (off the street)," said the owner of another Chenghai toy factory surnamed Chen, who did not want his full name used. "We won't take an order unless the buyer needs at least 5,000 horns. Otherwise, I will suffer a loss instead of making money to feed my workers."
It usually takes experienced workers 10 days to make and deliver 10,000 vuvuzelas, said Chen, whose five-story plant is buried deep in the district's Fengxiang Industrial Park.
"The process (of making a vuvuzela) is very easy," he said. "Workers just pour raw plastics into a mold and take the horn out when it cools and solidifies."
In South Africa, prices of vuvuzelas range from 20 to 60 rand ($3 to $8) but most profits go to foreign traders.
Huang prices his vuvuzelas slightly lower than Chen at 2.5 yuan. His factory also crafts horns 6 to 10 cm long, which he sells for only 5 jiao and makes less than 1 jiao profit.
"Profit is limited but I have no choice as I have to take orders from export companies," said the Fengxiang Litong boss. "Small factories like mine have no direct connections with foreign clients, so export companies have the final word on which factory works for them."
City of delights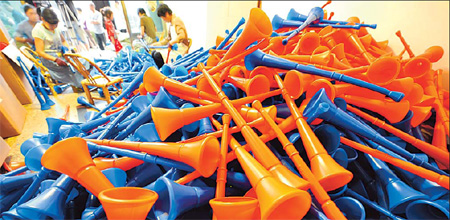 Workers at a small, privately owned factory in Ninghai county of Zhejiang province are busy making vuvuzelas, the loud trumpet popular with fans at this year's World Cup finals in South Africa. Apart from Guangdong province, Zhejiang is the other major production base for the plastic horn. [Xinhua]
With 3,000 toy plants, most of which have been open since the late 1990s, Chenghai is known as the "City of Toys".
According to Guo Zhuocai, president of the Chenghai Toy Association, the district has five factories with revenues of more than 100 million yuan and about 100 that generate more than 10 million yuan.
The association has held three trade fairs a year since 2003 but only 200 factories are qualified to take part (the minimum revenue required is 2 million yuan). A worker at one trade fair said almost 80 percent of plastic toy plants are privately-run SMEs or home-based workshops.
Sporting events like the soccer World Cup provide an excellent opportunity for Chinese manufacturers, with factories also shipping other kinds of match-day paraphernalia to South Africa.
However, such tournaments run for only short periods (the World Cup lasts just a month and will end with the title match on July 11), making a good "shrink-expand production capacity" vital for those companies looking to meet the changing demands, said factory owner Huang.
In 2008, Chen's factory had 22 staff making simple-to-assemble plastic toys. However, his business was almost destroyed when orders from foreign clients dried up during the global financial crisis.
"The crisis nearly killed the factory and me because the machines went quiet for six months and we were making no money," he said, the memory causing a deep frown.
More than half of the workers at factories in Chenghai are migrant laborers from Jiangxi, Henan and Anhui provinces. Companies usually pay salaries of around 1,200 yuan a month and cover accommodation, said Chen. In comparison, the average annual income of farmers in Guangdong was just 6,007 yuan last year.
Chen and his family survived the crisis by making toys for Chinese retailers but had to invest 20,000 yuan to stay afloat. The question now is whether the popularity of the vuvuzela will be enough to sustain production.
Due to the horns' arguably offensive drone, several sporting venues have already banned fans from taking them to matches, including the ongoing Wimbledon tennis championship in London. However, Chen is already making plans to update his machines for the next opportunity to push the vuvuzela - the 2010 Asian Games in Guangzhou in November. Members of the event's organizing committee on Monday told China Daily the horns will be allowed.
"As vuvuzelas get more popular around the world, I am pretty sure domestic fans will be interested in the little horns," said an excited Chen.
Building brands

Despite being at the World Cup in the shape of match-day merchandise, business analysts say China is still failing to push its domestic brands at international sporting events.
"In the modern sports market, brands are more important," said Chen Xirao, deputy secretary-general of sports industry research for the Chinese Association of Science and Technology. "No one cares about where the fans' memorabilia is made."
This year's World Cup in South Africa is expected to make $3.8 billion, the largest profit in the competition's history, Xinhua News Agency reported.
Yet, spectators would be hard pressed to find advertisements for Chinese brands, compared to those for firms from the United States and Europe.
Apart from Yingli Solar Power, a company based in Hebei province that paid $80 million to have its logo displayed on pitch-side hoardings for eight minutes at all 64 World Cup matches, and Gree, the Chinese air conditioner manufacturer based in Shenzhen that provided cooling and ventilation equipment for the opening and closing ceremonies at Soccer City in Johannesburg, no Chinese firms have featured prominently.
"China supplies a lot of items for the fans but almost no large company has used the event to boost its international reputation," said Huang in Chenghai.
Yang Fenglu, director of Shandong University's institute of industrial economics, agreed and added: "China actually has many well-established enterprises but they just don't value the potential of commercial promotions at sports events.
"But our country has its own unique advantages, such as China's traditional culture, which attracts millions of foreigners," he said, adding that domestic companies should try to integrate that culture into promotions.
Zhang Yuchen in Guangzhou contributed to this story.