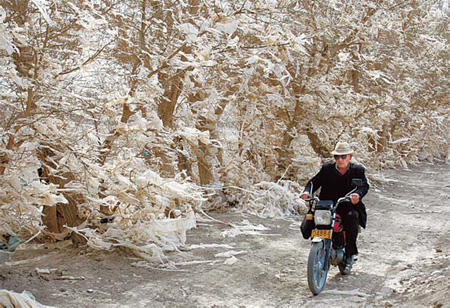 A farmer rides through a forest covered with used plastic bags in Toksun of the Xinjiang Uygur autonomous region in this file photo. [China Daily]
Environmental fears increase as market vendors flout regulation. He Na in Beijing reports.
Above every stall in the Dongjiao wholesale market hangs a blue and white sign that reads: "We charge for plastic bags." Underneath is a price list for the various bags on offer. But walk around this bustling mall for 30 minutes and you would be hard pressed to find a vendor who actually does charge for the bags.
When China Daily reporters visited the market in Beijing's eastern Chaoyang district, vegetables were being piled into ultra-thin plastic bags even before customers had a chance to ask.
The central government's ban on free plastic bags has already been in force for two years. Although it made a huge impact early on, environmental campaigners say that in places like Dongjiao, as well as leading supermarket chains, the problem is still rampant.
White, blue, red and yellow plastic bags of all sizes - but all of equally low quality - are in easy reach of every vendor at Dongjiao.
"People are used to getting free plastic bags in the markets like ours," said a trader in his 20s named Zhao.
"If we try to charge for them or refuse to give them out, customers get very angry and scold you and might not buy from you anymore."
Large bags cost about 10 fen each - 100 fen make up 1 yuan ($0.14) - which "is a little expensive, so I only give these bags to my loyal customers", Zhao said. Small ones can be bought in packs of 85 for 1 yuan.
At large supermarkets, most of which do charge for plastic bags, consumer studies show the amount being sold is also on the rise, sparking fears that few people are re-using the bags.
"I think more customers order plastic bags now than last year," said Yin Huiping, a cashier at the Ito Yokado superstore along the capital's North 4th Ring Road. "I sell at least 50 to 60 plastic bags on average during a six-hour shift, while that number reaches more than 100 on weekends and holidays."
Most of the customers who buy plastic bags are young people who purchase a large number of goods at one time and usually ask for two or three bags, she said.
Chinese retailers have been under orders to charge for plastic bags since the State Council implemented the policy in June 2008. A nationwide ban was also placed on all bags thinner than 0.025 mm.
As about three tons of petroleum is used in the manufacture of just one ton of plastics, environmentalists hailed the move as a direct measure to promote greater energy efficiency and cut pollution. And, initially, it proved a great success.
Figures released by the Beijing-based International Food Packaging Association showed that during the first 12 months of the ban, consumption of plastic bags by 80 to 90 percent in supermarkets and hypermarkets. Grocery stores, farmers' markets and wet markets also saw a sharp drop, with usage cut by about half.
Nationwide, the number of plastic bags sold just in chain stores fell by 40 billion, helping to save more than 1.2 million tons of petroleum resources, statistics show.
"But after the first year, sales began to increase in supermarkets, while mini-mart owners started offering them for free again," said Dong Jinshi, secretary-general of the association. "At farmers' markets and grocery stores, it is common to see customers holding four or five plastic bags of different colors - all of them free."
Keeping watch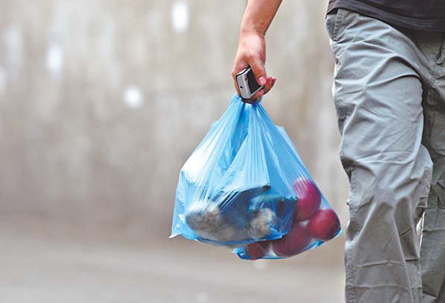 Vendors in most farmers' markets and wet markets in major Chinese cities usually offer their customers free plastic bags despite the ban, for fear of losing business. [China Daily]
Research carried out last year by the EnviroFriends Institute of Environmental Science and Technology, a non-governmental organization, also discovered the ban was being ignored.
"It does not look good," said Mao Da, a PhD student and member of the institute, who was part of a team that visited markets in six provincial capitals - Beijing, Guangzhou in Guangdong, Harbin in Heilongjiang, Lanzhou in Gansu, Hangzhou in Zhejiang and Chengdu in Sichuan.
"More than 71 percent of groceries and farmers' markets in Beijing do not follow the ban, resulting in them accounting for 50 percent of the total consumption of plastic bags in the city's urban areas," he said. "The proportion could be even higher in surrounding rural areas.
"We have kept a close eye on the whole process during the past two years and found the effects (of the ban) have gradually worn off over time," said Mao.
Such statistics, said Dong, show that supervision and management of local markets is the biggest challenge facing the regulations.
"The dilemma has been caused by many factors. Government business and industrial bureaus, market organizers, vendors and shoppers all need to take some responsibility when it comes to reducing the rampant usage of low-quality plastic bags," said the association chief.
Although working with limited resources, quality supervision departments are still failing in their basic duty of halting production at the small, illegal plastic workshops hidden across most major Chinese cities," Dong said.
"There are more than 1,000 plastic bag factories in Hebei province alone," he said. "Two thirds were shut down by authorities before the 2008 Olympics but now most of them are up and running again at top gear. It's time for the authorities to change their methods."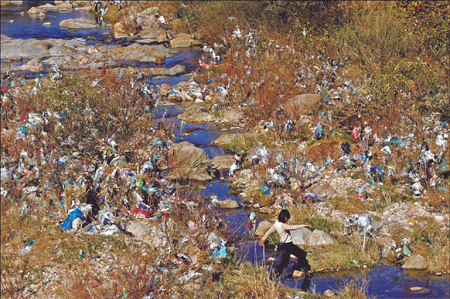 Discarded plastic bags litter the dried river bed at Shangxi, a small village hidden in the mountains some 140 kilometers away from the picturesque city of Hangzhou, capital of Zhejiang province. [China Daily]
Commercial and industrial bureaus are responsible for enforcing the ban and carrying out regular checks at the smallest of markets to the largest of department stores.
"We have confiscated more than 620,000 plastic bags during 25,000 market inspections in the last two years," said Luo Yuanming, director of markets for the Guangzhou commercial and industrial bureau. "But, in truth, enforcement of this law is too difficult.
"We prohibited (companies that make the) plastic bags from selling low-quality plastic bags in the markets, so the vendors began to connect with them over the phone. We also fine vendors who give out free bags but the problem is they all do it," he said.
Dong suggested that market organizers be forced to sign agreements with the bureau that they will only buy bags from approved factories and distributors. "Those that don't comply should be punished," he said.
However, supervising the ban solely with administrative power is impossible, argued Luo, who added: "We must investigate the production and raise public awareness of environmental protection."
After two years of research, Mao Da and his colleagues at the EnviroFriends Institute say they believe it could be the State Council's policy that is flawed.
China still has no national standard for the pricing of plastic bags, while the zero-tolerance attitude towards bags thinner than 0.025 mm is impractical for smaller markets, said Mao.
"The increase in plastic bag usage is a hint that policymakers should reconsider and take the challenges posed by different markets into account," he said. "We need more realistic and effective policies on the issue now that the effect of the ban is wearing off."
Experts have also called on authorities to get more involved in checking the success of the policy, with most studies currently being conducted by environmental groups and NGOs.
Finding an alternative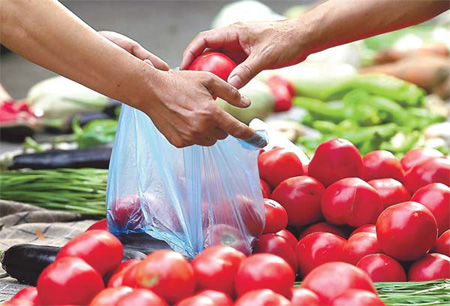 Free and ultra-thin plastic bags have returned to China's cities, despite the government issuing a ban two years ago. Environmentalists say they pose a real pollution danger. [China Daily]
China is not the first country to restrict the use of plastic bags, with several developed countries already rolling out various policies.
The government in the Republic of Ireland introduced an environmental tax on plastic bags, which is used exclusively for recycling projects. Although successful, the policy would not necessarily suit China, according to Yang Weihe, a program officer with the EnviroFriends Institute.
"Ireland's efforts are worth applauding but (such a policy) only suits small countries with populations fewer than China," he said. "We can learn from the experiences of other countries but we can't copy everything they do as conditions here are different."
Ridding China of plastic bags will also be easier said than done without a suitable alternative, say experts.
Although meat, fish and some vegetables are packaged in supermarkets and can be transported in one large, reusable bag, goods at wet markets are sold loose.
"Compared with supermarkets, I prefer the farmers' market for vegetables because they are much fresher and cheaper there," said Yang Rui, who runs an ice cream parlor in Beijing. "But if the government can't work out an alternative to plastic bags, the ban only spells trouble for me."
Although convenient for consumers, due to their excessive use and problems with recycling, plastic bags pose a serious pollution problem.
Waste plastics account for 3 to 5 percent of the annual household trash in landfill sites across China. The majority of the waste is plastic bags thicker than 0.025 mm.
Plastics do not degrade easily and can lead to long-term and latent ecological environment problems, causing soil hardening and damaged crops, and can even reduce crop outputs.
"The aim of the ban on plastic bags is to reduce pollution, so the fundamental solution to the problem still lies with raising the public's environmental protection awareness," said Dong, "It's a long-term goal.
"Since we can't find a more environmentally friendly and convenient substitute for plastic bags, calling for people to minimize use and promoting reuse is more realistic," he said.
Despite the fact many manufacturers claim their plastic bags are biodegradable, even saying so on the product, Dong explained that his research shows that more than 90 percent of bags produced are not.


More cover stories