BEIJING - Chinese soccer chief Wei Di used to be unfamiliar with soccer, calling himself a "layman" of the sport.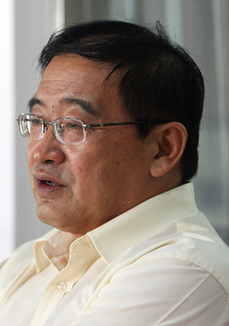 Wei Di
was appointed Chinese soccer chief five months ago. 
Wei, 55, a former track and field athlete specializing in throwing events, was never involved in soccer in his athletic and sports management careers.
But he was suddenly appointed to his current post five months ago, tasked with saving the struggling sport in the country that was hit by poor international performances, match-fixing scandals and illegal gambling.
Still, Wei, back from South Africa where he watched the World Cup games for a way to lift Chinese soccer, believes he has got a clue after witnessing the strong performances of the Asian teams.
"I congratulate Japan and the Republic of Korea (ROK) on their advances in the event. I'm very happy to see them make it again," Wei told China Daily.
"It convinced us that the Asian teams are able to make a difference, as long as we keep moving in the right direction," he said.
"Likewise, as long as we continue to work hard, our team can play good soccer."
Calls to revive Chinese soccer hit a high after the ROK and Japan advanced to the knockout stage in South Africa in succession. Defeating Denmark and Cameroon, Japan finished as runner-up in Group G and became the second Asian team to advance from the group after the ROK. The ROK team, which edged out former European champions Greece and Nigeria in Group B, took its leave of the World Cup with its players heads held high after pushing Uruguay hard in Saturday's last 16 defeat.
The games marked the second time for both teams to get past the group stage after the ROK finished fourth and Japan made it to last 16 at the 2002 event, which was jointly held by the two countries.
Wei said there is lot for the Chinese team to learn from its Asian neighbors. He also praised the Democratic People's Republic of Korea (DPRK) players, who lost all of their three group matches but maintained a strong fighting spirit throughout their games.
"There is a lot for us to learn from the DPRK; they don't have a professional league, they don't have many overseas players and they don't have a large soccer population. But they still managed to appear at the World Cup finals. It teaches us the never-say-die attitude," Wei said.
However, Wei made it clear that it is "impossible" for China's soccer players to go back to the training system that the DPRK adopts.
"There is no way we can develop the sport like the DPRK. We can't go backward. We have to build up our league and send more players to gain overseas experiences to learn the best soccer in the world," he said.
The ROK and Japan seem to be perfect models for China. But Wei, the former boss of national aquatic sports who led the Chinese canoeing, rowing and sailing teams to win the country's first Olympic gold medals for the sports at the past two Games, insisted that Chinese soccer should adopt its own way.
"Copying everything from others is a dead end. We need to consider China's conditions."
Wei will fly to South Africa again this week to continue his fieldwork. But there is not much time left for him - China will start its qualifying campaign for the 2014 Brazil World Cup Finals in October.
"Undoubtedly, the growing strength of other Asian teams means it would be more difficult for us to make it to the World Cup finals. They are improving and we have to improve more quickly than they do to win the finals berth again," Wei said.
Still, Chinese soccer fans are not so optimistic about Chinese soccer. According to a recent survey conducted by China Youth Daily, only half of Chinese people are confident about the future of the sport at home. Sixty-eight percent of young Chinese people born in the 1990s have doubts about the prospects of Chinese soccer, the survey showed.