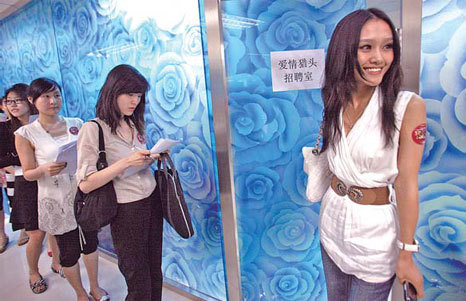 Young women, aiming to follow Yang Jing's career choice, wait for interviews of love hunter recruiting.  ZOU HONG / CHINA DAILY
Yang Jing goes to high-end shopping malls in Beijing almost every day wearing formal clothes and professional makeup but the 26-year-old is neither a saleswoman nor a shopping-addict.
Yang is a full-time "love hunter" who works for a matchmaking company whose clients are millionaires and billionaires.
Her main job is to spot single beautiful women on the streets and find out whether they would consider dating her clients.
10:30 am: The hunt begins
The premium Shin Kong Place is one of Yang's favorite hunting sites because of the high frequency of good-looking women.
"Look at her! She is like a model," Yang said as her eyes focus on a tall woman shopping with her friend at H&M. She starts to follow the woman and observe her behavior and manners, including the way she speaks to sales staff.
Ten minutes later, Yang acts.
"Hi, you look so beautiful. May I ask you a question? If you feel uncomfortable, you can stop me whenever you want," Yang said to her target, following up by immediately asking whether she is single or not.
After getting "yes" as an answer, Yang continued, explaining she works for a matchmaking company and saying she can offer a platform to meet rich bachelors.
"What I need is some of your basic information and a photo," Yang said.
The woman seems interested but a friend drags her away, convinced Yang is trying to trick her.
Yang who has been doing the job since last September admits she gets turned down a lot, especially when two women are shopping together but only one of them has a pretty face.
"Even close friends can be jealous of each other," she said. "When I speak to one of the two, the other may feel hurt and the conversation can hardly continue."
She said it is easier to talk to women who are alone.
12:10 pm: Mission accomplished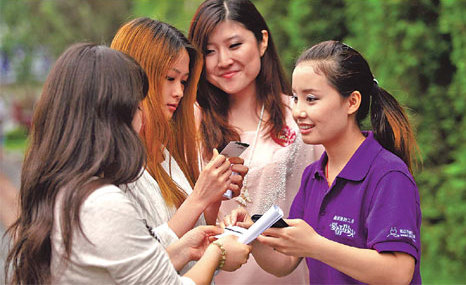 Yang (right) on a mission to lure. ZOU HONG / CHINA DAILY
As an experienced love hunter, Yang said it's not difficult to finish her task, which is to find two B-class women per day. Yang's company classifies women into three categories.
A is the top class. Women in this category should be aged 22 to 28, between 163 cm and 172 cm, with a sweet appearance, easygoing personality and at least a bachelor's degree.
Anyone who failed one condition in A is B-class.
"We never stop those who look busy. If they have the patience to hear me out, I'm pretty sure they will be interested in it," Yang said, adding that Friday is the best day for her hunting because most people feel relieved after an overwhelming work week.
Yang finished her task for the day at the entrance of a ladies' room.
Though the woman was having coffee at the mall with a man when Yang noticed her, the professional love hunter believed she was not romantically linked to the man.
Then she followed her to the ladies' room and successfully persuaded her.
2:20 pm: Follow-up work
Finding beautiful women is just the first step of Yang's work. Making sure they are qualified enough for her clients is the next.
Yang made a phone call to a woman to arrange a face-to-face interview to dig out more about her background.
"Is it a convenient time to talk?" Yang asked. After a very brief conversation, Yang said she will forget about the woman.
"It was the second time I called her and both times I called, I heard the noise of playing mahjong. I cannot risk introducing a gambler to our clients," Yang said.
Everyone who seriously considers being a member of Yang's company must undergo face-to-face interview, at one or two hours.
Women must bring their college certificates, ID card and proof that they are not married. They will also have to speak about their educational background, family background and romantic history. If they wear inappropriate clothes or makeup to the interview, they may fail.
3:00 pm: Look for that perfect match
"Our male clients also have to show us information about themselves, even the certificates that prove they own their assets," she said.
"Because we take our job seriously and we take marriages seriously," Yang said while preparing for a meeting with a client.
She received a 200,000-yuan bonus in late May after finding a suitable match for one of her clients.
"We spend days getting to know our clients. That's why I can find their types on the street," she added.
She spends around one hour making sure she knows the exact type her client adores. They go through hundreds of photos from the company's database.
"These are the pictures of our current female members. He just needs to tell me whose eyes he prefers or what kind of nose he likes. Then I can get a rough image of his girl," Yang said.
5:20 pm: Work while traveling home
Love hunting is a relatively stable job that can be done between 10 am and 5 pm, Tuesday to Saturday. However, when Yang finds great-looking women on her way home, she doesn't mind putting in extra hours.
"There was one time, I found a beautiful woman from a long distance. Right as I was about to introduce myself, I noticed her teeth looked like those of a smoker, so I just pretended I wanted to ask directions," she said.
"See that woman over there, she's stunning," Yang said happily in a subway train.
"But I'm not going to ask her here. Everybody can hear us and she would probably refuse me even if she wanted to join us," she said, planning to make her move after the woman gets off the train.