XIAMEN - Top political advisor Jia Qinglin has urged Fujian province, which faces Taiwan, to contribute more in promoting the peaceful development of cross-Straits relations.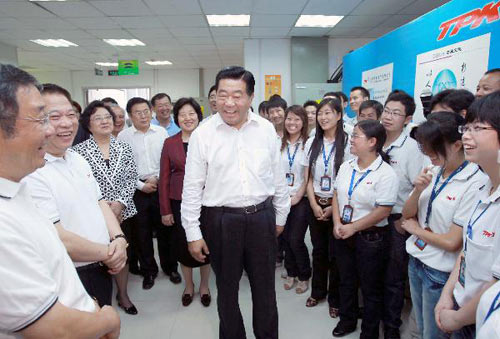 Jia Qinglin (C), chairman of the National Committee of the Chinese People's Political Consultative Conference, talks with workers of a Taiwan-invested enterprise in Xiamen, Fujian province on June 20, 2010. [Xinhua]
"The relations between the mainland and Taiwan are currently at a crucial stage with many opportunities. Fujian should make full use of its advantages and work hard to boost cross-Straits exchanges and cooperation in terms of scope and scale," he said during a two-day inspection that ended on Sunday in the city of Xiamen.
Jia called on the province to implement more favorable policies to attract investment from Taiwan companies and strengthen economic ties between Fujian and the island.
During a visit to the Xiamen branch of a Taiwan technology company, Jia stressed that Taiwan companies on the mainland should respect and care for their workers.
"Workers' living and working conditions should be improved and their legal rights should be ensured," he said, adding that Taiwan companies should have confidence in investing in the mainland in order to achieve fast and sound development.
In addition, as Fujian entered the flood season in late April, Jia urged the province to provide the highest priority to local people's safety and strive to reduce damages from disasters.
As of Sunday morning, mud flows and floods triggered by intense rainstorms that began in mid-June have left 132 people dead and 86 missing in south China's nine provinces and regions including Fujian, according to the Office of State Flood Control and Drought Relief Headquarters.