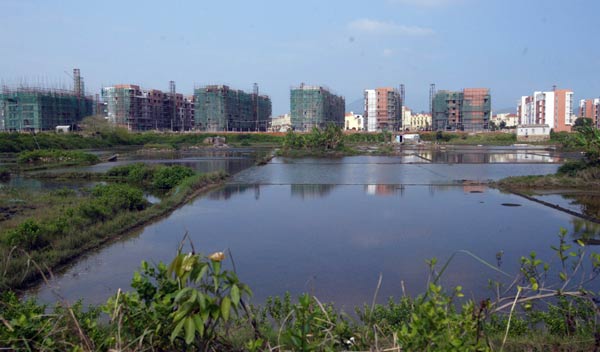 Blocks of soon-to-be-completed residential apartments tower over the simple fish farms that are a feature of Shanwei, a rapidly expanding city in South China's Guangdong province. [Zou Zhongpin / China Daily] 
On the coast of Guangdong province, two hours northeast of Shenzhen, is a city with a population of about 3.5 million, 500,000 more people than Chicago, and an annual GDP growth rate of about 17 percent. Few people have heard of this city.
With wide, tree-lined streets, ramshackle factories and bustling alleys lined with stalls offering everything from fresh fruit to motorcycle repairs, Shanwei would be a major urban center in almost any other country.
Instead, in China, it is merely one of scores of cities overshadowed by sprawling metropolises like Beijing, Shanghai, Shenzhen and Guangzhou.
However, fast-growing but largely anonymous cities like Shanwei are increasingly driving the country's development.
Management consulting firm McKinsey estimates that, by 2025, China will likely have 221 cities of at least 1 million people and that the country's urban population will have grown by 350 million. The firm also predicts that about 90 percent of China's GDP will eventually come from the country's urban economy.
"The success of China's economic growth model hinges on successfully managing a truly colossal scale of nationwide urbanization," said John Delury, associate director of the Center for US-China Relations at the New York-based Asia Society.
"The stakes could not be higher," Delury said.
At the center of Shanwei is Zheng Yanxiong, the city's mayor. An overworked, balding 47-year-old man, Zheng is responsible for turning this once sleepy backwater into a major city - and turning it into that fast.
The issues and pressures he faces offer a fascinating window into the challenges of governing a country that in 15 years could have 1 billion urban residents.
Zheng is perhaps an unusual mayor. Soft-spoken, earnest and a self-professed bookworm, he is a former People's Daily reporter with a doctorate in legal studies from Wuhan University. He grew up in Shantou, a slightly larger city a couple of hours up the coast.
Although considered relatively young for the post, Zheng was appointed mayor in 2008 after leading Shanwei's discipline and inspection department and the city's politics and law committee, a Party organization that supervises the city's courts and public security bureau.
Perhaps as a result of his academic and media background, he has also developed a reputation for accessibility and candor, giving frequent interviews to the media and responding directly to questions on online bulletin boards and in e-mails to citizens.
"He's more open than cadres who have come up from the countryside, and more willing to try new things," said Lin Jianxiong, director of operations at Truly Semiconductors, Shanwei's largest employer and a major supplier of LCD screens to international companies, including Samsung, LG and Lenovo.
The challenges Zheng faces are hardly unique, however. Like many Chinese cities, Shanwei consists of a rapidly expanding industrial center surrounded by farmland, rice paddies and smaller factory towns. Zheng believes that to continue growing, Shanwei needs two things: outside investment and the basic infrastructure and social services necessary to support that investment.
Managing those priorities is an exhausting job. A typical day for Zheng begins at 8 am and usually involves multiple banquets with prospective investors and visiting government officials. He visits local businesses and factories, has meetings and briefings with his deputies, city planning experts and other Shanwei officials. When he returns to the office after dinner, he reads reports and project proposals and answers e-mails. He often does not finish until well after midnight.
"To improve the daily lives of Shanwei's citizens, there is still so much to do," said the mayor, ticking off some of his latest concerns: Managing the opening of a new hospital, expanding the city's education system, the construction of two new wastewater treatment plants, whether and how to expand a wind power plant, planning for the city's growing traffic and, of course, the economy.
"If we talk about a city in the fast-urbanizing, fast-development stage, you would start with the basic mandate for economic development, and that's the hunt for investment," said Jonathan Woetzel, a director in McKinsey's Shanghai office and lead author of a major study into urbanization in China.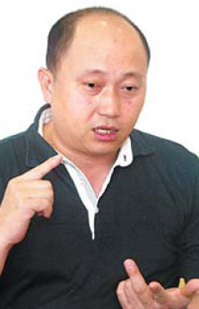 Zheng Yanxiong, the 47-year-old soft-spoken mayor of Shanwei, has the responsibility of quickly turning the once sleepy backwater into a major city. [Zou Zhongpin / China Daily]
Despite its recent growth, the pressure is especially acute in Shanwei, partly because it has one of the least developed economies of any urban area in Guangdong.
Per capita GDP in the city is just 10,521 yuan ($1,500), compared to the national average of about 26,520 yuan and Shenzhen's 89,814 yuan.
"As mayor, my biggest challenge is to keep the economy growing as fast as I can," said Zheng. "I spend two thirds of my time meeting with potential investors. I'm a little like Shanwei's advertising director."
In some ways, he continued, launching into a well-practiced pitch, Shanwei today resembles Shenzhen two decades ago. With both labor and real estate prices skyrocketing in China's major cities, Shanwei has all the qualities that made Shenzhen initially attractive to investors: cheap labor, land, energy and water, and proximity to a major developed metropolis.
"If companies want to keep expanding, they have to go to China's interior," he declared. "And the first stop must be cities like Shanwei."
Shortages and solutions
As Zheng and his colleagues readily acknowledge, Shanwei also faces many of the same challenges Shenzhen once did, and could be a concern for companies looking to invest there.
"When companies operate inland, they have to consider whether the other elements in the supply chain are ready, such as the supply of raw materials and transportation," said Alex Fong, chairman of the Hong Kong General Chamber of Commerce. "The cost may not be lower in the end."
Like much of China, Shanwei also lacks skilled labor and managerial experience.
"There's obviously a talent shortage" in small- and medium-sized cities, said Woetzel. "There are a lot of people who simply don't know a lot so they rely on whatever they've picked up. The technical level is pretty low. So you get waste and along with waste you get corruption."
Zheng is well aware of these problems. "In Shanwei, we've been undeveloped for so long, our cadres might lack a little energy and initiative," he said. "When you implement things, you have to tell them exactly how to do it, and then supervise them closely to make sure they actually follow through. That is probably my biggest management headache."
In an attempt to address the issue, the mayor has approved construction of two vocational colleges, and is trying to attract companies that can provide training for their employees. He is also seeking to expand the city's educational system to ensure all students at least get to high school.
Currently, only 61 percent of students in Shanwei receive a secondary education. Although this is an 11-percent improvement on last year, Zheng noted that it means the remaining 39 percent - about 78,000 children - are still only completing middle school.
The mayor is also overseeing a host of new infrastructure projects and investments, ranging from the purchase of nine fire rescue trucks to a new, environmentally friendly incinerator to deal with the 100,000 tons of garbage produced annually. (The total was just 60,000 tons five years ago).
Of course, all of this costs money, and one of Zheng's biggest challenges is finding the funds to pay for everything.
Most city government funds come from land sales, industrial taxes, bank loans and central and provincial government subsidies, yet Shanwei's entire city budget of about 2 billion yuan is still relatively small - less than a 10th of the amount Shenzhen gives to the central government each year.
"When ordinary people meet problems in their daily lives, my ability to help them is limited," said Zheng with evident frustration. "Why? Because we don't have enough money."
Consequently, he said, Shanwei often relies on public-private partnerships to pay for major developments.
As well as financing, Zheng also faces the sensitive challenge of managing land use acquisitions for public projects - an issue that has sparked complaints across China that developers, often in concert with local government officials, confiscate land from poor farmers without adequate compensation.
In Shanwei, the issue exploded in 2005, three years before Zheng was appointed mayor. Accusations that land had been unfairly taken to build a new wind power plant led to protests that resulted in the deaths of at least 20 people. Xinhua described the incident as "one of the deadliest clashes in recent years between local governments and villagers over compensation for land".
The local government at the time blamed the violence on a few agitators and the plant was completed a short time later.
Making connections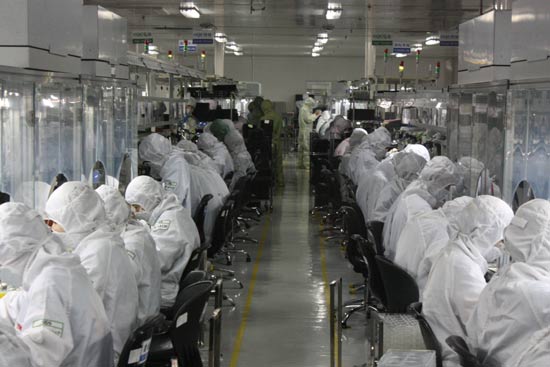 Staff are hard at work on the factory floor at Truly Semiconductors, arguably the largest employer in Shanwei. It is a major LCD screen producer. [Daniel Chinoy / China Daily]
In the years since that incident, Shanwei has, if anything, only grown faster.
Truly Semiconductors just hired 5,000 new workers for its factory, and after Zheng's aggressive lobbying, is now planning to build a new factory in the city, employing 3,000 more people. (At one point, to sidestep Guangdong's ban on giving away land for free, Zheng offered to simply return the money Truly would pay as a subsidy to a "high-tech enterprise".)
Smaller businesses are also opening by the hundreds. Biguiyuan, a major regional real estate developer, is constructing a major apartment complex and planning a new mall, while a 292-room hotel with a swimming pool was completed last year. Even Wal-Mart is contemplating a store here.
This growth is not only a result of Zheng's relentless courting of investment, however. Central and provincial authorities are implementing policies designed to help the country's interior develop, including major investments in infrastructure and transportation.
"The most important reason Shanwei didn't develop previously is that the province's transportation infrastructure did not do a good job of connecting us to other places - Guangzhou, Fujian, the Pearl River Delta," said Zheng Jifen, director of Shanwei's city planning bureau.
Today, China is in the process of constructing a 120,000-kilometer national rail network, and plans to lay almost 85,000 kilometers of highway by 2020.
As a part of this broader effort, several new transport links are being built to connect Shanwei to Shenzhen, provincial capital Guangzhou and other cities in the region. When completed next year, travel time between Shanwei and Shenzhen will be cut to just 50 minutes.
The Guangdong government is also pouring money into its own urbanization policy. Dubbed the "two shifts", the program aims to encourage companies and suppliers to move labor and industry from major cities in the Pearl River Delta to less developed cities, like Shanwei.
And at the most recent National People's Congress in March, Premier Wen Jiabao announced that Beijing would gradually relax its restrictions on the hukou household registration system for migrant workers moving to small- and medium-sized cities, enabling them to eventually receive the same benefits and social services as city residents. In Shanwei, these polices have resulted in perhaps the most typical of government-directed development schemes: A special economic zone that Zheng Yanxiong hopes will provide a stable nucleus for future growth.
The Shenzhen and Shanwei Cooperation Industrial Park will be an entirely new city on the outskirts of Shanwei, near Shenzhen, explained the mayor. It will include subsidized housing for the expected thousands of workers, schools and stores, and will be located near a highway running directly to Shenzhen.
And in perhaps a new twist, its residents, expected to be mostly migrant workers and their managers, will all be issued local hukou.
"There was a labor shortage in Guangdong this year," said Zheng Yanxiong, "but if we can get migrant workers to settle down in Shanwei, we'll eventually have a stable supply of cheap and skilled labor that will attract investment."
The park is funded by massive subsidies that the Shenzhen government is required to provide under the "two shifts" policy, as well as bank loans and investments from participating companies, including Japanese electronics maker Toshiba.
However, whether it will actually succeed remains unclear.
"It's easy to say that the answer is to have a big factory," said Woetzel at McKinsey. "You may well have a big project, but it's much less likely to be implemented successfully. There are lots of white elephants scattered around the Chinese countryside."
For Zheng, though, at least one thing is certain: "In my next position, I am definitely not going to be a mayor. It's just too tiring."