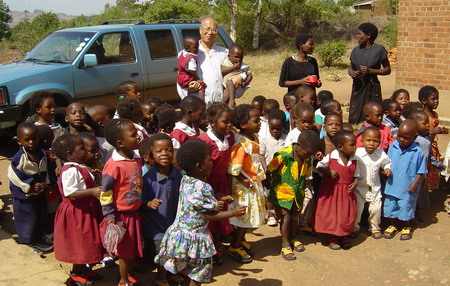 Hui Li (center back), 55, a Buddhist monk from Taiwan, is seen with African children at a shelter he built in Malawi. [Provided to China Daily]
SHANGHAI - For Josephy Mnyanya, a 14-year-old boy from Malawi, Africa, is biologically his homeland but China offers the nutrients for his growth.
The boy, who also has the Chinese name of A Shi, can speak fluent Chinese, recite ancient Chinese poetry and practice perfect Chinese kungfu. He owes his affinity with China to a Chinese Buddhist monk, Hui Li.
Related readings:

 Kids go kungfu fighting to parry nationwide fear


 Kungfu could save soccer, says club boss


 Shaolin, Wudang to present Kungfu shows at Shanghai World Expo


 Shaolin Kungfu masters promote cultural exchange in Chicago
Hui Li is well known in Africa as the "Chinese Albert Schweitzer". The original Schweitzer won the 1952 Nobel Peace Prize for providing humanitarian care for the orphans of Africa.
Like Schweitzer, who opened a hospital in Africa to take care of the sick and abandoned who had no money or access to health care, Hui Li has been building shelters across the continent for children whose survival is under threat from hunger and disease over the past six years.
The 55-year-old Taiwan man, who is also known as the "African monk" for his dedication to the continent, has made it his lifelong mission to raise funds to build care centers and schools for orphans in as many African countries as possible. The facilities he has built, in countries including Malawi, Swaziland, Lesotho and Zimbabwe with generous support from donors in Asia, have so far taken in over 3,000 orphans, many of whom have lost one or both of their parents to AIDS.
In Malawi, where the average life expectancy is about 40 due to widespread poverty and the spread of AIDS, in 2001 Hui Li set up the first Buddhist orphanage in Africa - the Amitofo Care Center (ACC) - and started to rear, educate and offer medical aid to the children in need in 2003. He not only wants to help them to survive, but also to enjoy a better future by providing them with crucial life skills.
At the ACC, children learn about Chinese culture and its language, in addition to receiving Buddhist teachings and an education on local traditions, such as tribal dance and songs. Six years on, these children have all become accomplished in their studies. In addition to speaking fluent Chinese, they also practice perfect Chinese kungfu after being taught by masters from the Shaolin Temple in Henan province on a cultural exchange program.
"We are not simply offering them room and board," said Hu Li. "These Chinese skills will give them great advantages in the future job market.
"They can either come to China or find a job at an African-based Chinese plant, where they will be able to support themselves for the rest of their lives.
"Even if they fail, they could still choose to work at our orphanages as nannies or security guards, since there will be more and more ACCs appearing on the continent," he said.
Hui Li has also been trying to secure higher education opportunities for the children. A number of Chinese universities have agreed to offer scholarships to a few selected graduates from the ACC after its 12-year educational program ends, he said.
A Shi said he had already tasted the sweetness of growing opportunities for an orphan like him. Twice a year he and his friends go on a performance tour of Asia in aid of charity, which has enabled him to see the world and to trace the origins of Chinese culture. The children have just finished a month-long performance at Expo 2010 Shanghai.
He also said he liked the ACC, where he felt he was "part of a family" and that, with China becoming increasingly stronger, he believed the Chinese education he has received will stand him in good stead in the future.
Meanwhile, Hui Li is keen to remind the children of their African roots and insisted that educating the orphans about Chinese culture is a complement to help revive African culture.
He also said the promotion of Chinese culture will bring benefits to the world, as it can help mitigate conflicts between cultures by seeking common ground while putting aside differences.
Hui Li, who became a monk at the age of 23, is a trusted disciple of the Venerable Master Hsing Yun, founder of the Fo Guang Shan Monastery in Taiwan.
In 1992, he volunteered to promote Buddhist doctrines and the Chinese culture in remote and underdeveloped villages in Africa, where he also built the Fo Guang Shan's Nanhua Monastery in South Africa the same year.
He has since been dedicated to helping African children who have been left orphaned by AIDS.