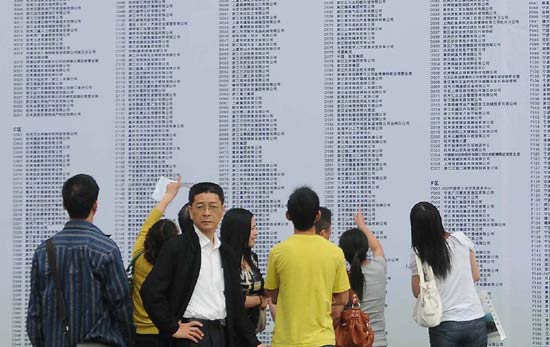 Job seekers look at a board containing recruitment listings at the 2010 job fair for graduates in Hangzhou, East China's Zhejiang province, June 5, 2010. [China Daily] 
BEIJING - China has vowed to increase its talent pool from 114 million to 180 million by 2020, with spending on human resources accounting for up to 15 percent of the country's gross domestic product (GDP).
Related readings:


China to transform from labor- to talent-intensive development


Giving talent room to grow ... and win


Talent expected to fuel country in next decade


Luring overseas talent back gets boost


Chinese job fair in US tries to woo talent
The pledge was included in the National Outline for Medium- and Long-Term Talent Development (2010-2020) released on Sunday.
According to the outline, "talent" refers to those with certain professional knowledge or special skills, who are able to do "creative" work and make a contribution to society.
The outline, a leading document for reform of the country's human resources and development over the next 10 years, addresses issues ranging from the evaluation and management of talent, skilled personnel in rural regions and professional social workers in communities to returned overseas Chinese.
The outline also specified the key fields that should be prioritized to promote a more reasonable structure of talent.
By 2020, more than 5 million talented individuals will be urgently needed in equipment manufacturing, information technology, biotechnology, new materials, aeronautics and astronautics, oceanography, finance and accounting, international business, environmental protection, energy resources, agriculture technology, and modern traffic and transportation.
In the coming 10 years, more than 7 million professionals will be needed in the fields of education, political science and law, medicine and health, publicity and cultural information, as well as disaster prevention.
The country's human resources structure needs more education-conscious talent, with 20 percent of the labor force receiving higher education, the outline said.
Every 10,000 people in the labor force should include 43 professionals working on research and development (R&D), it said. Insiders said earlier that the country's spending on R&D is currently 1.62 percent of its GDP and that figure will increase to 2.5 percent in 2020.
In 2020, the country will complete its transition from a labor-intensive nation to one that is driven by talent, President Hu Jintao said at a national talent work conference on May 26.
"Talent is the most important resource and it is a key issue that concerns the development of the Party and country," Hu said.
The country will cultivate around 100 strategic entrepreneurs to head the top 500 corporations in 2020, with the number of those who work for State-owned enterprises hitting 40,000, according to the outline.
Authorities are introducing more measures to attract overseas Chinese talent to return to the country with a series of favorable policies.
The country will also carry out more open policies to attract overseas talent, Premier Wen Jiabao said at the meeting on May 26.
"We will increase spending on talent projects and launch a series of initiatives to offer talent-favorable policies in households, medical care and the education of children," he said.
More than 600 people have already signed up with the Thousand Talents Program, which seeks to attract overseas Chinese and foreign academics working at the world's best institutions or as entrepreneurs.
Timing has played a crucial part in facilitating the country's recruitment plan. Since the nation's reform and opening up in 1978, millions of Chinese students have flocked overseas for further education.
About 1.06 million Chinese studied overseas between 1978 and 2006, more than 70 percent of whom chose not to return home, according to a report on the Development of Chinese Talent published by the Chinese Academy of Social Sciences in 2006.
Many said the number of Chinese-born professionals living in Europe and the United States has grown to such an extent that the government has a massive talent pool from which to draw to reverse the country's brain drain.
China Daily