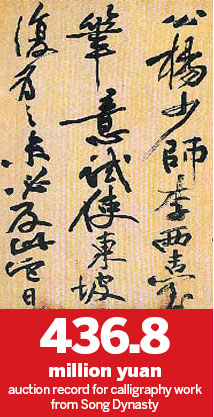 Beijing - A calligraphy handscroll by Song Dynasty (960-1279) master Huang Tingjian fetched a record price of 436.8 million yuan ($64 million) after 40 minutes of bidding on Thursday night at Poly International's Spring Auction.
The masterpiece, titled Di Zhu Ming, features a calligraphic representation of an epigraph originally composed by Wei Zheng, a famous Tang Dynasty (AD 618-907) chancellor. The handscroll is considered to demonstrate the creativity of Huang's penmanship and his moral principle.
The item is also adorned with Huang's portrait and valuable inscriptions of several dynasties ranging from Song to Qing (1644-1911), stretching the calligraphy work to 15 meters in total.
The piece was considered a counterfeit during the reign of Qing Emperor Qianlong (1736-1799) because of its differences from Huang's other works in content and style. A Taiwan calligraphy researcher recently appraised it as a rare masterpiece of Huang that exemplifies a transformation in style into his later years.
The piece was kept at a Japanese private museum for decades before it was bought back by a collector from Taiwan.
The previous record price for a Chinese work of art was set by a Yuan Dynasty (1271-1368) blue-and-white ceramic, which was sold for about 230 million yuan at a Christie's London auction in 2005.
Artprice.com, a French art market information provider, mentioned in its Market Trends in 2009 report that China, the world's No 3 marketplace for fine art sales, saw its auction revenue expand by a substantial 25 percent last year. Turnovers have contracted in the United States and United Kingdom, which rank as first and second marketplace, respectively, for fine art sales.
Among all categories, classical Chinese art have reportedly advanced and become the engine of China's fine art auction market. According to a latest report by the Beijing-based Artron Art Market Monitoring Center, Chinese painting and calligraphy accounted for nearly 59 percent of the Top 100 Auction Sales of Chinese Fine Art at last year's domestic autumn auctions.
Two other highly anticipated paintings were sold above the 100 million yuan mark. The Desolate Temples and Autumn Mountain by celebrated Yuan artist Wang Meng fetched 136.6 million yuan and a landscape depicting the 53 sceneries of Mount Yandang by Qian Weicheng, a Qing court official, sold for 129.9 million yuan.
Meanwhile, an imperial treasure of the Qing court took center stage at Friday night's auctions when white jade seal of the Emperor Qianlong period was sold for 56.56 million yuan.
The seal belonged to the collection of the French Guimet family and features a crossed-dragon ornament.