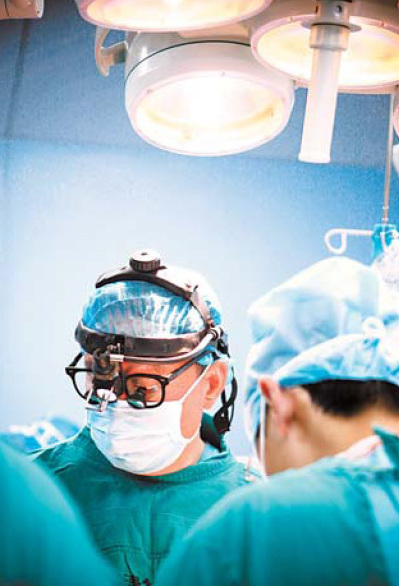 Wu Qingyu is a senior surgeon at Huaxin Hospital, which is affiliated to Tsinghua University. [Zhang Tao / China Daily]
As a world-class specialist looks to retirement, Zhang Yuchen in Beijing finds out why China needs to find his successor.
For Wu Qingyu, retirement cannot come quickly enough. Although acclaimed as one of the top heart surgeons in the world, the 58-year-old dreams of the day he can spend his days practicing tai chi and traveling.
Others are not so enthusiastic about the prospect of him quitting the operating table - especially the parents of children only he can help.
During his long and celebrated career, Wu has devised three breakthrough surgery techniques that have gone on to save thousands of lives. Yet, although his skills are a blessing to others, to him the fact he is only one of a handful of people who can actually perform these operations is almost a burden.
"Often doctors my age in China have already stepped far away from the operation table; they have earned their money and fame," said Wu, who despite his stressful job, still has a head of mostly thick, black hair. "I'm still here, working every day on complicated heart operations.
"I wish I could retire," he said with a weary look.
Along with his regular patients, though, Wu, who practices in Beijing, is also heavily relied on for the pro bono work he offers charities, which are constantly sending him orphans and other disadvantaged youngsters suffering congenital heart disease.
When Wu turns 70, though, the decision to retire will be out of his hands, as the Ministry of Health will automatically revoke his license. He knows time is running out to find his successor.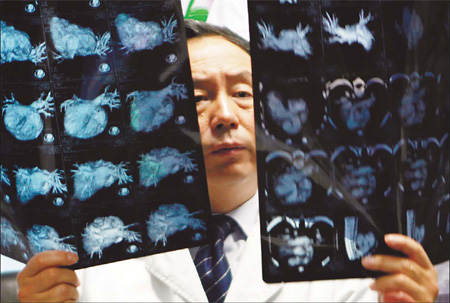 Experienced surgeon Wu Qingyu, 58, president of Huaxin Hospital in Beijing, checks one of his patient's x-rays. [Zhang Tao / China Daily]
"I don't think anyone can take my place," he said. "Even though I am training my two young assistants as much as I can, I don't think anyone will be able to replace me in the next 10 years."
When China Daily caught up with Wu, he was just about to start his 7 am rounds of the wards at Huaxin Hospital, which is affiliated with the prestigious Tsinghua University. He has been president of the clinic since it opened in 2004.
Each day, the surgeon, who is known for his meticulous nature, spends two hours checking the conditions of every pre- and post-op patient in the heart unit's 44 rooms with his team, and reviewing the many administration documents that are piled neatly on his desk.
On this day, however, the worried father of one of the children on the ward stopped Wu and his colleagues to ask about the date of his son's operation.
Ju Shangda, who is only 11 months old, arrived at the hospital weeks ago and was diagnosed with at least six severe cardiac defects - a rarity in the world of medicine - and needs an urgent operation.
"This is our last hope," said the boy's father, who did not want to be identified. "If he cannot be saved by doctor Wu, who is the only one in the world handling such complex operations, then my wife and I will be forced to give up."
Despite the father's pleas, Wu could only assure him that his son would be treated as soon as his condition stabilized. (Nurses reported the child had contracted pneumonia and was experiencing a high fever.)
"We only operate on babies when they are strong enough to survive," said the surgeon as he walked away from the man. "Timing is important but so too is the condition of the patient. We have to consider all factors in the treatment."
This cautious and calculated attitude has helped Wu and his team successfully operate on roughly 2,500 patients with congenital heart disease, including 500 babies, in the last six years.
But it is not just their success rate that impresses parents and patients.
"The first thing Wu told me when we arrived at the clinic and he agree to treat our son was that he never accepts hong bao (red envelopes filled with cash), nor does he allow other doctors in the hospital to receive them," said Ju's father, who explained he visited many clinics with his son before trying Huaxin Hospital.
"The surgeons here are completely focused on saving people as opposed to other doctors in this field who do things under the table (for personal profit)," he added.
Going into battle
If Wu appears warm during his rounds on the pediatric ward, once in the operating room, dressed in his green scrubs and facemask, he comes across more like a general on a battlefield.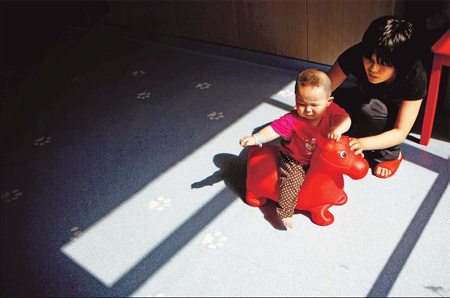 An orphan plays in the lobby of the Huaxin Hospital before undergoing heart surgery. Wu and his team have successfully operated on 2,500 patients in the last six years, including 500 orphans and disadvantaged children. [Zhang Tao / China Daily]
Over the sounds of the various life-support machines, all that can be heard are the orders he gives the young doctors and nurses around him, as well as the criticism he doles out for even the slightest of errors.
"Dr Wu is very strict," said Xu Zhonghua, a 34-year-old PhD graduate in training at Huaxin Hospital. "In our reports, even oral ones, we're always being told off for using vague words like 'approximately' or even 'today'.
"He wants the exact information, the exact time when a patient's condition changed. He never settles for anything less," he said.
Standing in his soft, black leather slippers (Wu wears them to stay comfortable during long operations), the chief surgeon looked over to declare: "A general on the battlefield needs every detail available to guarantee the success of the mission.
"A surgeon needs to put his whole heart into every cut he makes," he said at about 11 am as he scrubbed up for a potentially length cardiac procedure on a 12-year-old girl.
The eldest son of a large rural family in Heilongjiang province, Northeast China, Wu had originally planned to study traditional Chinese medicine. However, his career took a very different path once he graduated in 1976 from the Sun Yat-sen Medical University in Guangzhou, capital of Guangdong province.
After being assigned a position at Beijing Fuwai Heart Hospital, another highly regarded cardiovascular institute under the Chinese Academy of Medical Sciences, he went on to win several national awards for his innovations in surgery to repair complex congenital heart defects.
Among his breakthroughs is a technique to help sufferers of Tetralogy of Fallot (when the heart has four abnormalities), a condition that has a 95 percent mortality rate among children younger than 10.
He also devised a solution to Ebstein's anomaly, a usually fatal defect that had eluded many of the world's best medical minds.
Hospitals from across the globe have sent doctors to learn from Wu, and he has also traveled abroad extensively to talk about his techniques. In 2007, the surgeon became only the second doctor from the Chinese mainland to be inducted into the American Association for Thoracic Surgery.
"All I have done and am doing (for my career and patients) stems from my belief in the goodness of human nature, the fundamental quality to gain any skill," he said.
Heart of the matter
The goodness in Wu has manifested itself as his unwavering devotion to charity work, which began in the 1990s when One Heart, a nonprofit organization aimed at helping families, invited him to work in less medically developed areas, including Greece, Egypt and the Philippines.
Huaxin Hospital now regularly carries out free treatments for children supported by charitable groups.
"Six years ago, I brought two orphaned children with serious cardiac problems to the hospital asking for Wu's help after another hospital refused me," said Wu Peifu, who runs the charity Amway.
Although the clinic had only just opened, Wu accepted the patients without question and immediately diagnosed them.
"What moved me most was Wu's kindness. He never talked about money, which was the first thing the other hospital brought up," said the middle-aged charity boss.
Since then, more than a dozen charities have begun to send orphans and youths from poor families to receive treatment.
As of 2009, the hospital had accepted 500 disadvantaged children from various foundations and organizations, and even has a single room reserved at all times for patients sent by charities.
Losing a master like Wu to retirement will be a major blow for these groups.
"He is the kind of doctor whose only responsibility is to his patient; he does not care about being famous," said Sang Xueqi, whose 10-year-old son was saved by the surgeon.
Stepping out of the operating room after four hours of surgery, Wu, who has been married for about 30 years and has a daughter, was philosophical about the future.
"Not all generations produce a hero," he told China Daily. "A surgeon's success occurs only when hard work, talent and chance combine. To some extent, I was just lucky."


More cover stories