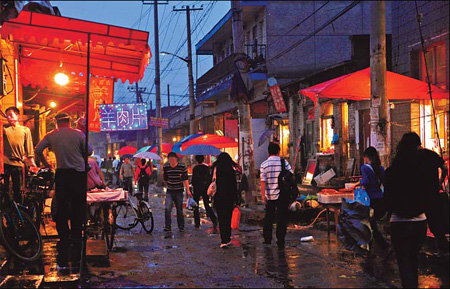 The free market in Tangjialing still does booming trade at night, despite many residents having moved away.
Chen Xuanfeng rattled the small lock on the screen door. "It doesn't feel very sturdy," he said to the landlord showing him around a block of tiny apartments in northeast Beijing. He then looked at his girlfriend and shook his head.
The 23-year-old cable factory worker has been looking for a new home since authorities announced plans to demolish Tangjialing, a run-down village synonymous with the "ant tribe" - a term given to the thousands of young people who crowd China's inner-city slums.
Like his fellow "ants", the only qualities Chen hopes for in his new home is that it is cheap and safe. He cannot afford to worry about living standards.
"They're not planning to tear down this village, too, right?" he asked the landlord as the couple left to see the next property on their list.
Tangjialing, which is in the northwestern suburbs close to Zhongguancun, "China's Silicon Valley", is among 50 areas that authorities last December earmarked for large-scale renovation by the end of 2010.
Officials with Beijing municipal government say that they hope the project will improve integration between the urban and rural areas, stimulate the low-end housing market and improve living standards for rural workers.
However, sociologists also argue there are fears that a large concentration of disillusioned, educated youths - the ant tribe is largely made up of graduates trying to make it big in cities - could pose a potential risk to social stability.
"As we learn from history, grassroots intellectuals are the most likely to cause social turbulence," said Yu Jianrong, a sociologist with the Chinese Academy of Social Sciences.
Although the demolition project is on hold while officials, residents and business owners thrash out a deal over compensation and relocation, the bulldozers are closing in.
Yet, few expect this to be the end of the Tangjialing ant tribe, as many of the 50,000 young renters who have flocked into the area in recent years are simply finding similar low-cost accommodation even further away from the city's downtown, past the North Sixth Ring Road.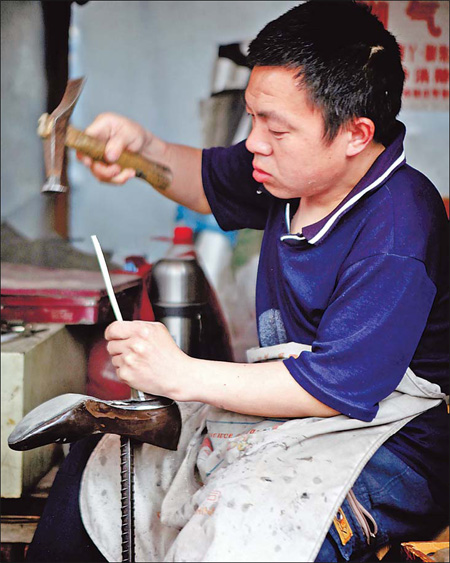 Wang Jiakui, who runs a shoe repair business in Tangjialing, said he will stay until the demolition crews arrive. [Zhang Tao / China Daily]
Most of those who have already moved out went to rural areas, according to several village truck owners who offer removal services. "They're now living next to vegetable plots but it's cheaper," said one.
Despite the slow outflow of people since March, getting on a bus in Tangjialing on weekday mornings is still a mission impossible.
A member of staff working for a transportation agency said the number of passengers waiting for buses during rush hour has dropped about one-third "but there are still too many".
The overspill has spawned a rash of illegal taxis and bus services.
Zhang Ran, 26, who was standing at a bus stop, said he would not leave the village until the bulldozers arrived.
"Who knows when the village will be torn down? The transportation may even improve to some extent when more people have left," he said, adding that a major factor behind his decision to stay was that his landlord was refusing to pay back his deposit of 500 yuan because "I am the one asking to terminate the lease".
As well as those hanging on, new residents are also continuing to settle in Tangjialing.
Tang Lingling, who has a degree in Russian and used to work in the Xinjiang Uygur autonomous region, rented an apartment here last week while she looks for a job in Beijing.
"I'll put up with living here for a while and move nearer to my workplace later," said Tang as she waited for a bus to take her to a jobs fair downtown.
"Tangjialing is just a stop, not the destination," she added.
Everything must go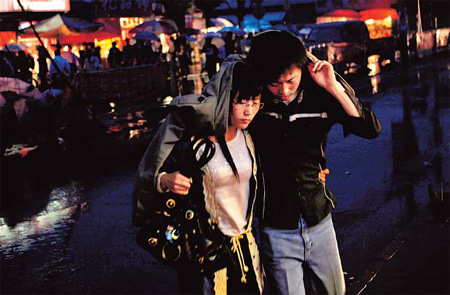 A young couple make their way home in Tangjialing. Many young urban couples live in the Beijing village.
There is an estimated 100,000 "ants" living in Beijing, with more than 1 million nationwide, according to Lian Si, an associate professor at the University of International Business and Economics, who wrote a book called Ant Tribe.
No matter where they settle, businesses that specialize in catering for people on tight budgets are not far behind.
As the "ants" are forced to march on to new locations, the owners of small enterprises in Tangjialing say they are the ones suffering.
Most shop windows are now splashed with posters saying things like "Closing down sale" and "Everything must go", while staff stand outside shouting to attract customers.
"Many of my customers have already left," said a street vendor selling fruit and vegetables.
"The media has extensively reported the demolition plans but no action has been taken yet," he said.
Ma Hui, 39, who owns the village's Baifendian shoe shop, said he is seeing a 50-percent fall in revenue month on month.
"Everyone's selling off stock at discount prices at the moment, so it's competitive," he said. "I won't go bankrupt but (the project) is going to deal us a huge blow."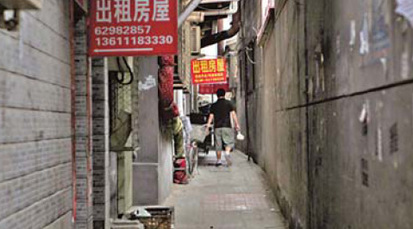 Posters advertising apartments to rent hang in an alleyway. [Zhang Tao / China Daily]
The businessman, who hails from Hunan province, will get compensation from the authorities if he holds out until the demolition. However, the majority of stores and restaurants have declared their landlord as the registered owner, which means they will receive nothing.
Many traders are already planning their escape route.
"I'm thinking about moving to Miyun county or Pinggu district or Changping district," said Zhang Jun, who has owned a convenience store in Tangjialing for more than a decade. "The rent is acceptable and I know people there who can help me set up."
Another businessman studying a map in his closed dress store said he is looking at the option of moving to a new shopping mall in Xisanqi.

"We received promotional leaflets in the mail about the mall and its attractive rent. The mall is not a very popular one but at least it is somewhere we can continue our business," he said.
But not every trader feels it is so easy to just pick up and start again somewhere else.
"With the profits I make, I cannot afford to rent a unit in a high street or mall," said Wang Minglei, who runs a budget cosmetics store. "Only villagers would buy my low-cost products. The reconstruction means I will have to risk running a business in a market I'm not familiar with."
Security issues
As the uncertainty over the future of Tangjialing remains, villagers are being asked for their opinions on how to move forward with the demolition and relocation plans.
In the meantime, security guards brought in to fill the gaps in police resources can continue to be seen patrolling the village.
"The police force here is completely understaffed to deal with the number of migrants that moved to the area," a security guard told China Daily.
Beijing Jiaqiang Security Service Ltd, a private company, has been cooperating with the Xibeiwang town public security bureau for many years, said its general manager Ma Yunlong.
The firm currently has 20 guards working in the area and the local authorities are asking for more, said Ma, although he declined to elaborate why security is being beefed up in an area where the population is falling.
More cover stories
First Person: Wang Lichao
It's tough but I won't go back home
Editor's note: Wang Lichao, 21, hails from Hubei province but now lives in Zhaozhuang village in Beijing's northwestern suburbs. He is studying business administration at college.
I got a part-time job selling insurance in my junior year, and as my university was too far away from my workplace I had to find somewhere closer to live.
I ended up in Zhaozhuang and I have lived here for more than a year now.
The rent is comparatively cheap. It's about 300 yuan ($44) a month and I get a room of my own. When I took it, I felt important and successful because none of my classmates have got their own room. There are probably about 10,000 people living in the village. I get on well with all my neighbors.
I don't really think about whether I'm one of the "ant tribe". Talents from across the entire country are flooding into Beijing. Everyone is in the same boat: We all want a place of our own.
The couple living next door to me earns more than 9,000 yuan a month but they still stay to save for a down payment on their own house. If they can do that, why can't I?
My parents hope I stay here, so they can proudly tell their relatives and neighbors their son works in Beijing.
The standard of the food sold here - quality of the ingredients, hygiene, etc - is not so good. Also, I often have to wait a long time for my turn to use the bathroom in the morning (there are a lot of migrant workers living here so you can probably guess the standards).
But I believe in the old Chinese saying: "One who can endure the toughest hardships can become the most successful person."
I also believe one of my bosses who says once someone has sold insurance, nothing will ever seem like a challenge again.
Yes, the metropolis is a tough place because you're competing with top talents. I just have to give myself some more time. I don't want to go home empty handed. I would lose face.
If I can't find a decent job within six months after graduation, I will try my luck in Shenzhen (an industrial city in Guangdong province). I know it's equally competitive there but I'm too young to go back home.
Wang Lichao was talking to Wang Huazhong.