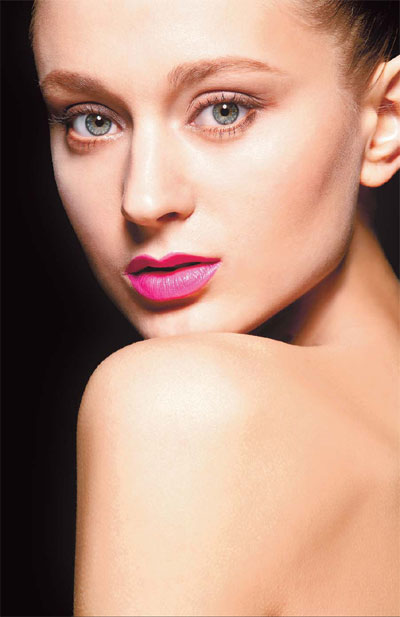 Viktoriya Krasnitskaya, a top model with China's largest modelling agency, says Chinese men are reliable and honest. PHOTOS PROVIDED TO CHINA DAILY
Viktoriya Krasnitskaya, Miss Russia 2007, reveals her new life as a top model in the capital with METRO's Zhao Yanrong
Even without the shining makeup and stunning stage lights, Viktoriya Krasnitskaya is still very elegant and beautiful. Wu Chuan, her agent at China's largest modelling agency, New Silk Road, said Krasnitskaya is one of a few international models working here who is very well regarded for her performance. Krasnitskaya has been attracted to Beijing ever since she was invited to sing in China in August last year. She quickly found that Beijing offers more opportunities-and soon fell in love with a Chinese man. "I am here for my love and my job," she said.
Q & A
Q: Can you tell more about your first journey to the capital?
A: I won lots of television singing contests in Russia. Then someone in China invited me to sing in China. This allowed me find out that Beijing was so great, so I decided to stay.
Q: What have you done recently?
A: I've worked for many big names in China, including Fendi and MCM. I also took part in Beijing Fashion Week in March. I've met many talented and successful designers from the Chinese mainland and Hong Kong.
I was in Shanghai for the opening of a new Louis Vuitton shop recently and saw a lot of Chinese celebrities. I got the chance to meet the top Chinese model Du Juan. They were all fantastic experiences.
Q: Are you happy to work here?
A: Yes. The New Silk Road modelling agency is a big company and has many top models. China is a big and mature market with many brands. It means more work for me in Beijing.
I like events in Beijing because everything seems great.
For instance, during Beijing Fashion Week, besides the great clothes, every designer had a beautiful stage.
Even the decoration of the venue was stunning. I felt like a queen when I walked on the stage. I really enjoyed it and look forward to the next fashion week.
Q: What's the secret to keeping your weight?
A: Chinese food, because more vegetables are used in Chinese cooking. It's better not to eat oily dishes. I like the Peking duck very much, and I am afraid of eating it too often.
Besides vegetables, seafood is also a good choice. Eating more vegetables and seafood can help you keep fit, and is good for your health.
Q: Do you exercise besides eating healthy food and eating less?

A: Yes, I do yoga. I started practicing yoga in China. It helps me relax and feel good. I like my Chinese yoga teachers. They are good at any posture and are so flexible.
Q: You said you plan to stay in Beijing for a long time. Do you plan to start a family, too?
A: Yes. I have a boyfriend in Beijing, and he is Chinese.
Q: Based on your experience, what do you think about Chinese men?
A: I think they are reliable, honest and pure. They are also very kind. My boyfriend invited my mother to come to Beijing and he took care of the two of us. I was so moved. He is very sweet.
Q: As a model, what's your suggestion about picking clothes?
A: I think you should like the clothes and feel comfortable about them.
You don't have to wear clothes that look good on other people. It's better to have your style and personality. It's also important to keep your hands and hair clean, and to choose clothes to fit the occasion, like short shirts in a gym and an evening dress for a formal party.
Q: Where do you usually hangout with your Chinese friends?
A: We normally go to the Sanlitun cinema and the Xiu Bar. I like the bars because they have many great live bands.
We also go to the National Center for Performing Arts a lot. I watched my favorite ballet, Swan Lake, there.
Q: What music do you like?
A: I like pop music and singers such as Whitney Houston and Madonna. I like classic music and opera. I am learning to sing opera with a Russian teacher in Beijing now.