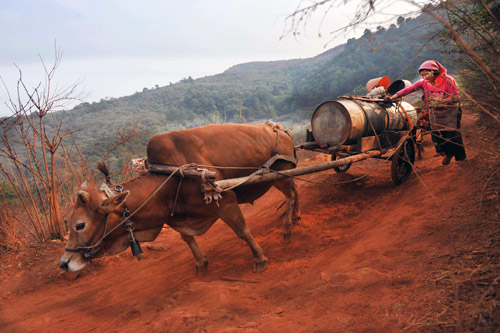 A file photo shows a villager from Jianshui county of Yunnan province driving an ox-cart to transport water for drinking and irrigation to minimize losses caused by a severe drought in the region. [China Daily]
Kunming - More than 8 million people are facing a grain shortage due to the lingering drought in the southwestern province of Yunnan, a senior provincial official said.
Ou Zhiming, deputy director of the Yunnan provincial poverty alleviation office, said on Friday that the drought has led to crop failure in more than 3.1 million hectares.
Also, 125 of the province's 129 counties have suffered from the drought, he said.
Staff from Yunnan's provincial flood control and drought relief headquarters said on Wednesday that more than 9 million locals are short of drinking water.
"The land has been too dry for too long, so the limited rainfall so far is not enough to quench the drained earth," said the staffer surnamed Hu.
In all, more than 25 million people in the province have been affected by the severe drought. Spring grain output also has been reduced by 50 percent, resulting in an agricultural economic loss of more than 20 billion yuan.
The severe drought has also affected about half a million hectares of natural reserves, with shrinking wetland and water shortages for wildlife, according to figures from the Yunnan provincial forestry bureau.
Chen Lizhen, a 61-year-old farmer in Nanjian county of central Yunnan, is a member of one of the rural families suffering a grain shortage.
Five people are in her family, including herself, three sons and one daughter-in-law. As the family does not have enough food, water or money, her eldest son and his wife have gone to seek employment in Guangdong province.
Around 30,000 people in Nanjian county alone have left to try to find jobs in other provinces and, at the same time, to save water and food for their families. Only the old and the young have been left in the village.
Last week, Chen Lizhen borrowed 50 kilograms of rice from a neighbor. Mixing it with corn and potato, she will be able to feed her family of three for two months.
The seeds of rice, tobacco and corn that she planted this spring have failed to germinate because of the drought, she said.
In the past, she earned 5,000 yuan each year by selling corn, tobacco and tea. This would be enough to buy rice to feed the family until September.
"But the crops have failed, and more than 200 yuan worth of seeds and fertilizer have been wasted, too, due to the drought. Now I don't have the money to buy enough rice," Chen said, as she choked back sobs.
As water for irrigation mainly comes from rainfall, the shortage of rain has greatly affected planting.
The drought also has affected the family's main income crops - tobacco and corn - which were planted in May.
Even after the local government was given 200 tons of food to aid families, the grain shortfall caused by the drought remains at 2,200 tons, a local government official said.
If the drought continues, the villagers will face a serious food shortage, said the official, who declined to be identified.
Moreover, the price of rice in the county has increased from 3 yuan per kg in February to 5 yuan per kg now because of the drought.
The drought also has taken a toll on the forests in Nanjian. Some 70 percent of its pine trees, many of which are 20-plus years old, have died.
As mountainous areas account for 99.3 percent of Nanjian territory, transporting donated water to families has been costly.
The cost of transporting 19 liters of water to farmers in drought-hit areas is starting to be costlier than the water itself.
The neighboring Chuxiong Yi autonomous prefecture is also facing the same problems.
So far, the number of farmers facing a food shortage in the prefecture has reached 580,000. That figure is estimated to rise to 700,000 in July.
Qian Yanfeng contributed to the story.