HARBIN: Timber output has been cut to help sustain the environment of the Greater Hinggan Mountains in northeast China.

Annual timber output in the area since 2007 has been one-third less than the approved level of 2.1 million cubic meters under natural forest protection rules, said Zheng Xuehui, director of the planning and statistics department under the Greater Hinggan Forestry Group.

The group reduced output by 350,000 cubic meters in the first four months of the year. Between 2007 and 2009, the production was more than 2 million cubic meters under the allowed amount.

"After decades of over-felling, the quality of the forest is deteriorating," said Zheng. "If the practice continued, it would have a further negative impact on the environment."

The Greater Hinggan Mountains, which has the largest virgin forest in China, had 76.9 million cubic meters of wood resources, Zheng cited a 2006 survey as saying.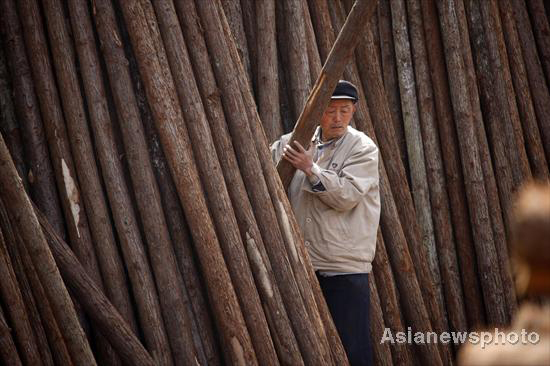 A man chooses log at a timber market in Huaibei, East China's Anhui province, April 16, 2010. [Photo/Asianewsphoto]