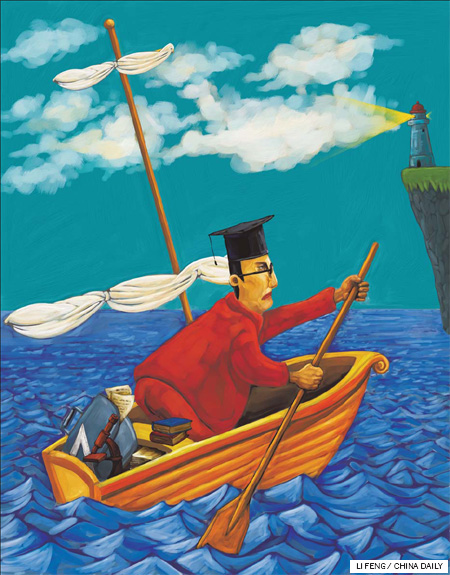 After 16 years as a scientist at one of Britain's top laboratories, Cui Zheng was to get a little bored with just publishing papers in science journals. He wanted to be at the heart of the action - in China.
The 55-year-old was among the most respected scientists at the Rutherford Appleton Laboratory in England, yet the lure of getting more practical experience in his homeland proved too strong.
"I like practical research and I have always wanted to do something about the application of my technologies," said Cui, a leading expert in nanofabrication technology. "I thought it would be easier for me to do that in China."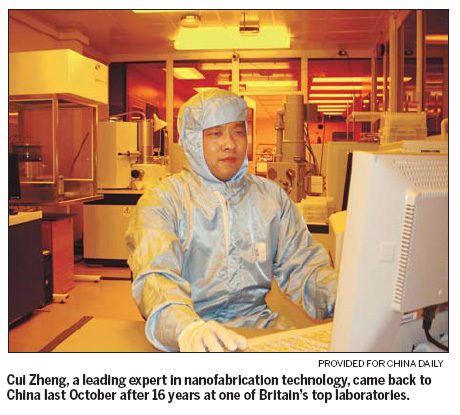 Cui returned last October as part of the Thousand Talents program - a government project to attract experts from overseas - and is finally getting hands-on experience as a researcher at the Chinese Academy of Sciences' institute of nanotechnology and nanobiotics.
"I'd have probably waited longer to look for other opportunities to return were it not for the program. It provides a more privileged position than programs before it," said the scientist now based in Suzhou, Jiangsu province.
Launched in 2008, the Thousand Talents program targets Chinese and foreign academics working at the world's best institutions or as entrepreneurs. "These high-end talents are a crucial resource that the country is short of," said Li Yuanchao, member of the Political Bureau of the Central Committee of the Communist Party of China, in Shanghai in April last year.
More than 600 people, mostly Chinese, have already signed up. They all lead or are about to lead research teams at Chinese universities, laboratories, State-owned enterprises and science parks, or setting up their own businesses.
Each new recruit receives 1 million yuan ($146,000) from the central government, as well as funding from their employers. The Chinese Academy of Sciences promises to allocate 10 million yuan to every talent.
"These experts are now an elite class in China's academic system," said Li Keping, a professor of railway transportation at Beijing Jiaotong University. "Most of them are in management positions and some of them will become academicians. Their arrival (at an institution) often leads to a reshuffle (of staff)."
Although this has not been popular with some, Rao Yi, who returned from the United States to become dean of Peking University's school of life sciences in April 2009, said he believes the influx of talent is bringing fundamental changes to the nation's academic scene.
"There are three major things senior scientists recruited for China can do," said the former tenured professor of neuroscience at Northwestern University in Chicago. "They can do good science, either making significant discoveries or being highly productive; they can provide environments that allow young scientists to prosper, and they can help change Chinese academia through their collective effort."
Rao, 48, is now overseeing a series of reforms at the Beijing school, from teaching to research and management.
Shi Yigong is also busy making changes and has been doing some recruiting of his own since he left Princeton University in New Jersey 12 months ago to become associate dean of the school of life sciences at Tsinghua University.
In a letter to the Chinese Biological Investigators' Society in the US last year, the professor wrote proudly: "I have spent most of my administrative time on faculty recruitment. We interviewed more than 60 candidates and made approximately 29 offers. Twenty-two of the 29 selected candidates accepted Tsinghua's offer and 15 have already established independent laboratories here."
Slow progress
Real change takes time, though, said She Zhensu, 48, a Peking University professor of mechanics and theoretical science who joined the program last October. "The optimists among us need patience and endurance, while the pessimists should not look down on our capabilities," he said.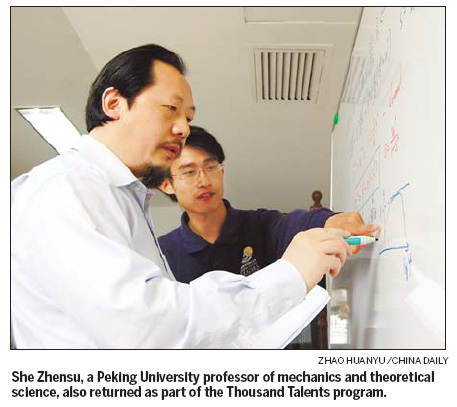 Since 1999, She not only received tenure at the University of California, he also spent six months a year at Peking University and headed a key State laboratory. "I had to stretch myself to fulfill responsibilities at both sides," he said. After a decade of working in China, he believes different layers of the academic bureaucracy all want to see breakthroughs as soon as possible and are thereby "putting pressure on scientists and, by doing so, could corrupt a culture".
"They want things to be accomplished fast and so do many scientists," said She. "The result is that scientists can only achieve little things, and even worse, exaggerate the importance of their findings. The returnees could be polluted because they are smart people and to aim for the short term, all they need to do is adjust their attitude. Adaptation is, after all, human nature."
Li Keping agreed. He belongs to the Jiu San Society, one of China's eight non-Communist parties, which carried out a study on the Thousand Talents program last year.
"Institutions give scientists scores every year for what research they carry out, how many papers they publish and how much funds they receive," said the scientist. "This evaluation system is not fit for returnees. We should provide the returnees with a more relaxed environment."
Incoming academics also need to put in effort to get along with their new colleagues - not only do they need to adapt quickly to complex networks, their arrival in elite positions also can cause tension with those who have spent years climbing the social ladder in China, experts say.
"In other countries, standards for grants or prize applications are clearer and people are more mild," said professor She. "In China, scientists have to deal with complicated relations, which many of them hate because it distracts attention from the research."
Some returnees use the first several years after arriving in the country to build up contacts and may not be able to sit down and start their work, added Li Keping.
Fierce competition
Competition between Chinese scientists educated at home and abroad is also intense, with disparities in pay and benefits sometimes leading to tension.
"The current government policy favors returning talents," said Li Keping. "They get higher salaries, better positions and more funding. It is only natural that many homegrown scientists feel bad - and they feel even worse when some returnees are not as good as they are."
Differences between the two groups can lead to controversial conclusions in peer reviews (when scientists evaluate a published paper).
"There is a gap between academic standards at home and abroad, and returnees are still in the minority at the moment," said She at Peking University. "In peer reviews, committee members are looking for evidence, and applicants have to prove how good they are, sometimes by quoting important people's favorable comments. Overseas, the peers are the best experts in the field and they want applicants to show them first-hand materials."
As China catches up in the world of scientific research, its "peers" are changing. Senior scientists who return from abroad can help accelerate the change by tutoring students and assistants, he said.
"People around will observe and see there can be higher standards and better achievements if things are done in certain ways," said the mathematician. "Gradually there will be some changes. Great change takes effort from several generations."
Academics who sign up for the Thousand Talents program are also being encouraged to bring a small team with them to China.
"Research in most fields cannot be done by one person today," explained Li at Beijing Jiaotong University. "When Chinese universities recruit researchers from each other, they usually get a small team of between three and five people instead of a single person. The practice is effective and we can use it when we recruit talents from abroad."
"Senior scientists nurture many young people, such as assistant professors, who need 10 years or more to reach the level of the Thousand Talents," said She, who suggested the program should allow for scientists to bring their best students with them to China.
"If (these students) are willing to spend 10 years in China, they can be of great help to the senior scientists here," he said.
Some analysts say a special research fund should be set up by the central government solely for returning experts. New recruits would then not have to compete with their domestic colleagues for funding.
"Building a special fund for them would be a good way to reduce conflicts," said She.
Although Cui and his colleagues at the Chinese Academy of Sciences may receive generous "start-up" funds, some less fortunate talents have not been given enough support by their employers, said Li Keping.
"Some scientists didn't receive much start-up funds after they come (to China). Some don't even have a platform for their research," he said.
In spite of these problems, the Thousand Talents program will "definitely" push forward China's scientific development, according to She.
"I used to be in Los Angeles, where the sky is so blue, life is so easy and the environment for research is so good," he said. "Why do we come back and involve ourselves in all these conflicts? Because we have dreams and we want to achieve something for the country."