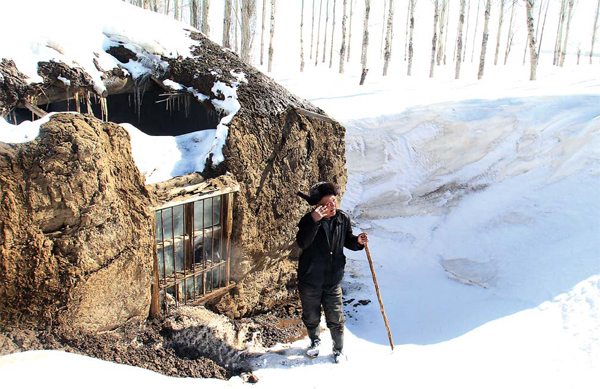 This photo taken March 29 shows 66-year-old farmer Zhang Haisheng in Wuxuete village, Xinjiang, in front of his adobe house whose roof had collapsed under the weight of snow. FENG YONGBIN / CHINA DAILY
After record snowfall, villagers in Northwest China brace for more misery. Cui Jia reports from Xinjiang.
From a distance, Zhang Haisheng's sheep look as though they are merely grazing on a field blanketed by thick snow. Get closer and it becomes clear that buried underneath their hooves is almost an entire village, including the home of their shepherd.
The only signs that Wuxuete even exists are the wisps of smoke rising from chimneys that appear to grow from the ground.
For three months, farmers and their animals have struggled up steep snow hills to start their day, wary of hazards like open chimneys or electrical wires with every step. Villagers had to dig 1-meter-wide trenches just to open their doors, while delivery trucks carrying supplies to the area must navigate tight roads walled in by 3-meter blocks of snow.
"I have been living in this village for almost 50 years and I've never seen snow like this. We had no way to prepare for it," said Zhang, 66, standing next to his adobe house, which collapsed under the weight of the snow. He now lives with a neighbor.
Like many towns and villages in remote areas of the Xinjiang Uygur autonomous region, Wuxuete has been hit by the harshest winter for a century.
Snowfall this year has been about five times more than the usual 10-20 cm in some parts of the region, according to official figures. Yet although the snow has stopped, the misery looks set to be compounded by the ensuing floods.
While those in drought-hit Southwest China worry about a lack of water, people in the northwest are facing the problem of too much.
"The snow we had this year is more than the total snowfall for seven or eight previous years, so the scale of the floods is unpredictable," said Dai Hechuan, Party secretary of Buerketale, the township that administers Wuxuete.
"To minimize damage, we are doing everything we can to prepare for the worst flood in a century, such as digging canals and clearing as much snow as possible."
Since late February, floods and landslides caused by melted snow have affected 130 million people across the region, and claimed 13 lives in Tacheng (which includes Wuxuete) and Altay prefectures. The total direct loss from the disasters is about 12.7 billion yuan ($1.8 billion), according to official figures.
Temperatures in the region have remained at about 8 C this week but are expected to rise to 10 C in the coming days. However, with spring in full swing, residents are terrified of what is to come.
"Look at the amount of snow here. This place will turn into a reservoir if the temperature keeps raising like this," said farmer Zhang. "We were told to clear as much snow as possible to prevent the disaster, but where do we start? Where can we move it to when the whole village is buried?"
Floods caused by melting snow have already started to cause chaos on plains in Tacheng and Altay, with more expected this month. Many officials admitted the situation was "scary" due to the record level of snowfall this winter.