Drought is sparking fears of inflation and food shortages in Southwest China, report Wang Huazhong in Guizhou, and Peng Yining and Li Yingqing in Yunnan.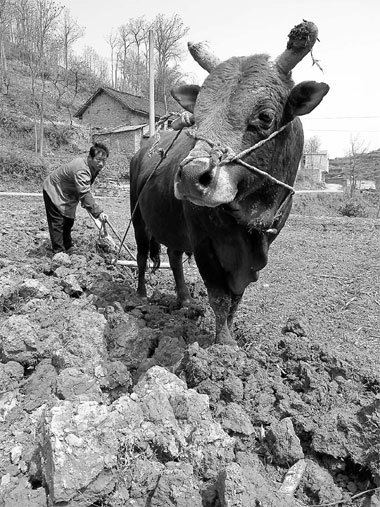 Lu Guangfu, a 41-year-old villager in Yizhai, Guizhou province, attempts to till his land after a recent shower. The ox refused to move after a few steps.[WANG HUAZHONG / CHINA DAILY PHOTOS]
Farmer Zhu Chaosong had just a week to plough two hectares of land and plant his annual potato crop on the Guizhou plateau this year. It normally takes him about two weeks but seven days' leave was all the bosses at the mine where he works would allow.
Zhu, 35, was forced to leave his family in Liangshan village to earn extra money in coal-rich Nayong county two months ago because of the devastating drought in Southwest China. "We did not have a good 2009," he said solemnly as he rode a bus home.
"After we sold some of our potato yield, there wasn't enough left for my family to eat. If I hadn't gone back to the pits, my wife and two children could have starved."
The ongoing drought, which has lasted since last autumn and been dubbed the worst in a century, has dried out all of the village's water tanks. Zhu's wife must walk three kilometers on snaking mountain paths to fetch turbid water three times a day for her family and cattle.
Although Zhu is returning to sow his crops, like 28 million other farmers in the thirsty region, he knows he could ultimately be making a wasted journey if rain does not arrive soon.
"There's no water left. Only the rain can keep my potatoes alive and help them to grow," he said. "I can only hope for the best."
By the end of March, Guizhou had seen more than 916,000 hectares of crops affected by drought, causing a direct loss of almost 3 billion yuan ($440 million), according to figures released by the provincial agricultural commission.
The commission's publicity director, Zheng Chuanlou, also told China Daily that crops to be harvested this summer, such as rape and wheat, are "doomed", with most areas likely to see dramatically reduced or even zero output.
Already about eight million people just in Yunnan province are suffering a grain shortage, said Wang Shufen, director of the Yunnan provincial civil administration, who told China News Service that five million had "no financial income and are relying on government handouts".
The situation has prompted fears among analysts that low output of cash crops - rapeseed, medicinal materials, tobacco, sugar, tea and flowers - will push up prices nationwide.
To stabilize prices and curb the potential inflation, the central government ordered the transfer of 1.7 million tons of grain reserves to the drought-hit region, Shen Leihai, a senior State official responsible for China's food security, told Southern Weekend, a newspaper based in Guangzhou.
Authorities have also threatened heavy penalties for companies who attempt to profit from a natural disaster by raising wholesale prices.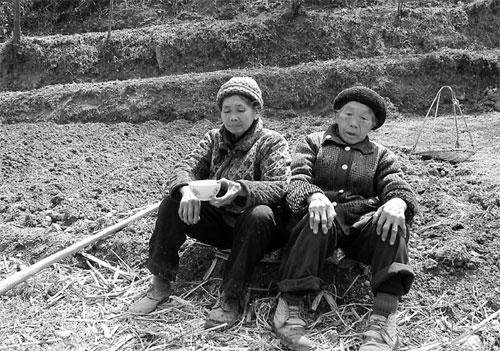 Two elderly women in Dexing township, Guizhou, take a rest working on their dried fields.[WANG HUAZHONG / CHINA DAILY PHOTOS]