Managers are accused of ignoring flood warnings ahead of Shanxi disaster. Hu Yinan reports from Xiangning.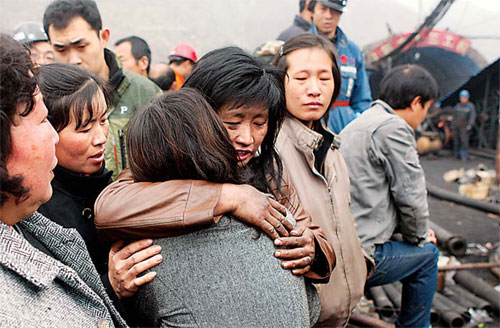 Xiao Shihong (in brown jacket) and Luo Jiangxia console each other on Tuesday as they wait outside the Wangjialing Coal Mine where both their husbands are trapped. [YANG SHIZHONG / CHINA DAILY]
At 1:40 pm on Sunday, Xiao Shihong's world collapsed. That was the time her husband Wang Jiming and two brothers-in-law were killed in what could well be remembered as China's deadliest mine accident in years.
Floods trapped at least 153 workers underground at the State-owned Wangjialing Coal Mine in Xiangning county, Shanxi province, while another 138 managed to escape, according to officials. Those figures came from a logbook in the mine's monitoring room, although checking in is not a habit for many workers, said employees of China National Coal Group Corp (ChinaCoal), which has a 50-percent stake in the mine.
Xiao, 38, was not even aware of the tragedy until Monday. Even as she rushed to the scene from Gujiao - the scene of a gas blast at a coal mine in Shanxi last year that killed 78 - she knew there was little hope.
"My husband is dead I don't need them to tell me that," she said.
Authorities have blamed the disaster on workers digging a hole in an abandoned pit filled with water. As of Tuesday night, some 60 hours after the flood, more than 1,000 rescuers from Shanxi and neighboring Henan province were installing machines to pump out water from the underground shafts. Trucks carrying pumping machines from around the region lined the narrow mountain roads to the mine.
Few predict any of the trapped miners will come out alive.
County officials are yet to announce the death toll and are unlikely to do so for some time, at least until the relatives of the deceased have been "pacified", physically, emotionally and financially.
This has become one of many routines in the aftermath of mine disasters in this trouble-plagued province, once China's largest coal producer. Other familiar features include an armed police presence around the mine, which started on Tuesday, the heavy deployment of police officers, and close "supervision" of all relatives of the victims, who officials often pay to stay silent.
Deja vu? It's just that time of the year again in Shanxi. Relentless efforts to streamline the deadly industry have seen the province slip to second behind Inner Mongolia in terms of coal production, but it takes no more than a blast or flood for the cycle to start all over.
Although an investigation team with the State Administration of Work Safety (SAWS) has not released anything substantive as to how and when the water was formed and other details behind the accident, local workers are accusing managers with ChinaCoal's division 63, which had been building the mine, of neglecting three consecutive alarms about a possible flood.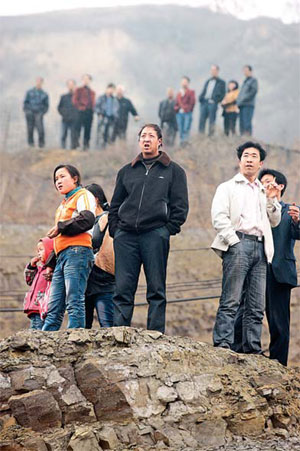 People wait outside the fl ooded Wangjialing Coal Mine in Shanxi province as rescuers pump out underground water. [YANG SHIZHONG / CHINA DAILY]
Nearly a dozen sources from the division told China Daily that managers ignored the first alarm on March 25, three days prior to the accident. The managers have since gone missing.
Professional negligence also played a vital role in the last deadly mine flood in Xintai, Shandong province, in 2007. Its managers were oblivious to days of alarms and tried to cover up their incompetence when the mine flooded. The worker who supervised water pumps on the day of that accident said she reported numerous warnings hours before the tragedy, but the company took no action. In response, Zhang Canjun, vice-general manager of the firm that owns the Shandong mine, told China
Daily any negligence was "absolutely impossible". He was later sentenced to seven years in prison for negligence.
Here in Xiangning, ChinaCoal welder Hu Wenjie said his division's bosses should also serve prison terms. "Many people could have been saved," he said.
Officials with the mine and county government were unavailable to comment on Tuesday.
The rescue headquarters confirmed the division had received a flood alarm three hours before the accident on Sunday, but the person who picked up the phone had just woken up and took no action.
As is standard procedure for disasters with more than 30 fatal casualties, State and provincial leaders, as well as top SAWS officials, rushed to the site on Sunday night. They were followed by hundreds of staff from the mine, rescuers, medical staff, police officers and dozens of media reporters.
However, the accident has prompted staff at Wangjialing Coal Mine to consider their future. Hao Xuezhong, 28, who joined the division's eighth unit three months ago, said his wife asked him to quit after Sunday's flooding.
"I don't think I'll feel comfortable going down there anymore," said the Xiangning native, who spends about 12 hours a day underground. The rookie earns around 3,000 yuan ($440) a month and expects to double that income in a few months' time. "Everyone in this business knows the risks. No mine can be absolutely accident-free, but a flooding of this scale is unheard of. This is most likely a negligent accident," he said.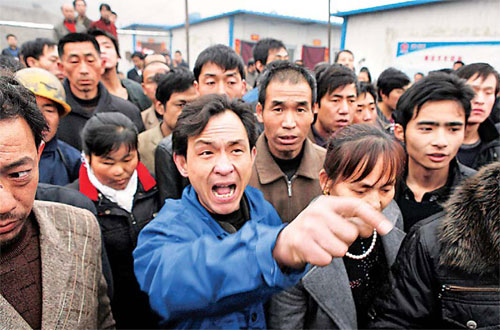 Angry relatives of miners gather outside Wangjialing Coal Mine as rescuers attempt to save victims of the disaster. [GEMUNU AMARASINGHE / ASSOCIATED PRESS]