Lack of government spending in water conservancy projects exacerbates drought. Peng Yining and Li Yingqing in Kunming, and Hu Yongqi in Beijing report.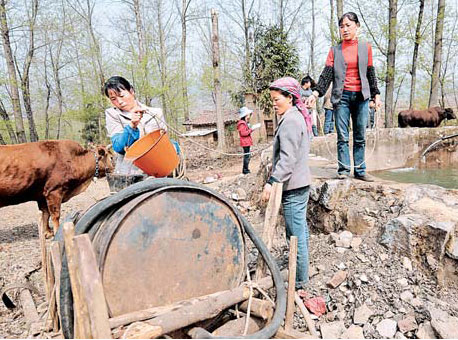 Residents of Huoshipen village in Xuanwei, Yunnan province, get water last week from a pond where it is pumped in from a 9-km pipeline. [LIN YIGUANG / XINHUA]
With about 1,000 rivers and lakes, Yunnan ranks third in China when it comes to water resources. It also wins bronze for its annual average rainfall. So in a region with such natural abundance, why are millions continuing to thirst as the southwest suffers its worst drought in 100 years?
For some, the answer is easy: It is because of this wealth of resources.
"In the past, we always thought Yunnan was rich in water resources, so the authorities ignored the importance of water conservation projects, particularly in rural areas," said Zhang Pengxiang, a high-ranking publicity official for Shilin county. "We always expected the rainfall to provide all our irrigation water. Now there's a drought, the losses have been huge."
Water conservation has very much been an afterthought for many in the province, leading to a lack of investment in preparing for the disaster, say analysts.
Although the province boasts 222 billion cubic meters in water resources, just 6.9 percent is being exploited, less than a third of the national average, according to official figures.
Related readings:


 Relief efforts on the way for drought-hit region


 China to drill more wells as drought persists


 Yunnan braces for the worst drought in a century


 Severe drought expands in S China


 Rain expected in China's drought-hit areas
"The drought has taught us a serious lesson: The importance of the construction of water conservancy facilities in the countryside," said Wang Shizong, deputy director of the Yunnan Water Conservancy Bureau.
"Despite a huge amount of rivers and lakes, most resources are unavailable without appropriate water conservancy, especially in the mountains that make up 94 percent of the province. In rural areas, most people still rely on rainfall for their drinking and irrigation water."
Yunnan receives an average of 1,200 mm of rain every year. However, 80 percent of that comes in the wet season, May to October, leaving residents vulnerable to shortages during hot, dry spells.
And although the area finally received rain last weekend - the result of more than 3,200 cloud-seeding rockets - the worst is far from over, particularly in the mountains.

Of the province's 889 rivers and 30 lakes, 70 percent are in remote and impoverished areas, with more than 80 percent of its towns and cities located in geographical basins. However, although large-scale water conservation facilities have been built near urban areas, smaller projects in rural areas, such as water cellars and reservoirs, have been allowed to fall into ruin, say experts.
"Many irrigation facilities have lost function due to decades of disrepair," said Zheng Fengtian, a professor in rural development at Renmin University of China in Beijing. "Local governments either receive inadequate financial support for irrigation projects or show rare willingness to do them because of a lack of systematic regulations. Farmers are also reluctant to invest in irrigation projects. Instead they go to work in big cities because they can make more money."
Water conservation is in extremely short supply in mountainous areas, admitted Da Wa, director of the office of Yunnan flood control and drought relief, at a press conference on March 24.
"Some remote mountain areas have no water source at all," said Yang Jialiang, 40, a Jiuwuji township official in Luoping county, who grew up in a mountain village and as a child collected dew from trees and bushes in buckets to ensure his family had enough to drink.
It has not rained in Jiuwuji since September. Crops have withered and trees have died, giving the mountain a dark, gloomy appearance from afar. "The mountain used to be green," said Yang. "Some trees have been growing for almost 100 years. It could well take another 100 for them to recover."
In 1998, authorities spent 2 million yuan ($290,000) to build a reservoir in Jiuwuji, which is made up of mostly Yi ethnic residents. "But after 12 years, the reservoir is no longer big enough for the area's increasing population, and the dam has become old and started leaking," he said. "We don't have any money to repair it."
Repairing the reservoir is expected to cost another 2 million yuan, although the township government's annual income - most of it generated from tobacco and ginger crops - is just 800,000 yuan.
The high cost is due to the fact , like many areas in Yunnan, Jiuwuji lies on karst land, which quickly drains surface water, making it more expensive to build and maintain a reservoir.
The township once applied for subsidies from the provincial government to pay for the upkeep of the reservoir but was told the project was "too small", said Yang. "The project might be small but it would solve the water problem for 10,000 people. If we had repaired it last year, the drought might not have affected us so much."
Since February, the township government has delivered free drinking water to its scattered villages, some of which are two hours from their nearest neighbor. The cost of delivering just 1 ton of water is 60 yuan, meaning that if the drought lasts until May, as predicted, the authority will have spent as much as 1.4 million yuan - almost as much as it would have cost to repair the reservoir.
Although there was no money to fix the large, municipal water tank, Jiuwuji officials have for years encouraged residents to equip their homes with water cellars, which allow them to store more than 5 tons during rainy season.
In the last decade, more than 3,000 water cellars have been built, meaning almost every household in the township has one. The tanks are now being used to hold water received from the authorities and anything collected on the mountain top. "Small cellars have helped to solve a big problem," said Yang. "If there were no water cellars in our township, the drought would have been deadly. We're so lucky that we were prepared before the drought."