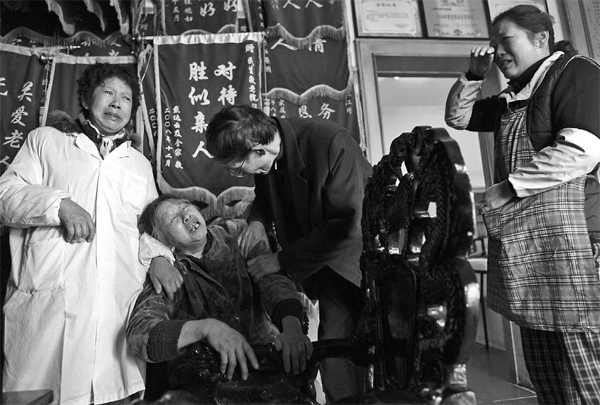 Residents and carers at Zhang Minsheng's care home in Zhabei district, Shanghai, cannot hide their emotion after losing their two-year battle to save their home from the bulldozers. The local government announced it planned to requisition the land for development in 2007. The building was demolished late last year. PHOTOS BY GAO ERQIANG / CHINADAILY
Proposed changes to urban property demolition a big step forward. Cao Li reports from Shanghai.
Following a year in which forced relocation became one of the biggest talking points in the country, all eyes are on how the nation's top legislators and policy advisers react this week to proposed changes in the law that could finally curb the controversial practice.
The new regulation is a potential game-changer. Instead of developers having the advantage when it comes to demolishing homes in urban areas, the law will reinforce residents' rights, say analysts.
The move is aimed at preventing ugly standoffs between homeowners and demolition crews, many of which hit the headlines in 2009.
Although final approval is yet to come from the State Council, analysts predict that the response the move receives at the annual sessions of the National People's Congress (NPC) and the Chinese People's Political Consultative Conference (CPPCC) could be critical to how quickly the changes come.
Opinion on the proposed revision to the Regulation on Property Requisition is divided: Legal experts hail it as an important shift in the government's attitude to forced relocation, property firms claim it will drive up real estate prices.
For Zhang Minsheng, the move simply means others may be spared the kind of heartbreaking struggle he encountered trying to save his Shanghai care home from the bulldozers.
"I can't believe such a good law is on the way," said the 61-year-old, who battled Zhabei district officials for two years over plans to raze his home and relocate more than 300 elderly residents.
He finally relented last November - just two months before a draft of the new regulation was released for public consultation - after police detained several of his employees for "instigating trouble" and causing injuries to urban management officers.
The Zhabei government announced it would requisition more than 75,000 square meters for future development - including the site of Zhang's care home - in 2007. They offered him 6 million yuan ($880,000) in compensation, as well as 12,000 yuan for each resident.
However, Zhang, who signed a 30-year lease for the land in 1993, argued the offer was far below the market value - another tenant was asking for 33 million yuan for a 15-year lease - and demanded the authorities build him a new care home and pay for temporary shelter while it was under construction.
Talks continued through 2008; his neighbors moved out and their homes were demolished, leaving Zhang a dingzihu, or nail house tenant, a term popular among Chinese for someone who refuses to bow to pressure from property developers.
Last October, a Shanghai court ruled Zhang's lease with a village production team - a farmers' working unit - was invalid because the land was collectively owned. Renting and selling such land is restricted in China. Hu Changchun, the district official who negotiated with Zhang said the care home had more wards than space allowed for and had failed aspects of annual safety and sanitary inspections since 2007.
Zhang was told to move his business and elderly residents within a month. He followed the order but only after 10 of his staff were detained for 14 days on allegations of calling for outside help to fight officials.
The charge, according to police, related to an incident last September when officials from the county government, city management office and civil affairs bureau were involved in a clash with employees and elderly residents at the care home. The officials had visited to distribute pamphlets on alternative accommodation. Hu insisted the authority had acted in accordance with the law.