Detailed entries about partners, bribery posted online
BEIJING: Disciplinary officials launched an investigation on Monday into Han Feng, an official from the Guangxi tobacco monopoly bureau, after sex diaries allegedly written by him were posted online.
The diaries covered the period from January 2007 to January 2008, when Han served as the director of the Laibin tobacco monopoly bureau. Han was transferred to the Guangxi tobacco monopoly bureau in 2009, first serving as director of the policy division and later as director of the sales division.
Related readings:


 Former Chinese foreign trade official faces corruption trial


 Official reported by ex-wife suspended in E China


 "Hugely corrupt" official gets death with reprieve


 Ex-official denies mafia allegations
"The diaries are not groundless rumors," Liao Hongxiu, office chief at the Guangxi tobacco monopoly bureau was quoted as saying on Tuesday by the Information Times.
"Han has already stepped down from his post," an official from the bureau told China Daily.
Han could not be reached for comment on Tuesday.
The bureau has also decided to launch an investigation into Han for possible violations of the law and Party disciplines on Monday, Xinhua News Agency reported.
Han's alleged sex diaries contained detailed descriptions of his sexual acts with five of his female colleagues and notes on bribes he had allegedly received.
"Chen gave me 100,000 yuan ($14,646) downstairs," a diary entry recorded on Jan 6, 2007.
"Wang asked me for lunch at the Guijing Hotel. There were just the two of us. He gave me two bottles of Moutai liquor and 50,000 yuan. I deposited 30,000 yuan and took 20,000 home," read the diary on Sept 16, 2007.
"When I got to the office this afternoon, Chen stopped by and gave me 10,000 yuan. Li gave me 2,000 yuan," the diary recorded on Sep 20, 2007.
On Dec 29, 2007, Han wrote: "2007 has been a good year. Work is going smoothly. Income is as high as 200,000 yuan Womanizing is on the right track. It's been a lucky year with women. I need to pay attention to my health with so many sex partners."
The notes from over a year of entries also revealed the owner's lifestyle. He took part in feasts and got drunk at least five times per week, usually with local government officials, police and directors of tobacco companies.
He often went on so-called business trips, which were actually leisure activities.
One of the first posts of the diaries was seen on Feb 27, on popular online forum tianya.cn. The person who posted the entries, Hanxianzi, identified himself as the husband of one of Han's sex partners.
Hanxianzi said he published the diaries as revenge for Han's sexual intercourse with his wife.
He did not state how the diaries were obtained.
Despite Han's alleged violations of the law and disciplinary infractions, posting others' diaries and personal materials online is an invasion of privacy and can be considered a violation of personal reputation, said Qiu Baochang, a lawyer from the Beijing Huijia Law Firm.
"It's not a wise move. Even if the diary contents are true, proper punishment should be sought through legal channels. Publishing such information online is beyond the lowest levels of morality and can severely hurt people involved in the issue. What if some of the women mentioned in the diaries commit suicide?" Qiu told China Daily.
The websites must filter improper information and protect citizens' privacy, he said.
Netizens' multiple postings linked to the scandalous material could still be found online on Tuesday.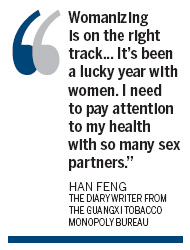 Han's case follows other instances of officials being replaced after their seemingly debauched lifestyles were exposed on the Internet.
An investigation into Zhou Jiugeng, former director of the Jiangning district real estate management bureau in Nanjing, Jiangsu province, was launched after netizens posted pictures of him driving a Cadillac, smoking expensive cigarettes and sporting a Vacheron Constantin watch worth about 100,000 yuan ($14,000).
Zhou was later found to have accepted more than 1 million yuan and HK$110,000 ($14,000) in bribes from contractors. He was subsequently removed from his post and sentenced to 11 years in prison.
Liu Lijie, chief prosecutor for the impoverished Arun banner in the Inner Mongolia autonomous region, was also censured after netizens posted information about how she drove a Volkswagen Touareg SUV worth 780,000 yuan ($115,000) and worked in a luxurious office building. An investigation showed she had breached rules by borrowing the SUV from a private enterprise. She resigned from her post after the expos.