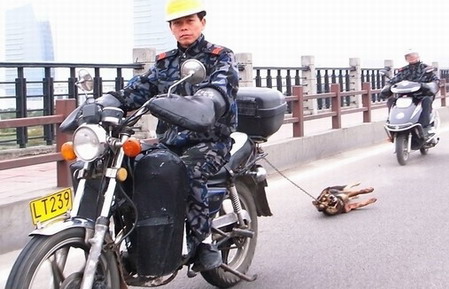 This photo uploaded by a neitzen shows a man riding a motorbike drags a chained dog behind him along a highway in Fuzhou in East China's Fujian province on Feb 18, 2010. [Photo/Strait News Paper]
A photo of a man mistreating a dog that was uploaded on the Internet Thursday by a netizen surnamed Liu in Fuzhou sparked public outrage.
The photo showed a man riding a motorbike on a highway while he was dragging the dog behind him with an iron chain around the animal's neck.
Related readings:


 When there is more to it than dog meat


 Ban of dog eating sparks debate over traditions


 Dog rescued from icy Baltic Sea gets new master
"I rolled down my car window and asked the man to stop. However, the man speeded up and drove away," Liu told the Straits Newspaper, a metropolitan daily paper in the capital of East China's Fujian province.
"The dog couldn't bark due to the chains around its neck, and its four legs were bleeding," Liu said. "The speed of the motorbike was about 50 km per hour at the time."
Some netizens left messages at Tianya.cn, a popular online bulletin board, to rebuke the man's brutality. Some doubted the man was a dog thief. Other furious netizens demanded a search for the man.